Charlotte (White) Ingles
(1849-1908)
Charlotte J. (White) Ingles was born in 1849 in Fayette County, PA, the daughter of Perry G. and Charlotte (McClatchey) White.
Her husband, whom she eventually divorced, was once profiled in a history book about the Asbury Methodist-Episcopal Church in Uniontown, PA, where he led a prominent Sunday School class and was said to have "made many friends and earned an enviable place in the church and business life of the city."
When Charlotte was about nine years old, her mother died. Her father then married Mariah Minerd.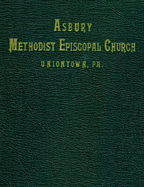 Book naming the Ingleses
On Dec. 17, 1868, when she was age 19, Charlotte married 22-year-old Andrew "Stewart" Ingles (1846-1918), the son of Jonathan P. and Catherine Ingles of Hopwood, Fayette County. Stewart's brother Jacob is believed to have married Charlotte's step-aunt, Sarah A. Minerd.
They had two daughters -- Bertha May Stone and Cora Ingles. Sadly, they lost Cora in 1870, at age seven months, and she was laid to rest in the Hopwood Cemetery near Uniontown.
Stewart is said to have had "an active and inquiring mind that was continually seeking knowledge from every available source." Robert F. Hopwood's 1938 book, History of the Methodist Episcopal Church of Uniontown, Pa., says that as a young man, Stewart:
...was able to acquire and save from his earnings sufficient money to open a general store in his native village [of Hopwood]. By his economical management and fair dealing, he enlarged his business and increased his profits from year to year. He continued in this business for about twenty-five years, when he sold his store and real estate in Hopwood and removed to Uniontown to make his home; where he engaged in the real estate and loan business.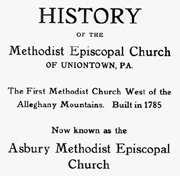 Title page of the church history

The Ingles family lived at Hopwood, Fayette County (South Union Township) "in the narrow limits in which his devotion to his business compelled him to live." In 1881, they moved across town to North Union Township. On Dec. 18, 1893, they moved to East Church Street in Uniontown.

On Aug. 17, 1893, the Ingles' lives were disrupted when their daughter Bertha eloped to Buffalo, NY to marry William Arthur Stone. Charlotte sided with her daughter, while Stewart vehemently opposed the marriage. He later said that "She married Mr. Stone against my wishes and protests." Now legally wed, the daughter and son in law migrated soonafter to Kansas City.

Charlotte and Stewart separated in January 1894. In June of that year, they reunited. But the marital tranquility was short-lived. In September, they parted again, this time for good, and Charlotte went to Kansas City to live with her married daughter Bertha Stone. (Seen here is Kansas City's Main Street of that era.)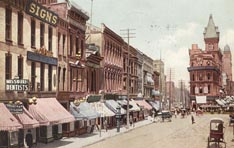 Kansas City
Five months later, Charlotte returned to Hopwood in February 1895 but refused to live with her husband. In the divorce papers, Stewart said:
[My wife] had been anxious that I take my daughter and her husband home to live with me. When she went to Kansas City, she told me that if I would not take them both (My daughter + her husband) back to live with me she never would live with me.... She left me then against my protest -- I did everything I could to keep her from going.
Charlotte confided her feelings to her half-sister, Annie Hopwood, who later testified about this in divorce court. The day before she went to Kansas City, Charlotte also saw her husband's brother, Hamilton Ingles, on the street. Hamilton later stated that he:
...asked her why she did not stop at my house and she said she didn't have time. I then said you can stop tomorrow. She said she was going to town tomorrow -- that day she was visiting her step-mother. I then said to her, "I wish you and Stewart would get your troubles settled and lived together as you used to do." She replied "That will never be."
When the Stones returned from Kansas City in February 1895, they resided in Hopwood, and as Charlotte never reconciled with her husband, she moved into the Stones' home. Said Stewart: "After they came back from Kansas City I offered my wife a home, or to board her anywhere -- or keep her in any way she wished, if she would leave Stones -- but she refused my offer, and still persists in remaining away from me."
He filed for divorce in September 1896, and it was granted on Jan. 23, 1897.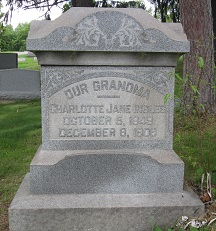 Hopwood Cemetery
~ Charlotte's Troubled Final Years ~
Charlotte remained "a consistent member of the Methodist church for many years." She made her home with her married daughter Bertha Stone, who had returned from Kansas City and settled in Hopwood.
Yet all was not settled. On Dec. 2, 1908, scandal erupted when daughter Bertha left her husband and children, allegedly in company with another gentleman. Her whereabouts were unknown for some time.
Six days later, compounding scandal with tragedy, and despondent with these events, Charlotte snuck away to the basement of the Stones' home and took her own life, using a razor. She died on Dec. 8, 1908.
Stewart's reaction to Charlotte's tragic demise is not known. He outlived her by a decade.
~ The Rest of Stewart's Story ~
After moving to 16 Union Street in Uniontown, the year of his divorce, Stewart became active in the First Methodist Episcopal Church, later known as the Asbury Methodist Church. He enthusiastically organized the large "Ingles Bible Class," which grew under his leadership from a dozen members to more than 150. Said the history:
The vital and energetic personality of Mr. Ingles', his interesting and unique way of presenting the scripture lesson, together with such illustrations drawn from his wide experience, with which he enforced the gospel truths, soon won the devoted attention and high regard of all the members, and the numbers in the class increased from week to week. This class became to Mr. Ingles a matter of absorbing interest, and he gave to it not only the necessary preparations for, and the presentation of, the scripture lessons on the Sabbath Day; but he kept in constant, intimate association with the men who constituted its membership from day to day.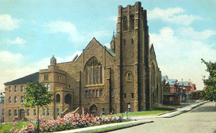 Asbury Methodist Church
Seen here is a rare old photographic postcard of Stewart's beloved church, located on Beeson Avenue in Uniontown.
Single and wealthy, Stewart "was possessed of sufficient funds to allow him to fulfill a long cherished desire to see something of this land he loved," said the history. In July 1900, Stewart boarded the B&O Railroad on a "western trip," to California, stopping first in Chicago, and "from there to the different points he wishes to visit through the west," said the Daily News Standard. Continued the history, Stewart's journeyings:
... continued from year to year until his death. His first trip [involved] crossing the continent by easy stages and stopping at various cities and points of interest on the way. On this trip he visited Mexico City and all the Coast Cities, as well as many of nature's places where she has hidden away such wonder spots of grandeur and loveliness. For two or three months out of each year he journeyed over the land, until there were very few states he had not visited. Mr. Ingles while gifted with discriminating judgment as to places worthy of visiting, had also the discernment to discover the things of greatest interest in places visited.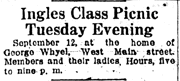 Uniontown news story
Stewart died in Uniontown in April 9, 1918. His obituary in the Uniontown Daily News Standard said "His sudden death ... following a few days' illness of pneumonia, has occasioned citywide regret and sorrow.... Automobiles for all the members of the Ingles Bible class, numbering over 100, will be provided at the funeral services...." Honorary pallbearers were J.M. Beeson, John F. Hess, O.B. Boughner, E.S. Hackney, brother in law Joseph Hopwood, R.S. McCrum, Judge E.H. Reppert and Judge J.C. Work. Active pallbearers were R.I. Patterson, W.T. McClellan, Charles F. Eggers, Harry Whyel, J.V. Brothers, J. Vance Graft, A.D. Jaquette and Frank P. Cottom. He was buried in Uniontown's prominent Oak Grove Cemetery.
As a final comment about Stewart's life, the Asbury Church history said: "In nothing do men approach so nearly to God as in doing good to men."
Copyright © 2000, 2002, 2004, 2006, 2010, 2013, 2018 Mark A. Miner