Jennie (White) Blackwelder
(1873-1946)

Jennie Blackwelder
Jennie Gertrude (White) Blackwelder was born on Aug. 30, 1873 in Linn County, MO, the daughter of Lester and Susan (McCarty) White.
At the age of 11, she moved with her parents and grandparents to Isabel, Barber County, KS.
When a bolt of lightning killed her aunt, Jeanette "Nettie" Bailey, Jennie was 15 years old and was sent to live with her widowed grandfather, Luther White. In the household, she took care of Luther, his bachelor son Layton White and her cousin, the victim's four-year-old daughter, Mabel Bailey.
Jennie married Layton H. Blackwelder (1874-1915), a native of Illinois by birth, and the son of Isabel residents Jacob F. and Sarah C. (Rasor) Blackwelder.
The couple produced two sons -- Wilbur E. Blackwelder and Jacob Ira Blackwelder.
The federal census of 1900 shows the young family making its home in Elm Mills, Barber County. By 1900, they had moved to Paxon Township in nearby Pratt County, KS. There, Layton was listed as a farmer (with their last name spelled "Blockheader." That year, Layton's younger brother John Ira Blackwelder boarded in their home.
Layton and his brother owned a hardware store in Isabel known as "Blackwelder Bros." Later, he began farming full time.
Jennie was known as "a quick, busy, jolly, helpful person" sharing her abilities and her talents with friends and family.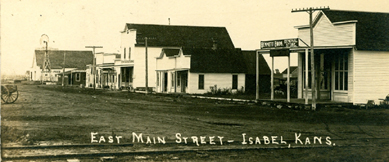 Rare old photographic postcard of Isabel's East Main Street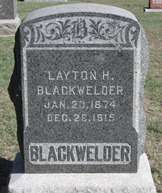 Isabel Cemetery
Sadness struck on Dec. 26, 1915, the day after Christmas, when Layton died of a stroke at their home in Isabel. He was only age 41. His remains were buried in the nearby Isabel Cemetery.
Jennie remained a widow for a decade. She had no occupation, but relied on her elder son Wilbur to generate income with his labors. The 1920 census shows Jennie and her sons making their home in Isabel.
Then, in 1925, she married her bachelor brother-in-law, John Ira Blackwelder (1878-1941), an operator of a grain elevator in Isabel. At age 47 at the time, it was John's first marriage. John is believed to have been a partner in his father's hardware, harness and farm implements and machinery business in Isabel, known as Blackwelder & Sons.
They moved to Hess Township, near Montezuma, Gray County, KS, "where they had gone to raise wheat and cattle as [son] Jacob grew to manhood. They gave a home to Josie Bell Byrd who had no living parents." The census of 1930 shows Jennie, John and Jacob living in Hess Township, with John operating a wheat farm.
Jennie died in Dodge City, KS on June 29, 1946. A search for her obituary in the Barber County Index proved unsuccessful.
John's fate is not yet known.

Above, Blackwelder & Sons stationery, 1903. Below, Blackwelder Brothers stationery, 1905, after Layton had joined John Ira in the firm.

~ Son Wilbur E. Blackwelder ~
Son Wilbur E. Blackwelder (1897- ? ) was born in October 1897 in or near Elm Mills, Barber County.
At the age of 22, in 1910, he lived at home with his mother and younger brother, and made a living "working out" as a day laborer.
He later became a railroader and "met with a disabling accident" at work as a young man.
Nothing more is known.
~ Son Jacob Ira Blackwelder ~
Son Jacob Ira Blackwelder (1909-1950) was born in 1909, most likely in Paxon Township, Pratt County, KS.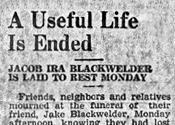 Obituary, 1950
He married Velda P. (?) (1914-2002).
He also is known to have made an application circa 1919 for membership to the Farmers Co-operative Grain Dealers Association of Kansas. The Isabel newspaper said he was "one who could never be replaced."
Tragedy struck when Jacob died of a heart attack at age 40, in 1950, after a life of community activities -- having served "four years on the Grade School Board, [as] President of the Gray County Farm Bureau, and on the advisory board of Sky High 4-H Club," said a newspaper. He was buried in Fairview Cemetery in Montezuma.
His widow Velda later married George R. Monninger ( ? - ? ) and oversaw the school cafeteria in Montezuma, KS.
She passed away on April 8, 2002, at the age of 87, after more than a half century of separation from Jacob.
Copyright © 2000, 2008, 2011, 2019 Mark A. Miner