John William 'Emery' Younkin
(1881-1960)

Emery Younkin
John William "Emery" Younkin was born on Sept. 16, 1881 near Kingwood, Somerset County, PA, the son of Daniel M. and Elmira (Zimmerman) Younkin. Enduring the deaths of his wife and daughter, and surviving a maiming workplace injury, he was employed for nearly a half-century with the Baltimore & Ohio Railroad.
On Dec. 20, 1907, when he was age 26, Emery married his first wife, 18-year-old Mary Virginia Garlitz (1889-1920).
They went on to produce three daughters – Georgia Marie Younkin, Gertrude Etta Christner Eckert Donaldson and Geraldine Virginia "Mickey" Newcomer.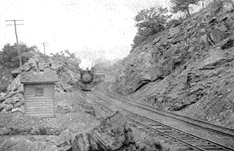 B&O locomotive in Somerset County
In 1898, Emery began working for the B&O as a "hostler" at Rockwood, and later was promoted to brakeman. While at work on the Somerset & Cambria Branch of the railroad at Somerset, however, in early March 1903, he was injured in a terrible, crippling accident. Reported the Connellsville Courier: "He was out on his first regular trip as brakeman, and while the train was shifting at Somerset station a sudden starting of the engine threw Younkin from the top of a box car to the ground. The car passed over his left leg at the ankle, crushing the foot off and over the side on his right foot, crushing it badly and severing three toes."
He was rushed to Mercy Hospital in Johnstown, PA for treatment. While recovering there, he received a visit from B&O officials, who offered him a substantial amount of money as compensation for his injury. With remarkable long-term vision, he declined, but asked that he be guaranteed a job with the B&O for the rest of his life or as long as he wanted it.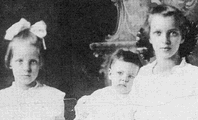 Gertrude, Mickey and Georgia
Thus during the Depression, unlike a majority of families in the area, Emery had steady work. To keep him active, the B&O sent him to various places to perform a diversity of jobs, including Connellsville, Rockwood and Sand Patch. The Somerset County Leader once said that "Transferred to the job of repairing water stations and plumbing installations, he has performed these duties … from Hyndman to Confluence and from Rockwood to Johnstown."
Among Emery's work accomplishments was working on the construction of the B&O's major railroad tunnel at Sand Patch, Somerset County. The family resided on-site there for some time.
Emery used a prosthetic leg, and kept three extras on hand – one for work, one for dress-up and one extra just in case. He was nimble and could climb tall ladders of water towers.
Later, he was transferred to Somerset, and then was sent back to Sand Patch, where they resided in the Sand Patch Hotel. Daughters Gertrude and Geraldine were born in Sand Patch in the early 1910s.

Pastoral view of the town of Somerset circa 1910.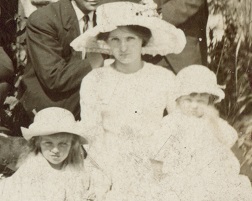 Mary and the girls, 1913 Minerd Reunion
In 1913, with his widowed father, Emery and Mary and their elder two daughters attended the first annual Minerd Reunion, held at Ohiopyle's Ferncliff Park in nearby Fayette County. Mary and the girls are seen here in a group photograph taken that day.
Heartache struck on Jan. 14, 1920, when Mary died in the Sand Patch Hotel during a flu epidemic. As she lay dying in her room, her daughters were called home from school to say their final goodbyes. Emery worked feverishly at the wood stove in their room, boiling water for hot compresses. He refused to give up, holding out hope that she would recover, but his effort was in vain. Mary was buried at the Rockwood IOOF Cemetery.
Emery was left alone to raise their three daughters,Gertrude, Mickey and Georgia. After being widowed, Emery worked primarily on the day shift so he could be home with his daughters in the evenings. Even so, he often would get called out at night when "someone was out of water," recalled a daughter. Later, Emery was transferred from Sand Patch back to Somerset.
Tragedy rocked the family again in October 1924. Strikingly attractive daughter Georgia died suddenly after an infection in the gums of her mouth following dental surgery. She was just age 16. The story was major news in the Somerset Herald, and while the story mis-identified her as 'Margaret,' it went on to say: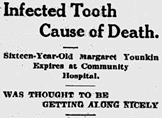 Obituary, 1924
Miss Younkin appeared to improve following her admission to the [Somerset] hospital and on Thursday morning when one of her younger sisters called on the telephone she was told that Margaret had passed a comfortable night and that she would be safe in attending school. A few minutes later Mr. Younkin received a telephone call from the hospital advising him that his daughter was in a dying condition, having taken a sudden change. Before Mr. Younkin reached the hospital, distant three or four blocks from his home, he was intercepted on the street by a messenger who told him that his daughter had passed away.
Emery spent seven long years as a widower. At the age of 46, on April 15, 1927, he married his second wife, 48-year-old Elsie Eleanor Zufall (1879-1961). She was the daughter of John and Rebecca (Houpt) Zufall of Somerset, PA.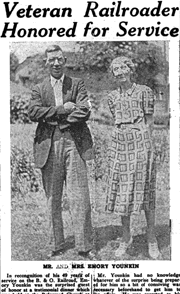 Emery and Elsie, front page news
Emery and Elsie produced no children. She was a member of the First Christian Church of Somerset. Skilled in water management, he was "a member of the Rockwood Volunteer Fire company for many years," said the Somerset Daily American.
Each Christmas, Emery received a crate of apples from his cousin Alfred Arthur Younkin, who owned an orchard in the lush growing valley of Wenatchee, WA.
In June 1947, Emery finally retired from the B&O after 49 years of service. He was toasted at a surprise dinner held at the Reformed Church in Rockwood, and it made front page news in the Somerset County Leader. At the dinner, stores department head J.M. Minick said that Emery "had earned the respect and good will of all of the men on the division because of his reliability and never-failing good humor in any kind of emergency."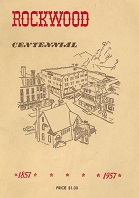 Booklet naming Emery
As a retirement gift, Emery received a platform rocking chair. Said the Leader, "It now occupies a prominent spot in the Younkin living-room where the genial railroader plans to sit back and take things easy."
Emery and Elsie enjoyed 13 years of retired life together. Their address was 711 East Main Street in Rockwood.
As he aged, Emery was burdened with hypertension and heart disease. After an acute heart attack, at age 79, Emery died on Feb. 18, 1960. He was buried near his parents, first wife and daughter at the Rockwood IOOF Cemetery.
Elsie outlived him by a little over a year. She fractured her left femur. Suffering from hardenign of the arteries, she passed away on June 7, 1961, at age 82, and is buried with her husband.
Emery and his father are mentioned in an "old time railroader" list in the 1957 commemorative book, Rockwood Centennial: 1857-1959, and in the 1906 History of Bedford and Somerset Counties by William H. Koontz.
His daughters were pictured on the front page of the July 1993 issue of the Younkin Family News Bulletin, published by the late Donna (Younkin) Logan.

Graves of Emery and Elsie at the Rockwood IOOF Cemetery
~ Daughter Geraldine Virginia "Mickey" (Younkin) Newcomer Cheverton Martin ~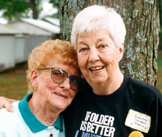 Sisters Gertrude (left) and Mickey
Daughter Geraldine Virginia "Mickey" (Younkin) Newcomer Cheverton Martin (1917- ? ) was born on Aug. 8, 1917 in Sand Patch, Somerset County.
As a young woman, she worked for the Somerset County Leader, handling legal notices and obituaries.
Her first husband was Donald Davies "George" Newcomer (Oct. 1, 1905-1960), the son of John Charles and Margaret (Davies) Newcomer and a native of Meyersdale, Somerset County.
Their three daughters were Gwendolyn Ankeny, Deborah Lee Miller and Donald Davies Newcomer Jr.
Donald served in the U.S. Marine Corps "and was wounded in the Chinese Rebellion," said the Daily American. He earned a living over the years as a bartender in Rockwood. Their address circa 190 was 711 East Main Street.
Donald was afflicted with central artery problems known as "Leriche Syndrone" onto which he suffered gangrene of the bowels and septic shock. He was admitted to St. Francis General Hospital in Pittsburgh, but could not rally over a six-week stay. He passed away there at the age of 55 on Nov. 12, 1960. His remains were brought back to Somerset County for burial in the Younkin plot in Rockwood.
Mickey later wed (?) Cheverton. Mickey was a member of the First Christian Church of Somerset and the American Legion Post 181 Auxiliary. She also served as First Pennsylvania State President of the Fraternal Order of Eagles Auxiliary.
After an apparent divorce, she wed again to Jack Lowell Martin ( ? -1987). They are believed to have spent parts of their years together in Port Charlotte, FL. Mickey was rendered a widow again at Jack's passing on March 3, 1987.
She is seen here with sister Gertrude at the 1991 Younkin Reunion at Kingwood. In the mid-1990s, she and daughter Deborah Miller entertained a visit from the founder at this website in Mickey's apartment in Somerset. As she aged, she lost her eyesight and used a super-magnifying device for reading and looking at photographs.
Mickey died at Somerset Hospital on April 12, 1999 at the age of 81. Interment was in Somerset County Memorial Park, with Rev. Daniel F. Nicksich officiating. An obituary was printed in the Somerset Daily American. The family asked that any memorial contributions be made to the Somerset County Blind Association.
Daughter Gwendolyn Newcomer was joined in matrimony with Lt. Col. Paul Ankeny. Their home circa 1999 was in Hilton Head, SC.
Daughter Deborah Lee Newcomer married Douglas I. Miller. Their two sons are Douglas E. Miller and David Scott Miller. They have lived in Somerset.
Grandson

Douglas E. Miller

resided in Somerset in the late 1990s.
Son Donald Davies Newcomer Jr. was united in wedlock with Debra Panjaitan. They produced two children -- Paul D. Newcomer and Jamie L. Newcomer.
Grandson

Paul D. Newcomer

dwelled in Mullica Hill, NJ in 1999.
Granddaughter Jamie L. Newcomer

made her home in 1999 in Wenonah, NJ.
~ Daughter Gertrude (Younkin) Christner Eckert Donaldson ~
Daughter Gertrude E. Younkin (1910-2008) was born in 1910.
She was the last surviving member of the Minerd-Miner family to have attended the clan's first reunion at Ohiopyle, Fayette County, in 1913. She was was born in Sand Patch in 1910, and resided in Somerset.
She was married three times. Her first spouse was Paul W. Christner (Dec. 7, 1906-1937), son of George W. and Emma (Rector) Christner.
She and Paul had two sons: Gerald Emery Christner and George Wayne Christner. They dwelled at 118 South Center Street in Somerset.
Paul earned a living for the final 13 months of his life as part owner of a restaurant and grill. Tragically, he suffered from heart valve disease. Then, when he fell down a flight of stairs at home, causing severe bruising of his head and face, his health declined rapidly. He succumbed at the age of 30 on Feb. 12, 1937. Interment was in the Husband Cemetery in Somerset.
Gertrude's second and third husbands were John Eckert ( ? - ? ), son of Alvin Eckert, and William Donaldson ( ? - ? ). The Eckerts resided in Cleveland, OH circa 1953.
She was a member of the First United Methodist Church of Somerset and the Ladies Auxiliary of the Fraternal Order of Eagles. In 1991, she and her sister Mickey went to the first Younkin Reunion-East, held at Kingwood Picnic Grove in Somerset County. As she aged, she became "one of the first residents of the Somerset Towers," said the Daily American.
Gertrude passed away at the age of 97 on April 20, 2008, at The Patriot in Somerset. At the National Younkin Reunion held in Somerset County in July 2008, a candle was lit in her memory at a religious service held at the historic Mount Union Church near the town of Casselman. Her name was read aloud by reunion official Everett Sechler, and she further was remembered in brief remarks by Minerd.com founder Mark Miner.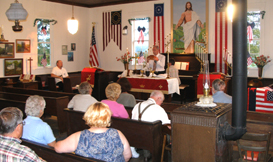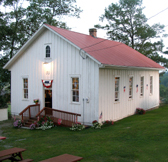 Gertrude (Younkin) Christner Donaldson was remembered with a lighted candle in her memory and in remarks during religious services in the historic Mt. Union church at the 2008 National Younkin Reunion
Son Gerald Emery "Jerry" Christner (1929-2016) was born in 1929. He attended Brooklyn Heights High School in the Parma area of Cleveland, and is said to have scored "the first touchdown as a member of their football team." He married Doris Decker ( ? - ? ). Their children were Janise Bayne, Amy Sanders, Debra Sandberg, Dana Vargo and Scott Sandberg. Gerald served in the U.S. Army during the Korean War. They made their home in Strongsville, OH and then by 1999 were in Palm Harbor, FL. Suffering from Parkinson's Disease, Jerry died at the age of 87 in Palm Harbor on May 24, 2016. An obituary was published in the Cleveland Plain Dealer.
Granddaughter

Janise Christner married David Bayne.
Granddaughter Amy

Christner

wedded Dannie Sanders.
Granddaughter

Debra

Christner

was joined in marriage with Michael Sandberg.
Granddaughter Dana

Christner

was united in wedlock with Frank Vargo
Son George Wayne Christner resided in North Canton, OH.
Copyright © 2002, 2007-2008, 2010, 2018 Mark A. Miner