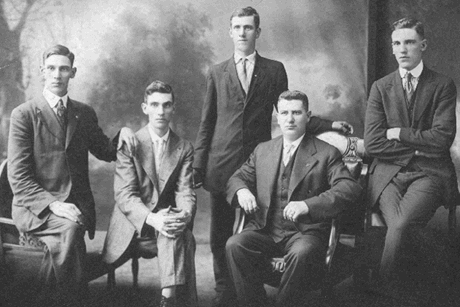 Five handsome, well-dressed Younkin brothers -- the sons of William "Dayton" and Lucinda (Harbaugh) Younkin -- each played a role in the political, economic, military and cultural aspects of his times in Western Pennsylvania, and in some instances on a national scale. Their lives serve as examples for us today.
Warren Dempsey Younkin, at far left, was wounded in France in World War I when gassed with poison by the German Army. Later, he helped organize the first annual Harbaugh Reunion in 1926 and served as its initial president.
Ira "David" Younkin, second from left, was an influential and visionary Fayette County politician who twice served as Mayor of Connellsville, PA. He helped build the Connellsville Airport, and his life touched President Franklin D. Roosevelt and World War II hero General George C. Marshall, author of the world-renowned 'Marshall Plan.'
James "Franklin" Younkin, center, was a member of the Springfield Township School Board in Fayette County, PA and served as a central committeeman of the county's Republican Party.
George "Osborne" Younkin, second nd from right, was an entrepreneur who co-owned a wholesale produce company called Younkin Brothers. He is profiled in the 1912 book, Genealogical and Personal History of Fayette and Greene Counties.
Charles Arthur Younkin, far right, was a businessman, genealogist, journalist and family cheerleader. His pioneering work during the Great Depression to organize the Younkin National Home Coming reunions and publish the Younkin Family News Bulletin resulted in a coast-to-coast following involving thousands of cousins. His efforts set the stage for the renewed interest in Younkin family connections today, and the establishment of the Younkin Reunion in the 1990s.
Copyright © 2002 Mark A. Miner