Home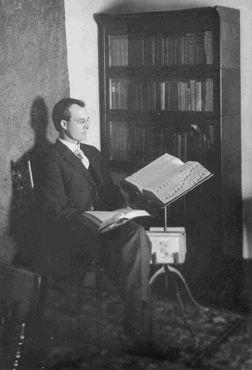 Carpenter, scholar and part-time preacher William Allen Miner, the son of Andrew J. and Mary Louise (Johnston) Miner, relaxes in his study in a penny postcard sent to his mother in Washington, PA in the early 1900s. The image likely was taken in or near Denver, CO by his brother, commercial photographer Ward C. Miner. Very religious, Will was a lay minister who served a number of small Methodist congregations in Mississippi, Colorado, Virginia and Pennsylvania. However, his primary occupation was as a building contractor in Washington, PA and later in El Monte and Rosemead, CA.
At some point in time, Will commissioned a professional genealogist to research the Minerd-Miner family roots. He told his nieces in the 1920s or '30s that the family was "Pennsylvania Dutch," had come from Somerset and Fayette Counties, PA, and had once spelled the name with the "d." In 1956, as a 70-year-old widower, he bought a small stone to mark the otherwise forgotten graves of his grandparents, Henry and Polly (Younkin) Minerd, in a small remote farm cemetery near New Freeport, Greene County, PA. That marker today represents the only known evidence of the couple's fate.
Sadly, Will's family history papers were lost over the years, thought to have been left behind in one of his Southern California homes. If found today, they would provide a tremendous window into our family's Pennsylvania-German roots.
Copyright © 2004 Mark A. Miner