Home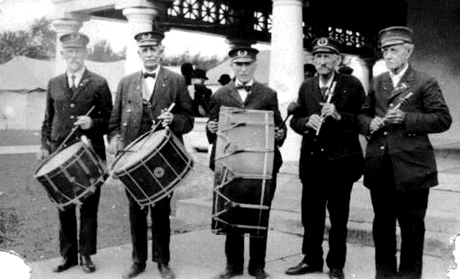 Nobody, it seems, enjoyed displaying their patriotism and playing stirring music more than Civil War veterans. Here, in an image circa 1912, Norman D. Knight stands second from right, with a fife, along with his brother in law, Hiram Baughman, at far left. Norman had served in the 4th West Virginia Volunteer Infantry during the war, and Hiram had been in the 122nd Ohio Volunteer Infantry, and held at the notorious Andersonville Prison.
What makes this image extra special is that the Knights and Baughmans were Kansas pioneers, settling there in 1871. They were among many in our family who ventured from the safe haven of home and risked carving out new lives in the vast, empty and dangerous spaces of the American west. The Knights and Baughmans moved to Kansas just a few short years after the Chiefs of the Kiowa, Comanche, Cheyenne and Arapaho Indian tribes had signed a peace treaty, ending years of bloody conflicts with Kansas homesteaders and the U.S. Army.
Click to view a list of all the known Civil War soldiers in our family. Click to see the names of cousins who were western pioneers.
Copyright © 2001 Mark A. Miner