Home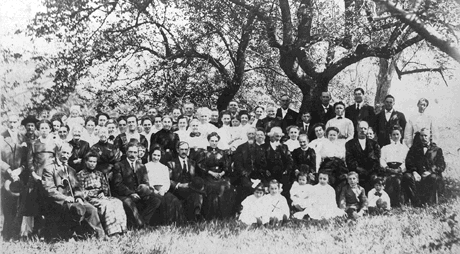 This image of well-dressed Younkin cousins was likely taken in Somerset County, PA, sometime in the 1910s. Known to be in view are Daniel M. and Susan (Swick) Younkin, of Rockwood, PA, seated at far left (he's holding a cane). His brother William 'Shed' Younkin and wife Caroline (Cupp) Younkin of Black Twp., Somerset County, are seated directly behind the young girls in light dresses, with his head turned looking at her. Most of the other seated adults are thought to be children (and their spouses) of Shed and Caroline. The identities of the standing adults are unknown -- can you help? See below for close-ups of the faces.
Both Daniel and Shed were sons of John M. and Laura (Minerd) Younkin of Kingwood, Somerset County, and both are known to have attended the first Minerd Reunion, held in 1913. Daniel also organized the 1918 Minerd-Miner Reunion, held at Rockwood, PA. This photo is courtesy of the Rockwood Area Historical and Genealogical Society.
This year's Younkin Reunion-East will be held in the Kingwood Picnic Grove, Somerset County, PA on July 27-29, 2001.



Copyright © 2001 Mark A. Miner