Home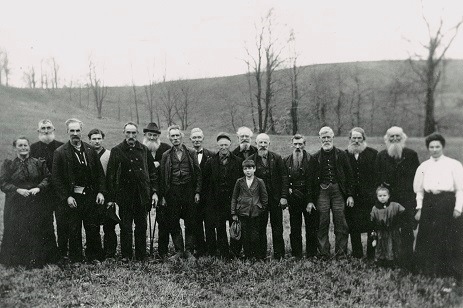 Of the 118 known Civil War soldiers in the extended Minerd-Minard-Miner-Minor clan, seven fought 150 years ago this month in the greatest military battle on U.S. soil -- Gettysburg. Decades afterward, one such veteran, Martin Miner, attended a soldiers' reunion in Normalville, Fayette County, PA, and is seen in this image, standing at center and wearing a cap. The boy in front of him may well be his son Edward Campbell Miner, although this needs to be confirmed. The gathering was held on the farm of Andrew and Cassie Johnston and their son Jesse (1st, 3rd and 4th from left), with the only other known pictured soldier pictured being John Schultz (6th from left), who lost a leg and is seen with a crutch.
At Gettysburg, in the first day's fight on July 1, 1863, Martin and his 142nd Pennsylvania Volunteer Infantry engaged the Confederate Army along what today is Reynolds Avenue. They fought next to the First Pennsylvania Artillery, part of the 3rd Division, I Corps commanded by Maj. Gen. Abner Doubleday, who later helped found organized baseball. They bravely repulsed the invaders until reinforcements arrived. While Martin emerged unscathed, his brother in law Andrew "Jackson" Rose Sr. was shot in the right forearm and later lost the limb to amputation.
Others in action at Gettysburg were his future step-brother, Michael Ansell Firestone, of the 142nd Pennsylvania Infantry; and cousins Samuel A. Birch of the 16th Pennsylvania Cavalry; Cyrus Lindley of the 140th Pennsylvania Infantry; John F. Rockwell of the 40th Pennsylvania Infantry; Franklin Charles Wintermute of the 132nd Pennsylvania Infantry; and James Eyster Murdock Sr. of the 7th West Virginia Infantry. Several others missed the battle due to re-assignment, injury or illness, among them Chance Miner of the 1st West Virginia Cavalry; Ephraim Miner of the 142nd Pennsylvania Volunteer Infantry; William Henry Alderman of the 8th Ohio Infantry; and George W. Turner of the 16th Pennsylvania Cavalry.
In a twist of fate, Martin helped organize the initial Minerd-Miner Reunion in 1913 at Ohiopyle, PA, but dropped dead at his dinner table two years later, having just returned from another Civil War reunion in Washington, D.C., where he had marched in a grand review before President Woodrow Wilson. More >>>