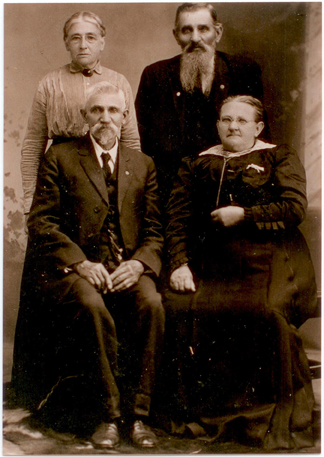 Together again, brothers and Civil War veterans Norman D. Knight (seated) and Daniel Harry Knight pose in the early 1900s with their wives Sarah Elizabeth (Baughman) Knight (seated) and Caroline (Lewellyn) Knight. The sons of James and Susanna (Imel) Knight Jr., they were born in Somerset County, PA, but moved as boys to Marshfield, Athens County, OH, after the death of their mother.
When the Civil War erupted, Norman was the first of the pair to answer the call of duty. On June 27, 1861, just two-and-a-half months after the war began, he joined the 4th West Virginia Volunteer Infantry. He was a fife player with the regiment, and saw service in Vicksburg, MS and Youngs Point and Milikens Bend, LA. Later, in 1865, Norman stood as an honor guard for President Lincoln. He received an honorable discharge in July 1865 in Clarksburg, WV.
Brother Daniel waited more than a year to enlist. He was assigned to the 92nd Ohio Volunteer Infantry, and took part in the battles of Chickamauga, Chattanooga, Resaca, Kennesaw Mountain and Jonesboro. He also was part of General William Tecumseh Sherman's "March to the Sea." After the war ended, he marched in the Grand Review before President Andrew Johnson in Washington, DC. He was discharged on June 12, 1865, in Washington.
Norman and his family moved immediately after the war to Morrison, IL, and thence as pioneers to Burrton, KS in 1871. They remained there for the rest of their lives, spanning nearly four decades. Daniel and his family resided in western Ohio for 25 years after the war, and in 1898 tried their hand at farming in Puget Sound, WA only to become quickly unhappy with the wet climate. They then migrated to Gladwin, MI, where they settled permanently on a farm.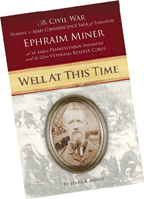 Norman, Daniel and all 107 Civil War cousin-veterans of our Minerd-Minard-Miner-Minor family will be honored at our upcoming national family reunion on June 24- 25-26, 2011, entitled "A Visit from a Civil War Soldier." On Friday evening, reunion president and Minerd.com founder Mark Miner will sign copies of his new book, Well At This Time, the Civil War diaries and Army convalescence story of cousin Ephraim Miner of the 142nd Pennsylvania Volunteer Infantry and the 22nd Veterans Reserve Corps. The book features scans of Ephraim's handwritten entries, as well as more than 100 rare Civil War engravings and family photographs, and is available in three attractive, lushly designed formats. [ More >>> ]
The Saturday traditional reunion picnic will commemorate the 150th anniversary of the war, and will be held at the Indian Creek Valley Community Center near Indian Head, PA, featuring a daylong campout by the Sons and Daughters of Union Veterans of Somerset County, and a one-man performance by Civil War re-enactor Bill May. Sunday's big event will be a tour of the battlefield at Gettysburg with a licensed guide, showing us specific sites where our kin fought during that epic battle. [ Details >>> ]