Home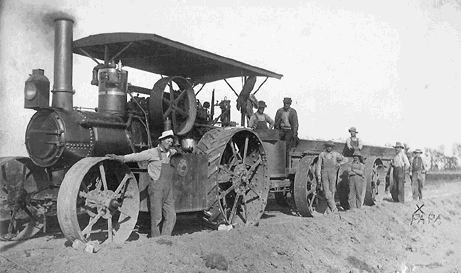 Demonstrating sophisticated road-building technology of the time, Hugh Valentine Miner (standing on the steam engine, at left) and his co-workers take a break from their labors. In this view, they are using crushed stone to pave Shanower Road (today known as Cross Creek Road) near Tontogany, Wood County, OH. The other man on the steam engine is Howard Jeffers, and the man at far right, labeled "Papa," is Hugh's father in law, Ananias Benton Shanower.
Hugh's grandparents, Samuel and Susanna (Hueston) Minerd, had settled along Tontogany Creek Road near Cross Creek Road in about 1846, and today are acknowledged as among the "First Families of Wood County."
Another family that resided near Cross Creek Road during the Civil War years was Emanuel and Maria (Ward) Custer, parents of General George Armstrong Custer. While the General never lived there, he often visited while on furlough from the Army. The General's younger, brother, Thomas Ward Custer, a two-time Medal of Honor recipient during the Civil War, produced a child out of wedlock with a neighbor girl, Rebecca Minerd. This story was the subject of our 2002 National Minerd-Miner-Minor Reunion, and also a 2003 tour for the Great Lakes Conference of the Little Big Horn Associates.
Copyright © 2004 Mark A. Miner