Home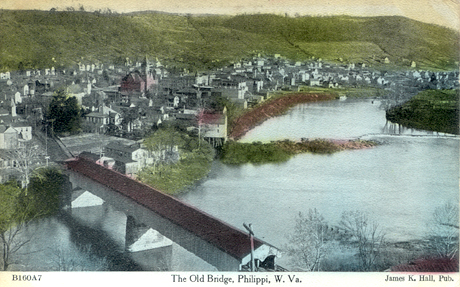 The mountain town of Philippi, Barbour County, West Virginia, hard by the Tygart River, is remarkable in two aspects of our family's rich past. First, it was the historic site of the first land battle of the Civil War, where Capt. Henry Clay Minor of the 16th Ohio Infantry saw action. This postcard photograph, from high above the wooden covered bridge, and from approximately where Alderson-Broaddus College now stands, is the same perspective that Union forces would have seen during the battle when they bombarded the town. The bridge, built in 1852, served both Northern and Southern armies during the war for the passage of troops and supplies across the mountains into Virginia. Sadly, the original bridge was consumed in a fire in 1989 but has since been rebuilt.
The town and surrounding mountains are also the longtime home of a mixed-race family named Minerd-Minard that we strongly suspect is ours'. Beginning married life in the 1830s in Somerset and Fayette Counties, PA, Jacob and Ruth (Adams) Minerd migrated south into West Virginia, where they settled in Grafton, Taylor County. (He was Pennsylvania-German, and she was Native American.) They and their offspring, including three Civil War veterans, moved further south to Philippi in the postwar years. Jacob and Ruth then migrated to Marietta and Athens, OH in about 1881.
This branch of Minerds and Minards (sometimes today spelled 'Miner' and 'Minor') is acknowledged as part of the tri-racial "Chestnut Ridge Community" of Philippi. It has been studied by many scholars, anthropologists and sociologists over the years. As of New Year's Eve 1984, when the Pittsburgh Post-Gazette carried a major feature story about this community, about 1,500 members were said to be "tucked away high in the West Virginia Appalachians..."
Unlike their fully white cousins, the Chestnut Ridge Minerds suffered much racial discrimination in West Virginia in the 1800s, even though they were light-skinned and could "pass for white." This included, but was not limited to, exclusion from attending school with white children; paying extra taxes; being called such derogatory terms as "guinea" and worse; and losing certain legal rights because their birth records were willfully destroyed by local officials. When they passed away, local newspapers rarely published their obituaries. Those members who moved to Ohio found a more tolerant society where they received higher quality educational and employment opportunities.
Copyright © 2005 Mark A. Miner