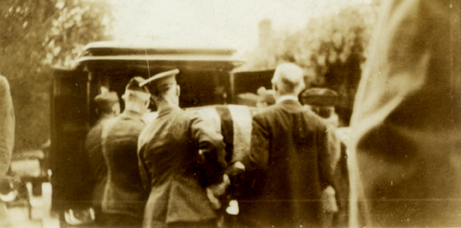 A soldier's flag draped casket -- a hot-button issue of the Presidential election to be decided this month -- reminds us that the heartache of our nation's military action in Iraq is not the first time Americans have given their lives overseas. This photograph shows the military funeral of World War I soldier William Curtis McKnight, son of Henry and Martha (Nutt) McKnight of near Brownsville, Fayette County, PA. He is one of 22 of our cousins to make the ultimate sacrifice to preserve our freedoms in the United States.
William tragically was killed in a freak railroad accident in France in August 1918, just three months after shipping out from training camp in the U.S. His remains were not returned statewide for more than three years. This snapshot was taken during the funeral in September 1921, held at the Methodist-Episcopal Church in Dawson, Fayette County, with burial at the nearby Dickerson Run Cemetery.
William was married to a distant cousin, Dora Strauch, the daughter of John and Mary "Hester" (McKnight) Strauch, and he previously was pictured in our "Photo of the Month" in December 2001.
Copyright © 2004 Mark A. Miner