Golie Cephas Bedillion
(1892-1964)

Golie C. Bedillion
Golie Cephas Bedillion was born on Oct. 17, 1892 in Amity, Amwell Township, Washington County, PA, the son of John M. and Catherine (Miner) Bedillion.
Golie in young manhood was of medium build and height. He had blue eyes and dark brown hair.
On Oct. 18, 1915 -- the day after his 23rd birthday -- Golie was united in holy matrimony with 22-year-old Mary Myrtle Donley (1893-1942), daughter of Felix and Sarah Jane "Jennie" (Durbin) Donley of Greene County, PA. Justice of the peace Zenas D. Wonsetter officiated.
The couple went on to produce a brood of children – Helen Naomi Day, Donald Bedillion, Charles Keith Bedillion, Clifford "Wayne" Bedillion and an unnamed son who was three months premature and died at birth on Nov. 23, 1915. The baby was buried in Washington Cemetery.
Their address in 1915 was 386 Broad Street and in 1917 at 384 Broad Street. Golie was employed in 1917 as a yard clerk with the Baltimore and Ohio Railroad in Washington.
Circa 1920, Golie and Myrtle and their two eldest children lived with Myrtle's widowed mother on Broad Street in West Washington. Myrtle's 38-year-old cousin, Thurman Durbin, also resided in the home that year. By that time, Golie had gone to work as a sorter with a glass factory, likely the Hazel Atlas plant where many of his relatives also earned a living.,
When the federal census was enumerated in 1930, the family made its home on East Beau Street in East Washington. That year, the 37-year-old Golie was listed as "salesman - insurance." Myrtle's widowed mother in law, age 76, also lived under their roof that year.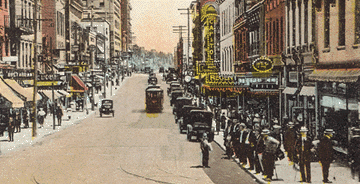 Chestnut Street in downtown Washington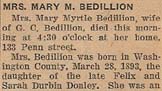 Obituary, 1942
Golie and Mary moved by 1940 to 133 Penn Street in Washington and were active members of the West Washington Methodist Church. He continued to sell insurance.
The Washington Reporter said that Golie "spent his entire life in Washington. He worked for the Prudential Insurance Company for 25 years and then for William J. Warrick, Florist, until [1958]."
On March 2, 1942, Mary suffered a massive heart attack in their home 133 Penn Street. A physician was summoned but did not arrive until shortly before she passed away. She was just 48 years and 11 months of age. She was laid to rest at Washington Cemetery.
Golie outlived her by 22 years, and moved to a residence at 7 South Franklin Street. During that time his health declined from hardening of the arteries. After contracting a terminal case of bronchial puenomia, he died in Washington Hospital on Dec. 5, 1964 "following a lingering illness."
~ Son Donald J. Bedillion ~
Observer-Reporter
Son Donald J. Bedillion (1917-2002) was born on April 2, 1917 in Washington, Washington County.
He was married twice, first in 1940 to Jane Dediker ( ? - ? ).
Together, they bore one son, Charles "Chuck" Bedillion.
During World War II, he served with the U.S. Navy as a seabee in Okinawa, Saipan, Guam and Hawaii. Later, he was employed by Ward Printing and Jessop Steel in Washington, followed by work at Cooper Industries in Canonsburg, where he retired in 1984.
Active in the community, he sang in the choir of the Emmanuel Presbyterian Church in Eighty Four, Washington County, and was on the pastor nominating committee of the West Alexander Presbyterian Church. He also was a commander of the Washington Veterans of Foreign Wars Post and active with the Edwin Scott Linton American Legion Post in Washington.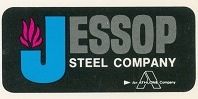 Donald's employer, Jessop Steel
Said the Washington Observer-Reporter, he "enjoyed traveling, singing and music."
Sadly, Jane died in June 1985.
On Aug. 7, 1986, Donald married his second wife, widow Winnie King Hodgens ( ? - ? ). She had been married previously to Donald Hodgens ( ? - ? ) and is believed to have brought two offspring into the union, Robert Kalakewich and Sandra Boyd.
Winnie grew up on a farm in West Alexander, Washington County. For three decades, she was employed by Curtis Pharmacy. She belonged to the West Alexnder United Presbyterian Church and to the Order of Eastern Star in Claysville.
In his final years, Donald lived in Claysville, Washington County. He died at home at the age of 85 on Dec. 9, 2002.
The twice-widowed Winnie lived for another dozen years. Toward the end she was admitted to Humbert Lane Nursing and Rehabilitation Centre in South Strabane Township. There, she succumbed to death on July 16, 2014. Her remains were lowered into eternal repose in Claysville Cemetery. An obituary was published in the Washington Observer-Reporter.
Son Charles "Chuck" Bedillion ( ? - ? )
~ Daughter Helen Naomi (Bedillion) Day ~
Daughter Helen Naomi Bedillion (1919-2011) was born on Aug. 4, 1919 in Washington.
On Aug. 4, 1939, on her 20th birthday, Helen married James Hiram Day (May 5, 1917-2011), son of Stephen and Sophia (Eldora) Day. The nuptials were held in Dunbar, Fayette County, PA by the hand of Rev. O.G. Cook.
They produced six children -- Stephen Day, David L. Day, Duane Day, Dr. Dennis Day, Linda Schmoyer and Barbara Day, and raised two nephews, William Bedillion and Clifford Bedillion.
The family resided for many years on Day Road in Amwell Township, near Washington, raising dairy and beef on their farm. James was a member for many years of Liberty United Methodist Church, where he volunteered for several administrative roles. They also were members of the Chestnut Ridge Grange.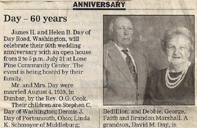 Observer-Reporter, 1999
Said the Washington (PA) Observer-Reporter, Helen "worked as a cashier and in the office at Sears for 20 years... [She] was a longtime member of Liberty United Methodist Church, where she was a Sunday school teacher, youth leader and organist.... She enjoyed shopping, her children and grandchildren and being a homemaker."
In their later years, Helen and James were members of the Grace Brethren Church. They celebrated their 71st wedding anniversary in 2010.
Helen passed away at the age of 91 on Jan. 8, 2011 in Presbyterian SeniorCare in Washington. She was laid to rest in North Ten Mile Baptist Church Cemetery in Amity. At the time of her death, said the Observer-Reporter, she was survived by 18 grandchildren and 13 great-grandchildren.
James only survived his wife by a few months. He was admitted to Southmont of Presbyterian Senior Care and died at the age of 93 on March 30, 2011.
Son Stephen Day was joined in wedlock with Peggy. They dwell in Washington.
Son David L. Day (1952-2018) was born on June 2, 1952 in Washington. On June 28, 1975, at the age of 23, he was united in marriage with Lu Ann Logsdon ( ? -living), daughter of William and Carol Logsdon. The couple produced seven children -- David M. Day, Lori Day and Alisa Hatfield. He received a bachelor of science degree in education from California University of Pennsylvania and then went on to obtain a master of science degree from Bloomsburg University. During David's career, he was employed by the Commonwealth of Pennsylvania at the Selinsgrove Center, Western Center, and State Correctional Institutions in Waynesburg and Greene County. As well, he was a photographer who worked professionally. Active in the community, he was a trustee, church council vice president and Sunday School teacher at Liberty United Methodist Church. He was President of the Amwell Township Historical Society, belonged to the Ramps of Grace Ministry and Chestnut Ridge Grange served on the board of directors of the Washington Communities Human Services. He also was a youth baseball and softball coach for his children's teams. Sadly, at the age of 66, he died at home in Washington on July 3, 2018. Burial was in North Ten Mile Baptist Church Cemetery.
Son Duane Day married Christine. They reside in Washington.
Son Dr. Dennis Day wedded Rosemary. He makes his home in Portsmouth, OH.
Daughter Linda Day married Robert Schmoyer. They live in Middleburg, PA.
Daughter Barbara Day dwells in Abingdon, MD.
~ Son Charles Keith "Tuffy" Bedillion ~
Son Charles Keith "Tuffy" Bedillion (1923-1997) was born on July 7, 1922.
At East Washington High School, in the late 1930s and 1940, he made a name for himself playing football and basketball.
Obituary, 1997
He served in the South Pacific Theatre during World War II, and later in the U.S. Air Force, retiring as a sergeant.
Circa 1968, he was stationed at the Stewart Air Force Base in Newburg, NY.
He moved to central Florida later in 1968 and married Angelina (?).
He was the father of Carlos Jose Bedillion and Mary Bedillion.
Charles died in Orlando on Dec. 2, 1997, at the age of 75. He was laid to rest in the National Cemetery in Bushell, FL.
Angelina survived her spouse by 16-plus years. She passed into eternity in Orlando, at the age of 81, on Jan. 3, 2014. A terse death notice was printed in the Orlando Sentinel.
Son Carlos Jose Bedillion (1966- ? ) was born in Nov. 1966 in Orlando, Orange County, FL. He appears to have spent most of his life in the city. On July 15, 1983, in Orange County, he was joined in mariage with Elizabeth Ann "Beth" Stillinger ( ? - ? ). Carlos was seriously injured in January 1993 when, while driving near the Sandalwood Apartments, he was shot in the head and crashed into the apartment complex. He was rushed to Orlando Regional Medical Center where he was reported by the Orlando Sentinel as "in serious but stable condition." In time he married again to Michelle Diane (Fowler) Osteen (1966- ? ). Their home was in Dunnellon, where he is believed to have owned and operated Bedillion Landscaping & Maintenance. In March 2013, the couple got into a heated argument which led to violence. The local television station reported that she "beat her husband and then tried to burn down the house." She struck him in the back of his head with a weighty picture frame and then threw a computer printer in his direction. Carlos told police that he "ran out of the house but saw [her] pour cooking oil on the stove and kitchen counters and light it on fire." She then fled the premises but was captured in the woods near their residence. The couple then pursued a divorce. But in late November 2014, in another fight, Carlos allegedly pointed a 12-gauge shotgun at her and threatened that she would not leave alive. He also said he would invoke Florida's Baker Act -- which allows officials to place a person in a mental health treatment center if appearing to be self-destructive-- if she were to call law enforcement. He was placed under arrest on charges of aggravated domestic battery and aggravated domestic assault.
Daughter Mary Bedillion made her residence circa 1997 in Florida.
~ Son Clifford "Wayne" Bedillion ~
Obituary, 1968
Son Clifford "Wayne" Bedillion (1924-1968) was born on May 23, 1924 in Washington County.
He served in the U.S. Navy during World War II. Said the Observer-Reporter, he was "employed by the Engineer Drafting Branch of the Defense Electronic Supply Center and previously worked for the government in Monmouth, N.J., following his retirement from the Navy after 10 years of service."
In June 1949, at the age of 25, he married Veronica Carol "Vera" Brady (1924-1960), a native of Newark, NJ who had grown up in Long Branch, Monmouth County, NJ. She was the daughter of James P. and Mary L. Brady. Their nuptials were held in nearby Loch Arbour.
The couple produced three children -- Clifford James Bedillion, Charles Paul Bedillion and William Joseph Bedillion.
The family residence in the late 1950s and into 1960 was Waverly Street in Oakhurst, NJ.
Sadness cascaded over the family when Vera passed away in Monmouth Medical Center at the age of 36 in May 1960. Her obituary was published in the Long Branch Daily Record.
Clifford survived his wife by eight years and spent that time in Dayton, Montgomery County, OH. There, he was a member of South Park Methodist Church.
He died in Dayton on Jan. 29, 1968, at the age of 44, following an illness of two weeks.
The three sons thus were orphaned at young ages. They were raised in part by Wayne's sister and her husband, Helen and James Day.
Son Clifford James Bedillion (1953-2017) was born on Nov. 24, 1953 in New Jersey. He was only seven years of age when his mother died and 15 when rendered an orphan. His home in 1968 was in Dayton, Montgomery County, OH. He appears to have been twice-wed. On July 11, 1980, he was united in matrimony in Albemarle County, VA with Donna Marie Garrison (May 24, 1959- ? ). The pair lived in Gordonsville, VA. Their union lasted for eight years. They did not reproduce, and a divorce was granted on Oct. 27, 1988. Then circa 1990, he was joined in wedlock with Sarah ( ? -living), and their marriage endured for nearly 27 years until separated by death. They made their home in Gordonsville, VA, and belonged to the New Beginnings Pentecostal Holiness Church of Barboursville, VA. The couple's known children were Tony Armstrong, Deborah Maupin, George Marshall, Faith Marshall and Brandon Marshall. Clifford's working career of more than 35 years was spent as a long-haul truck driver. Said the Washington (PA) Observer-Reporter, "He made friends everywhere he went and was a devoted husband, father and grandfather. He was an active, hardworking member of New Beginnings Pentecostal Holiness Church." Clifford died in Gordonsville at the age of 63 on Sept. 21, 2017.
Son Charles "Chuck" Bedillion ( ? -living) made his home in Eighty Four, Washington County in 1968.
Son William Russell "Bill" Bedillion ( ? -living) married JoAnne ( ? -living). They resided in Washington in the 1960s-2010s.
Copyright © 2001, 2004-2005, 2011, 2017, 2021 Mark A. Miner