Rebecca 'Becky' (Birch)
McElfish Miller
(1883-1962)
Rebecca "Becky" (Birch) McElfish Miller was born on Sept. 5, 1883, in West Finley, Washington County, PA, the daughter of Samuel and Susan (Miner) Birch.
In 1900, when the census was taken, 16-year-old Becky and her parents made their home in rural Morris Township, Washington County. Living next door was the family of Sylvester and Jane (Moore) McElfish, whose 33-year-old son John Averil McElfish (1867- ? ) was widowed and living under their roof as a day laborer.
Three years later, in about 1903, Becky and John were married. The wedding took place when John was age 38, and she was age 20. John's father was an immigrant from Scotland, arriving in the United States in 1835, and the mother was from Ohio.
They had one daughter, Madalyn Hall.
John's occupation in 1910 was as a wagon maker. The federal census of 1920 shows the family living on Jefferson Street in Washington, where the 49-year-old John was employed in "decorating - inside." By 1930, the census shows his occupation as house carpenter. That year, the McElfishes resided on Seminole Avenue in Washington, Washington County.
In October 1934, Rebecca and John drove to Cleveland, "where they expect to spend the winter with their daughter, Mrs. John F. Hall, and family," reported the Washington Daily Reporter. Later, after John died, Rebecca moved to Cleveland permanently, sometime before 1944.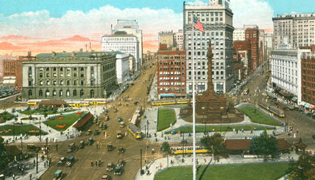 Cleveland's public square in the early 1900s.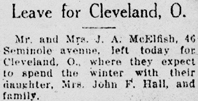 While in Cleveland, she met and married Robert Miller. She was named in the 1949 Washington Reporter obituary of her brother Andrew Jackson Birch, and at the time she was living in Cleveland.
After being twice widowed, Rebecca died in the Cleveland Hospital on Nov. 14, 1962, at the age of 79. Her final resting place is unknown. Her obituary in the Washington Observer incorrectly names her first husband as "A.V." McElfish.


~ Daughter Madalyn (McElfish) Hall ~
Daughter Madalyn (McElfish) Hall (1904 ? ) was born in about 1904.
In early adulthood, she was employed as a teacher in Washington.
On Dec. 28, 1926, at age 22, she married 27-year-old John T. Hall (1899- ? ), son of William D. and Wilhelmina (Quinn) Hall of McDonald, Allegheny County, PA. At the time, John worked as a railroad mail clerk and made his home in Cleveland.
They lived in Cleveland.
The couple bore one son and had two grandchildren.
Copyright © 2001, 2008 Mark A. Miner