Robert Clark Beggs
(1889-1945)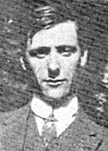 Robert Clark Beggs
Robert Clark Beggs was born on July 20, 1889 in Dunbar, Fayette County, PA, the son of William J. and Mary Belle (Minerd) Beggs Sr. He was a longtime automobile mechanic who at one time owned his own shop on Hill Street in Uniontown, and later was engaged in the trucking business.
When the federal census was taken in 1910, the 20-year-old Robert resided under his parents' roof in Uniontown. He worked as an automobile driver.
On Nov. 20, 1914, in Westmoreland County, PA, the 25-year-old Robert married Helen A. Coleman (1893- ? ).
They had four children -- Althea Belle Snyder, Robert M. Beggs, Richard J. Beggs and Harriet Katherine Jeffries.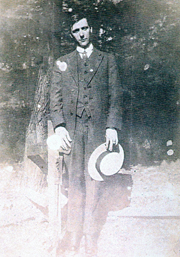 Robert and a favored hat
The census of 1920 shows Robert, Helen and their three eldest children making their home together in Greensburg, Westmoreland County. Their residence was on West Second Street. The census-taker recorded Robert's occupation as "chauffeur - private family."
Sadly, Helen died sometime in the early 1920s, having borne four children whom she left behind. Heartache compounded in July 1925 when son Robert, nearing his eighth birthday, died of spinal meningitis at home on Iowa Street. The boy was buried at Oak Grove Cemetery.
Later in 1925, when he was age 35, the grieving Robert married 24-year-old Anna Agnes Mele (1901- ? ). Anna was the daughter of John and Catherine (Salapa) Mele, a surname also known as "May," and was born in Serino, province of Avellino, Italy. She had emigrated to the United States in 1901, the year she was born.
They had three children of their own -- William J. Beggs, Harry S. Beggs and Rita Ferrara.
Anna was Roman Catholic in her faith, and despite Robert's family background in the Methodist Church, he converted. They belonged to St. Therese Roman Catholic Church of the Little Flower, at the corner of Mill and Ray Streets in Uniontown.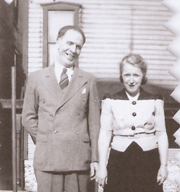 Robert and (?), 1940s
In the late summer of 1925, Robert and his mother, step-father and brother William drove to Washington DC to visit with Robert's sister, Caroline Belle Schurecht.
When the federal census was taken in 1930, the Beggses made their home on Loch Lomond Street in South Uniontown. That year, Robert labored as a machinist in a garage shop.
Despite being married to an American, Anna pursued her own citizenship rights. In June 1944, she was one of 54 individuals who took the Oath of Allegiance to the United States, in a ceremony led by Judge W. Russell Carr of Fayette County's Naturalization Court.
She was employed as a practical nurse, and with her sister in law Minnie Mele was a member of the Catholic Mothers of Oliver 1, a coal mining patch town near Uniontown. Circa 1945, their home was at 435 North Gallatin Avenue in Uniontown.
Afflicted with chronic heart disease, Robert passed away on Jan. 21, 1945, at the age of 55. After viewing at the Minerd Funeral Home, and following a funeral at St. Theresa's Church, he was laid to rest in Oak Grove Cemetery in Uniontown. A year after Robert's death, Anna placed an "In Memoriam" advertisement in the Uniontown Morning Herald, containing his photograph and this poem:
Remembrance is like a golden chain
Death tries to break, but all in vain,
To have, to love, and to part
Is the greatest sorrow in one's heart.
In our dreams we see his sweet dear face
And kiss his sold, cold brow,
And as we loved him then
We love his memory now.
Dear Dad you suffered your share
So God took you in His care.
For all of us you did your best.
May God grant you eternal rest.
Loving Wife and Children.
As a widow, Anna remained active, and in 1951 served on the ticket committee of the annual spaghetti dinner of St. Therese church. At some point she moved temporarily to Pittsburgh. She was living there in 1955 when her father, a longtime coal miner, died in Uniontown. By 1960, she returned to Fayette County, making her home in Oliver 1.
Anna died in Pittsburgh's Magee Womens Hospital at the age of 60 on March 31, 1961. A Rosary recitation was held at the funeral home by her fellow members of the Catholic Mothers. Her funeral mass was held at the St. Therese Church, led by Fr. Nicholas J. Thomas. She was buried in Oak Grove Cemetery.
~ Daughter Hattie Katharine (Beggs) Jeffries ~
Daughter Hattie Katharine Beggs (1912- ? ) was born in 1912.
She married Charles Jeffries and made their home in the mid 1940s in Cleveland, Cuyahoga County, OH.
In 1961, they were in Silver Spring, Montgomery County, MD.
~ Daughter Althea Belle (Beggs) Snyder ~
Daughter Althea Belle Beggs (1914- ? ) was born in 1914.
She married Charles Snyder and resided in Cleveland in the 1940s.
By 1961, they had returned to Uniontown, where they lived at the time Althea's step-mother died.
In 1971, she made her residence in Lemont Furnace.
~ Richard J. Beggs ~
Son Richard J. Beggs (1919- ? ) was born in 1919.
He was a master sergeant in the South Pacific theatre during World War II.
After the war, he maintained a home in California.
~ Son William J. Beggs ~
Son William J. Beggs (1926- ? ) was born in 1926.
He was a private first class in Hawaii during World War II.
In 1961, he lived in St. Petersburg, Pinellas County, FL.
~ Son Harry S. Beggs ~
Son Harry S. Beggs (1927- ? ) was born in 1927.
He served during World War II in the Merchant Marine.
Circa 1961, he was a sergeant with the U.S. Army, stationed in Germany.
~ Daughter Rita (Beggs) Ferrara ~
Daughter Rita Beggs ( ? - ? ) was born in (?).
She married William Ferrara.
Their residence in 1961 was Rices Landing, Greene County, PA.
Copyright © 2008, 2010, 2019 Mark A. Miner