William J. Beggs Jr.
(1892-1954)

William J. Beggs Jr.
William J. Beggs Jr. was born on April 27, 1892 in Dunbar, Fayette County, PA, the son of William J. and Mary Belle (Minerd) Beggs Sr.
As an adult, William was tall and slender, with grey eyes and black hair. In June 1917, during World War I, he registered for the military draft. At the time, he was employed as a coal mine laborer for the Playford Coal Company in Revere, near Uniontown, commuting from his home at 6 Farragut Street in Uniontown.
William later served in World War I, as did his brother David. After the war, William returned home and was a member of the Veterans of Foreign Wars (VFW) Post 47.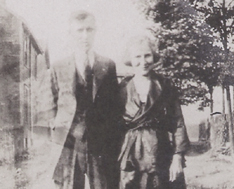 William Beggs and (?)
He married Anna Lillian White (1892-1943), a native of Elmore, OH and the daughter of Sherman Sarnes.
They did not reproduce.
In 1925, the Beggses made their home in the patch town of Uledi, Fayette County, where he was employed mining coal. That year, in late August, they took a driving trip to Washington, DC with his mother, step-father and brother Robert to visit their married sister Caroline Belle Schurecht.
Later, they resided in Hopwood, Fayette County, PA. By the early 1940s, they had relocated again to a home at 17 West Coffee Street in Uniontown.
Anna died at home on Feb. 16, 1943, just a few days before her 50th birthday. Her remains were placed into eternal repose in Oak Grove Cemetery in Uniontown.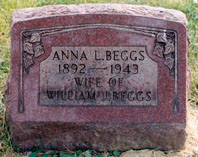 Oak Grove Cemetery
William outlived Anna by more than a decade and dwelled near Uniontown.
He was stricken with lung cancer which spread throughout his body. After six months of suffering, he was admitted to the Veterans Administration Hospital in Aspinwall, near Pittsburgh. There, he passed away on Nov. 5, 1954 at the age of 62
The funeral was held at the home of his brother George in Hopwood. Funeral arrangements were handled by the Minerd Funeral Home of Uniontown, founded by William's first cousin, Edward E. Minerd.
William is buried in the Soldiers' Section at the Sylvan Heights Cemetery in Uniontown.
Copyright © 2001, 2008, 2010-2011, 2019, 2022 Mark A. Miner