While working at Monrovia High School, Orlan made the acquaintance of teacher Robert Culp. In an ironic twist of fate, neither man knew that he was distantly related to the other on the Miner side. (Robert's grandfather was Lewis Mortimer Culp of Roseville, Perry County, OH.)
Orlan and Helen were very devout Christians, and were members of the Nazarene Church in Monrovia. It was through this church that at least one of their daughters met her future husband. Orlan once penned a six-stanza poem reflecting his deep faith, entitled "My Heavenly Dream." The opening and closing stanzas of the poem are reproduced below.
During the Korean War era of the early 1950s, the Miners often graciously entertained their nephew, Odger "Wayne" Miner, who was stationed at the Presidio of Monterey and would hitch-hike several hundred miles to their home on weekends. Wayne fondly remembered them driving him around the community to see the various sites. This included attending the Rose Parade in Pasadena on New Yea's Day 1952, and a tour of Yosemite National Park. It was during this small window of time that the family, especially daughters Marilyn and Louise, became close with this cousin from faraway Aliquippa, PA. In fact, when Louise was married in May 1952, she and her fiancé Carl Ditch asked Wayne to serve as their best man.
Orlan and Helen also hosted visits from Orlan's aged mother when she would come from Washington to see her family and brood of grandchildren.
Orlan poses with a new automobile that he purchased, at right.
Helen died in Monrovia on March 21, 1965, at the age of 55. She was laid to rest at Live Oak Memorial Cemetery in Monrovia. Her obituary was published in her hometown newspaper, the Washington Reporter.
Heartbroken, the widowed Orlan returned to Pennsylvania later that year for a final visit with his elderly mother and sisters and brothers.
During that gathering, he snapped a number of color photographs which today are preserved in the Minerd-Minard-Miner-Minor family archives. He must have handed off his camera at some point because one of the images (seen here) shows Orlan and his mother, age 83, posed in front of a blooming pink bush at the home of his brother Odger in Aliquippa, PA.
Less than a year later, Orlan died in Monrovia of a heart attack, on Jan. 22, 1966, at the age of 59. At the time, he and Helen had produced six grandchildren. They rest for eternity in Live Oak Memorial Cemetery in Monrovia.
My Heavenly Dream
by Orlan Miner
I travelled to a distant land
An angel holding to my hand
It seemed as tho' the skies unfurled
And then I saw the gates of Pearl,
And then the Gates did open wide
The angel and I went on inside;
And there I saw the Streets of gold
And on them there were young and old;
So many friends of yesteryears...
Where'er you go you too must tell
To reject Christ means doom in hell.
But then the angel said to me
"Far deeper than the deepest sea
And higher than the heaven above
For you, my friend, in Jesus' Love."
~ Daughter Marilyn Ruth (Miner) Scofield ~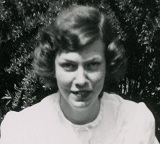 Marilyn Scofield
Daughter Marilyn Ruth Miner (1936-2009) was born in 1936 in Washington, Washington County, PA. She moved to Akron, OH and thence to Southern California with her parents and siblings.
In 1952, when her cousin Odger "Wayne" Miner was stationed at the Presidio of Monterey, and spent weekends visiting at her parents' home, Marilyn and Louise became close with this cousin, and remained good friends for the rest of their lives. They hosted visits from Wayne and his family in June 1978 and again in September 1991. Marilyn and Louise also came to Washington, PA for a Miner Reunion in the summer of 1975.
In Nov. 1954, Marilyn was united in matrimony with Garold Crosby "Gary" Scofield (July 28, 1932-2021), son of David Howard and Alice Joy Scofield. Their union endured for a remarkable 55 years.
They produced a brood of three children -- Paula Schrock Olson, Bryan Scofield and Sara Helbert.Over the years, the Scofields made their home in Somis, Oakview and Ventura, CA.
Gary was a 1950 graduate of Monrovia High School and received his diploma in a ceremony held in Pasadena's famed Rose Bowl. He served in the U.S. Navy during the Korean War, stationed in San Diego. After the war's end, he enrolled in California State Polytechnic University (Cal Poly) in Pomona, receiving a bachelor of science degree in botany and entomology.
In 1959, he was hired to teach at Somis Union Elementary School. During those early years of his career, he attended the University of Southern California and obtained a master's degree in bilingual education. His work at Somis continued until 1986. He has been described as having had a "kind, gentle spirit."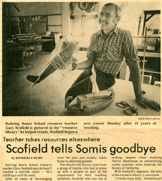 News article, 1986
The Ventura County Star summarized his love of working as an educator:
He loved teaching kids and used his creative spirit to develop unique curriculum for the school. In the early 1970's he was a master teacher in the California Teacher Corps where he created The Discovery Room at Somis School. The Discovery Room worked hand in hand with all students' day to day curriculum. In the old cafeteria of the school art was the focus. Paper Mache, clay, leather work, photography, plant propagation, cooking, baking were some of the mediums kids enjoyed when they went to this Discovery Room each week.
Marilyn worked at a bank and later was a secretary to the procurator at St. John's Seminary in Camarillo. After the birth of their third child, she became employed as a teaching assistant at Pleasant Valley School District, working with special education children, and later taught in the Hueneme School District and Ojai School District.
When he left public education to join the engineering giant Fluor Corporation, Gary was featured in an article in the Camarillo News. His work at Fluor involved educating young engineers about the cost and scheduling aspects of piping projects within oil refineries.
Gary rejoined the field of public education, working at the Summit School in Ojai from 1986 to 2001.
Marilyn and Gary were devout Christians. He served as a deacon for several church congregations, among them Pleasant Valley Baptist Church, Bible Fellowship Church, Grace Community, Ojai Valley Community and Ojai Presbyterian churches. They also were supporters of Rancho Del Rey Christian Camp in Ojai. Gary loved singing in church choirs.
Gary also had a talent for playing the banjo and tenor guitar. He often performed at the "Cowboy Campfires" hosted by his brother Ron and wife Marie at their Red Mule Ranch in Fiddletown, CA. He had a knack for reciting poetry, including the tongue-twisting "Prodigal Son – Melody in F."
The Scofields relocated upon their retirement in 2002 to Ventura, Ventura County, and joined the Ventura Baptist Church.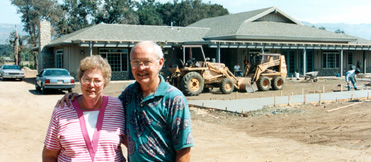 Marilyn and Gary Scofield at Camp Del Rey near Ojai, Sept. 1991
Sadly, suffering from arthritis and cancer, Marilyn died at home at the age of 73 on Dec. 7, 2009. At the time of her passing, she and Gary had 10 grandchildren and five great- grandchildren. Her obituary in the Ventura County Star said that "Marilyn will be remembered as a generous and loving woman of God and will be missed."
After four years of grieving, Gary married again to Elizabeth "Betsy" Quinn ( ? -living). Reported the Star, the pair " shared many similar interests like sketching, painting, gardening, memorizing poetry, singing and traveling. They spent many summers traveling Europe painting and spending time with friends. They worked in their garden daily and were masters of all things tomato."
Gary passed away on Sept. 17, 2021, at the age of 89, at St. John's Regional Medical Center in Oxnard.
Daughter Paula Scofield (1955-living) was born in 1955. She first wed William "Will" Schrock ( ? -living). They bore several chidren -- Jessica Turner and Jake Schrock. She has studied elementary education at Fresno State College, psychology at Azusa Pacific University and special education at Fresno Pacific University. During her working career, she was an education specialist at Centralia Elementary School District. After a divorce, Paul married again in 2018 to Ronald Olson. Today the Olsons reside in Louisville, KY. Paula has authored a brief essay on this website, entitled simply "My Legacy." During the Iraq War of the early 2000s, her son-in-law Dustin Turner, a lance corporal with the U.S. Marine Corps, was interviewed on ABC-TV's Nightline airing on Jan. 24, 2003 in a program entitled "Arming Saddam."
Son Bryan Scofield (1959-living) was born in 1959. He has spent his long career as a chef. He has been married to Anne, and they have a family of children, among them Elyse Pleau, Lyndy Woodruff and Meg Chambers. In 1984, Bryan founded Scofield Catering and Management, a group of accomplished chefs serving Ventura and Santa Barbara Counties with food service and event management for firefighting, basecamps, utility repair, and other disaster support. In 2015, he attended a prestigious culinary course in Lyon, France, studying under highly trained chefs at the world-renowned Institute Chef Paul Bocuse. Today he is owner of Café Ficelle. See his YouTube video.
Daughter Sara Scofield (1968- ? ) was born in 1969 and is a graduate of Mission Viejo High School. She wed (?) Helbert. They are the parents of Hanna Noel Helbert, Nicholas Helbert, Sydney Joy Helbert and Heather Helbert.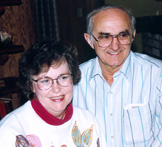 Louise and Carl Ditch
~ Daughter Helen "Louise" (Miner) Ditch ~
Daughter Helen "Louise" Miner (1932-1993) was born in 1932 in Washington, Washington County, PA.
She married Dr. Carl E. Ditch ( ? -2015), one of 10 children of Earl C. and Flora (Braeseker) Ditch of Iselin, PA. The wedding was held on May 3, 1952, in Monrovia. Louise's cousin from Pennsylvania, Odger "Wayne" Miner, who was stationed at the Presidio of Monterey at the time, served as best man.
The Ditches had two children -- Timothy Ditch and Nancy Moody.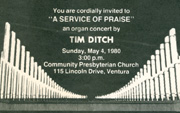 Concert recital invitation
Carl served as a teacher or principal for 31 years at these California schools: Ballico Elementary; Washington School at Winton; Camarillo in the Pleasant Valley School District; Mound School at Ventura; Ventura Unified School District; Pierpont Elementary; Ventura Middle School; University of Santa Clara; and Ventura Missionary School. He was a substitute teacher at Christian schools in Salem, OR.
They enjoyed organ concerts of sacred Christian music performed by their son Tim.
Interested in his own genealogy, Carl researched his ancient roots in Western Pennsylvania and in July 1983 authored a "Summary of Ditch Lineage," which is on file today at the Somerset (PA) Historical Center.
Upon retirement, they lived in Salem, OR.
Sadly, Louise died at the age of 61, on April 27, 1993. She was laid to rest in Ivy Lawn Cemetery in Ventura.
Carl survived his wife by 22 years. After suffering a heart attack, he died in Portland, OR on May 16, 2015.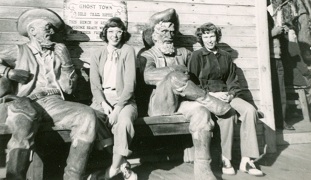 Marilyn (left) and Louise at a California "ghost town" attraction, New Year's Eve 1951. Note the hush puppies.

Harold O. Miner
~ Son Harold Orlan Miner ~
Son Harold Orlan Miner (1940-2001) was born on March 22, 1940 in Washington, Washington County, PA.
As a young boy, he moved with his parents to Akron, OH and thence to Monrovia, CA. As a young man, he attended Northwest Nazarene College in Nampa, ID and worked for J.C. Penney Co. in Monrovia.
When he was 19, Harold married Carol Anne Brown ( ? - ? ), daughter of Rev. Archie O. Brown of Havre, MT. Their nuptials were officiated by Carol's father of the First Church of the Nazarene in Havre. The couple was pictured in the Great Falls (MT) Tribune and Monrovia Daily News-Post, cutting their wedding cake, and the story reported that "the bride wore a floor length gown of white satin with lace bodice, net overskirt, scalloped neckline and long sleeves. heer finger-tip veil was held by a crown of seed pearls and she carried a bouquet of red roses on a white Bible."
Carol was a fellow student at Northwest Nazarene. The couple established their first home in Monrovia.
They bore two children -- Harold "James" Miner and Julie A. Gillespie Highsmith Greene.
The couple divorced when the children were very young.
Harold lived in Camarillo, CA circa 1965, in or near Seattle in 1980, and in Cuyahoga Falls, OH in 1990.
When Harold's cousin Odger "Wayne" Miner brought his wife and three sons to Southern California for a visit in July 1978, they had the opportunity to meet Harold's son and daughter for the very first time. Harold's sister Louise was instrumental in having the children connect with their Miner family.
In 1992, Harold was employed as a sales manager for Soprema Roofing & Waterproofing, Inc., in Vancouver, WA.
He and his brother in law Carl Ditch came to our national reunion in July 1996, in Kingwood, Somerset County, PA. The reunion was held in a picnic grove just about a mile or two from the old farm where Harold's great-grandfather, Andrew Jackson Miner, was born in the 1840s.
Harold spent his final years living near or with his daughter Julie in Newport News, VA. He died there at the age of 61 on July 11, 2001. An obituary was printed in the Newport News Dily Press.
Former wife Carol married again to W. Jim White ( ? - ? ) of Puyallup, WA. She was deceased by 1990.
Son Harold "James" Miner ( ? -living) married Debbie. They reside in Gresham, OR. The children born to this union are Chrissy Miner Tilson and Justin Miner.
Daughter Julie A. Miner ( ? -living) was born in (?). She was first married to (?) Gillespie and made a residence in or around King of Prussia near Philadelphia, PA. There, she worked as a tournament coordinator for the Golf Association of Philadelphia. Then on Sept. 1, 1990, she married a second time to Kenneth "Ray" Highsmith Jr. ( ? -living). At the time, Ray was a manager with the Kentucky Fried Chicken franchise in King of Prussia. The wedding was held at the First United Church of Christ in Hampton, VA. They established a home in Newport News, VA and were the parents of Zachary Thomas Highsmith, James Highsmith, Krystle Highsmith and Brittney Highsmith. Later, after a divorce, she wedded Philip Greene ( ? -living). She has been employed by Head Start and in 2020 was named eastern regional manager for Child Care Aware of Virginia. Grief blanketed the family when son Zachary, age 27, died on March 6, 2020.
Son

Zachary Thomas Highsmith

(1992-2020) was born on April 24, in Richmond, VA and grew up in Newport News, VA. He liked to golf and ride his skateboard. He was the father of Reese Highsmith, Piper Highsmith and Tanner Highsmith. He was employed by Global Workforce Solutions in Chesapeake. Circa 2020, he made his home in Oceanview in Norfolk, VA. Sadly, he died at the age of 27 on March 6, 2020. Funeral services were held at Grace United Methodist Church.
Copyright © 2000-2001, 2003, 2005, 2009-2010, 2012, 2015, 2020 Mark A. Miner