Harry G. Bowman
(1863-1891)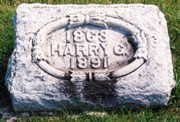 IOOF Cemetery, Hartford City
Harry G. Bowman was born in 1863, during the Civil War period, in Mt. Perry, Perry County, OH, the son of Jonas B. and Lucy (Danison) Bowman. He was a budding law student whose life was cut down by illness in the prime of manhood.
As a 25-year-old, Harry moved with his parents and siblings to Hartford City, Blackford County, IN, where his father manufactured carriages.
Active in the community, Harry joined the Knights of Pythias, and sang in the Plymouth Church choir. He also operated his own photography studio, taking formal portraits of the local citizenry.
Several of his creations have survived, and several original copies are preserved in the Minerd.com Archives, with a copy also found in the Blackford County Historical Society. (If you look closely, you can see the "H.G. Bowman" imprint in the lower left-hand corner.) The identities of the man and woman are not known.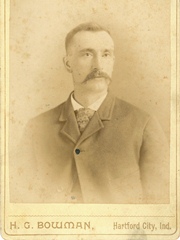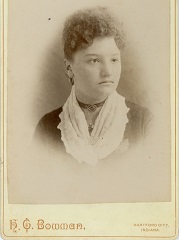 Photographic portraits by Harry's studio -- date and subject identities unknown. Below: detail of his imprints on cardboard-mounted images. See a larger view of the first image.


Harry chose to forego a long-term career in the family business and photography, and moved to Indianapolis to pursue a law career. He was considered "a very promising young man [who] had a bright and prosperous future." He secured a job as messenger-clerk of the Indiana Appellate Court at the time of the court's inception, and apparently lived in a room in the state building in Indianapolis.
The Indianapolis Journal said he "was universally popular with all the State officials and every one who knew him. He was hewing out his own career, with very limited material and little or no capital, but by his earnest, honest, persevering way he had won the esteem of all the State officials and patrons of the Appellate Court and they did all they could do to assist him in his up-hill struggle. At such times as he could he studied law, as he had chosen that as his profession."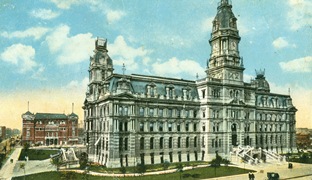 The courthouse in Indianapolis where Harry worked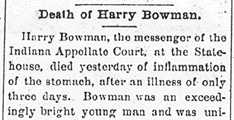 Hartford City Telegram
In May 1891, at age 28, Harry became violently sick with stomach problems so severe that the judges had him admitted to the St. Vincent Hospital. According to the obituary in the Hartford City Telegram, reprinted in the New Lexington Tribune:
… His parents received a letter from assistant law librarian Boyd, his room mate, stating that Harry was not feeling well but not to be alarmed as his condition was not critical. A postal card arrived later, written in an unsteady hand from Harry himself, saying that he … hoped to see them Sunday. Inflammation, however succeeded the attach of neuralgia and death came to his relief like a soothing angel. The sad intelligence of his death reached his parents Friday noon and fell on them with a sorrow such as parents who love their children can only know.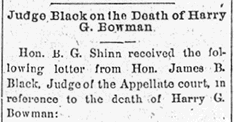 Somerset (OH) Press
Judge James B. Black, Judge of the Appellate Court, wrote a letter to friend B.G. Shinn of Hartford City, expressing his sorrow. The letter was reprinted in the Somerset Press in Ohio:
I was greatly shocked and grieved at the death of young Harry Bowman, whom I have learned to respect and love for his many excellent qualities. In goodness, purity and honor he was far above the average young man. I never had any occasion to remonstrate with him or to reprove him. This is true of all our court and all who came in contact with him. He was universally respected and we shall long mourn his loss. It would have been a melancholy pleasure for me to have attended his funeral, and I would have done so, but I was quite worn out with fatigue and loss of sleep, having just returned from the funeral of Gov. Hovey, … and I was suffering with a bad cold…. When I think how much the world needs such good men I cannot repress my tears because of his death.
Harry's remains were returned to Hartford City, with an impressive funeral organized by fellow members of the Knights of Pythias. He was buried beside his sister Clara in the family plot at the IOOF Cemetery east of town.
Copyright © 2000-2001, 2012, 2020 Mark A. Miner