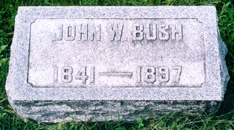 Park Cemetery, Greenfield, Indiana
John W. Bush was born on Jan. 18, 1841 near Zanesville, Ohio, the son of Christopher and Elizabeth (Miner) Bush.
He moved to Greenfield, IN as a boy, and was one of five brothers to serve in the Civil War.
Small of stature, John stood 5 feet, 4½ inches high.
After the Civil War broke out, he enlisted in Company B of the 8th Indiana Volunteer Infantry with brothers James and Henry and future brother in law John B. Anderson. Muster rolls of the regiment show that he was sick at home in February 1862 and on furlough in February 1864. Later, he was assigned to duty in Co. G of the 69th Indiana Volunteer Infantry.
In 1863, the regiment crossed the Mississippi River near Vicksburg, and early on the morning of May 1 engaged the enemy on Thompson's Hill (also known as Magnolia Hill), near Port Gibson, MS. While on a charge, and after taking a hill, after being outnumbered 5 to 1, John tended to brother Henry when he was wounded by a gunshot in the left shoulder.
John was promoted to corporal of the regiment. He was discharged at Charlestown, WV on Sept. 4, 1864. One of his sisters published this memoir in the Greenfield Herald and the Greenfield Hancock Democrat:
He was a brave soldier, and through all the hardships which he endured he came out of the service without a wound. He joined the I.O.O.F. fraternity some thirty years ago, was a faithful member up to the time of his death and was buried with the honors of the order. He was honest in his dealings and was always ready to lend a helping hand in time of need. He was not a member of any church, but was a firm believer in the Bible and was often found reading its sacred pages.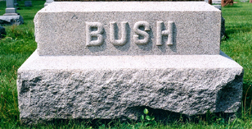 Park Cemetery
On New Year's Day 1878, John married Julia Ann Eliza "Lida" Willett (1848-1917), by the hand of justice of the peace John W. Walker. She was the daughter of Mathew and Elizabeth A. Willett.
They produced one daughter, Florence Opal Bush.
John and Lida were farmers and resided on a 73-acre farm about 2½ miles north of Greenfield. (The site was in Section 19, Township 16 North, Range 7 East.) As of 1897, the farm was used to raise livestock, as well as some 360 bushels of corn worth 20 cents per bushel and 50 bushels of wheat worth 85 cents per bushel.
At the age of 55, John swore in an affidavit that "I have a severe pain in My left side. It extends from my short ribs upwards 4 or 5 inches. I don't get to sleep any in the after part of the night. I have so much pain I have Gurgling sensation in My left side."
In 1894, Lida inherited a 13-acre farm from her parents, in Section 19, Township 16 and Range 7 of the county. A year later, after her father had died, Lida inherited another local farm of 62 acres, perhaps as a rental property.
Greenfield, Indiana
John suffered from cancer. Just after his 56th birthday, he died at home on Feb. 11, 1897, and is buried at Park Cemetery in Greenfield. His newspaper obituary said "His sufferings were of the severest nature, but he bore them manly until God said 'It is enough' and relieved him of his pain." His burial was handled by his order of Odd Fellows, which the Greenfield Hancock Democrat said "was a very large and imposing body."
At his death, John was in debt amounting to more than $500. Lida sold cattle, hogs and part of the farm to raise funds to help repay creditors. She also borrowed $100 from daughter Florence to help pay John's medical and funeral expenses.
Two years after John's death, Lida married lumberman Charles V. Carter ( ? - ? ), on Dec. 23, 1899. Charles is mentioned in Binford's 1882 History of Hancock County, Indiana.
Sadly, Florence died in 1909 at the age of 31 -- apparently unmarried -- and was buried at the Park Cemetery in Greenfield.
Lida died in 1917, and is buried with John and Florence in the Park Cemetery.
Copyright © 2000, 2008, 2010, 2019 Mark A. Miner