Mary E. (Bush) Anderson
(1847-1938)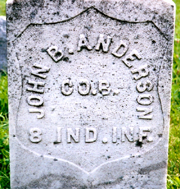 Greenfield Cemetery
Mary E. (Bush) Anderson was born on December 4, 1847 in Wayne County, IN, the daughter of Christopher and Elizabeth (Miner) Bush. She sometimes went by the nickname of "Mollie."
As a young girl she moved with her parents to Greenfield, Hancock County, IN.
On June 25, 1868, at the age of 21, Mary married 24-year-old Civil War veteran John B. Anderson (1844-1910), a native of Miamisburg, OH. Justice of the peace George Barnett of near Greenfield performed the ceremony.
The Andersons had no children, but in later years cared for Mary's widowed and aging mother, Elizabeth.
A farmer and carpenter, John served in the 8th Indiana Volunteer Infantry, Companies B and G, during the war. He enlisted at age 18, standing 5 feet, 5½ inches tall, with black eyes and black hair. During his service, he suffered from minor bowel and kidney discomfort and "stitch in back" but otherwise was unharmed. He served in the same regiment as his future brothers in law John, James and Henry Bush.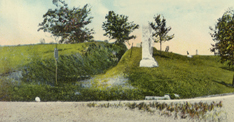 Vicksburg battlefield trench ruins
In 1863, the 8th Indiana crossed the Mississippi River near Vicksburg, and early on the morning of May 1 engaged the enemy in battle on Thompson's Hill (also known as Magnolia Hill), near Port Gibson, MS. Seen here are the remains of a trench used by Union soldiers at Vicksburg, with battlefield monuments as preserved circa 1910.
While on a charge, and after taking a hill, after being outnumbered five to one, James tended to brother in law Henry Bush who was wounded by a gunshot in the left shoulder.
John later was discharged at Charleston, WV on Sept. 4, 1864.
In the postwar years, he was a member of the Grand Army of the Republic (GAR), a veterans organization.
John and Mary settled in a house on 106 East Main Street (also known as Route 40, which at the time was the National Highway) in Greenfield. Many of Mary's distant cousins in Pennsylvania were directly involved with construction of the highway and its ongoing maintenance and repair.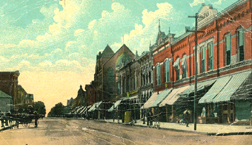 Greenfield's Main Street (National Road)
Main Street is seen here in an old colorized postcard, looking west in the center of town.
The Greenfield Republican once reported that Mary "was during her long residence in Greenfield one of the most valuable workers in the M.E. church... She was a remarkable woman in many ways. Her acquaintances here were many and her friends numerous."
One of the Andersons' neighbors several blocks away was a famous American, James Whitcomb Riley, the "Hoosier Poet." Riley was said to be "one of the best known Hoosiers of all time ... [and] famous for his use of Hoosier dialect." Riley's handsome, two-story residence along the National Highway has been a draw for tourists both then and now.
In 1907, after a lifetime of residing in Greenfield, John and Mary moved to St. Petersburg, FL, where they "bought a home and resided there because he was benefited by the climate." By 1909, they had moved to San Benito, Cameron County, TX.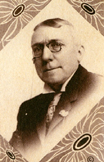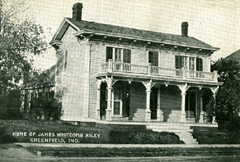 Famed "Hoosier Poet" James Whitcomb Riley, the Andersons' neighbor. His home suggests what theirs' might have looked like.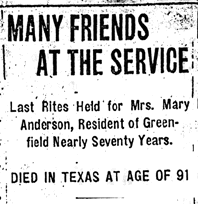 Obituary, 1938
John then returned to St. Petersburg, and died there on July 29, 1910. His body was sent back to Greenfield for burial.
Mary remained in San Benito, TX, living with her sister and brother in law, Alora and Benjamin Johnson. After a fall that fractured her hip, compounded by the effects of Alzheimer's disease, Mary died there in December 1938 at the age 91. A newspaper reported that she "arranged her funeral, selected the pallbearers and the music." Her remains were sent back to Greenfield for burial.
John and Mary rest together in the Greenfield Cemetery, in a plot with her parents.
Copyright © 2000, 2002-2004, 2008, 2013 Mark A. Miner