Henry M. Bush
(1842-1933)
Henry M. Bush was born on Feb. 16, 1841 in Zanesville, Muskingum County, OH, the son of Christopher and Elizabeth (Miner) Bush.
He was one of five brothers to serve in the Civil War, and was wounded in action. He is the only known cousin to face a court martial during the war.
While in infancy, Henry traveled with his parents to Greenfield, Hancock County, IN, where he grew to adulthood. He stood five feet, seven inches tall, with a fair complexion, hazel eyes and dark hair.
During the Civil War, Henry served with brothers James and John and brother in law John B. Anderson as privates in the 8th Indiana Volunteer Infantry. In fact, he and Anderson were bunkmates and messmates. In the fall of 1861, he came down with the measles in Springfield, MO and was sent to a hospital in St. Louis. While there, in the spring of 1862, he became ill with smallpox, and was sick for several more months.
In 1863, the regiment crossed the Mississippi River near Vicksburg, and early on the morning of May 1 engaged the enemy on Thompson's Hill (also known as Magnolia Hill), near Port Gibson, MS.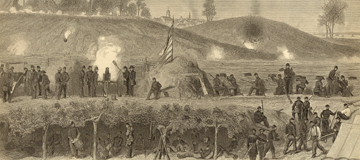 Battle action during the siege of Vicksburg, from a contemporary painting by Alonzo Chappel.
While on a charge, and after taking a similar hill, after being outnumbered five-to-one, Henry was hit by buckshot fire in the left shoulder. In the words of brother in law John Anderson, who recalled the shooting:
... some Illinois regiments were being badly whipped & our regiment was ordered to relieve them & so we rushed into the ravine & as we ascended the hill, Henry Bush being at my side yelled "The Sun of a bitch has shot me." His brother John Bush was also close by and he and I examined the wound of [his] shoulder (left, I think) which was bleeding profusely & we urged him to fall back & go and have his wound dressed.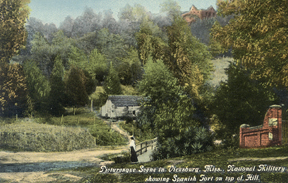 Vicksburg battlefield in postwar years
A deceptively peaceful scene of the Vicksburg battlefield is seen at right in a rare old postcard image, showing the Spanish Fort on top of the hill, many years after the year.
Henry described the incident in his own words:
I was in the act of firing. We had charged up a hill, out of a field, & was right close to the enemy. We were in a kind of cross-fire when I was hit. When hit, my arm dropped, also my gun, & the bayonet stuck in the ground. I was not knocked down. I staid right there, until the fight was over. I did not fight any more, for the enemy in front of us surrendered in a few minutes. It was less than half an hour. I went back with other wounded, wanted back to a plantation 1/4 or 1/2 mile. The hospital was in a farm house & in the yard, principally in the yard. My wound was dressed in the yard. Dr. Biglow ... dressed the wound.... He probed for the bullet & could not find. The bullet never came out. He then washed it off and bandaged it.
Another witness said that Henry did not leave the battlefield right away because he "said he first wanted to kill the man who had shot him." With his arm bandaged and in a sling, Henry was excused from duty. In his words:
I rode a mule for a while & carried the blankets. During said time, my arm was dressed by Surgeon Biglow until it healed. It was two months before I carried a gun. I was on duty regularly after that.
Henry later was detailed to carry dispatches for General Fitz-Henry Warren at Indianapolis. During that assignment, in February 1864, he was transferred to Company G of the 69th IN Volunteer Infantry.
The following month, in March 1864, he was arrested for "disobeying orders, conduct prejudicial to good order and military discipline." He was held for 16 days and found guilty in a trial by court martial on April 13, 1864. While released back to duty, he was fined one month's pay. He was finally discharged at Charleston, WV, on Sept. 4, 1864.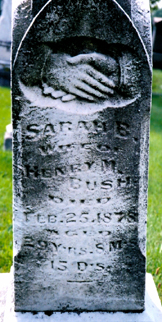 Park Cemetery, Greenfield
On June 25, 1868 (or June 6, 1871), Henry married Sarah E. Whorton (1848-1878).
They had one son, Charles L. Bush, born circa 1869.
Sarah herself died of tuberculosis at home in Center Township, Hancock County, on either Feb. 4 or Feb. 25, 1876 (or 1878) at the age of 29 years, eight months and 15 days. She was buried in the Bush family plot at Park Cemetery in Greenfield, seen here.
After Sarah's death, Henry was rootless, moving frequently. In his own words:
...In the fall of 1876, I moved to Winfield, Kans., was there for about 1 year, looking for good land. Did not settle on a claim. I next came to Burlington, Ia., & in the winter of 1877 and 1878 was on a farm with an uncle, Nathan Miner, now of Ft. Madison, Ia. I then went back to Ind., Greenfield, & was with my parents there for about 4 years on the farm. I then went to Chicago, Ill., for a few days, & then went to Huntingdon, Ind., & there was employed by the W.U.T. Co. with a gang of men, building telegraph lines, was with said company about one year. Worked through Ind. & Mich. & Chicago. I then returned to Greenfield Ind., was there for a short time with my parents who then lived in Greenfield, Ind. Was there for a short time, then returned to Winfield, Kans., worked in the mill of Bliss & Wood. from April to Oct., don't remember the year. Then went to near Ashland, Clark Co., Kans. & took up a good claim, pre-empted at $1.25 per acre, & staid on said claim for about 8 months. I then went to Deighton, Lane Co., Kans., took a soldier's claim 5 miles west of Deighton, Kans., & was there 5 years. I then came to near Burlington, Ia.
Henry must have been especially close with his uncle Nathan Miner. In 1908, when Nathan died in Fort Madison, IA, Henry and his wife traveled from Canton, MO to attend the funeral.
Henry married Mary Elizabeth Porter on Feb. 9, 1887 near Burlington, by the hand of Rev. Thomas S. Pool. They returned to Deighton.
Later that year, in September 1887, 17-year-old son Charles died, of causes unknown. His burial site likewise is not known.
After a year of marriage, Henry and Mary moved to Winfield, IA, where they remained until about 1897. After the turn of the century, Henry moved frequently, to Quincy, Adams County, IL (the St. James Hotel, among other addresses, circa 1900-1903); Canton, Lewis County, MO (1906-1908); Tulsa, OK (1911); and Rogers, Benton County, AR (1912-1916).
Mary was still living as of 1902, but her fate is unknown after that.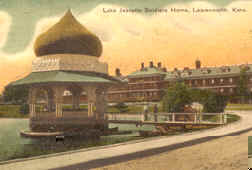 Soldiers home at Fort Leavenworth
In 1921 Henry entered the National Home for Disabled Veteran Soldiers (DVS) in Los Angeles, CA, and the following year was admitted to the DVS home in Leavenworth, KS. He claimed that he was "getting very deaf and feeble - can get around but at times has to be guided - the corporate of my ward makes my bed and does all my sweeping." In 1927, he lived in the National Sanitorium in Washington County, TN.
Apparently while in Los Angeles, Henry married a woman named Charlotte. In 1932, having been separated, Charlotte was living in Hartford City, IN, and tried to get his address from the Bureau of Pensions so she could track him down for support. According to her agent, Henry had:
...left her without reason, being a very unreasonable person himself, though he had a good home and every comfort with his wife, telling her himself that he had never had a better or more comfortable life, and had never been treated better in his life. He and Mrs. Bush had undertaken the remodeling of her home, in order to give them a separate apartment, at considerable expense, part of which of course he was to bear, but he left her with the bills unpaid, and she was compelled to sell the property as she could not meet this expense. Her attorney urged her to secure a divorce, so that she might sell, as Mr. Bush refused to sign a deed, and against her better judgment she listened to his advice.
Henry ended up spending the wintr of 1933 in San Benito, TX, residing at the home of his sisters Alora Johnson and Mary Anderson (474 North Reagan Avenue). He suffered a heart attack and died in Texarkana on March 30, 1933. Interment of the remains was in San Benito.
An obituary in his hometown newspaper, the Hancock Democrat, "For some time he has made his home in San Benito, Texas, but spent most of his winters in Florida or California."
Copyright © 2000, 2004, 2006, 2008-2009, 2019 Mark A. Miner.
Vicksburg battle sketch painted by Alonzo Chappel, and published in 1877 as a steel engraving by Johnson & Miles, New York