On Aug. 28, 1907, 23-year-old Cleve married his first bride, 18-year-old Grace Leona Cumley (1891-1913), daughter of George and Katharine (Ireland) Cumley. James E. Darby performed the wedding ceremony.
They bore one daughter, Hazel May Walker.
When Cleve was in his early 20s, he worked as a "portrait agent," likely selling photographs from a local studio. In the photograph seen here, he and Grace stand together, while he pulls a string that snaps the camera shutter.
Cleve's work as a photographer is further evidenced by a group of old glass negatives found in his attic many years later. His first cousin, Ward C. Miner, also was a professional photographer of that era, first in Washington, Washington County, PA, and later near Denver, CO.
The Farabees resided in the Morrisville section of Waynesburg, Greene County, PA and belonged to the Morrisville Methodist-Protestant Church.
Tragically, Grace suffered from tuberculosis. On May 17, 1913, she died from its devastating effects, just eight days after her 22nd birthday. The funeral was conducted by Rev. Rush, with burial in the Oakmont Cemetery near town.
Cleve registered for the military draft during World War I, and listed his occupation as miner for Farabee Bros.
After five years as a widower, Cleve entered again into marriage with housekeeper Jessie (Wendell) Barnhart (1885-1971), daughter of Andrew "Jackson" and Mary (Davis) Wendell. The wedding took place on March 30, 1918, by the hand of John H. Debolt.
Jessie had been married once before, and brought her daughter into the Farabee household, Edna Mildred (Barnhart) Zollars.
Cleve and Jessie produced one daughter of their own, Wilma "Gene" Newkirk.
They resided at Morrisville, near Waynesburg, PA, in a cluster of four homes owned by his parents and brothers. There, Cleve worked as a "catcher" in the local tin mill.
The Farabees enjoyed camping and other outdoor activities together as a family. In the photo seen here are, left to right: Mildred, Hazel May, Wilma Gene, Jessie and Cleve. Photographs in a family album she kept show them at camp in Deep Creek, MD and Hopwood, Jones Mills and New Wilmington, PA and visiting Mount Vernon, VA, home of President George Washington.
At one point the family motored for an extended vacation to Southern California, making stops in Rock River and Black Hawk Creek, Wyoming; Salt Lake City, Utah; and Mount Baldy, Anaheim, Los Angeles and Long Beach, California. While in California, they are believed to have paid a visit to Cleve's first cousin William Allen Miner, who had grown up in Greene County but for many years had resided in El Monte. Photos in the Farabee family album attest to the fact that Will also sent the Farabees a number of snapshots with captions written on the back, further establishing the family's connections.

Above: Cleve and Jessie with daughter Mildred, late 1910s. Below: Jessie and daughter Gene at Deep Creek Lake, Maryland, 1920s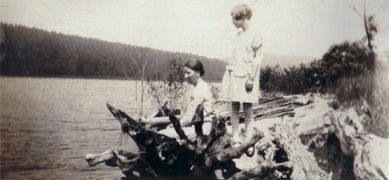 Cleve became heavy as he aged, and he suffered from kidney disease and heart problems in the early 1930s.
In April 1935, at age 50, and after enduring his illnesses for two years, he died at home of the afflictions. His obituary was published in a local newspaper. The funeral service was conducted by Rev. Howard Emerick of Amity, Washington County, with burial in the Oakmont Cemetery, near his parents and brothers.
On Jan. 7, 1943, after eight years as a widow, Jessie married widower Joseph Herman Morris (1886-1964), the son of Lindsey and Margaret (Swearingen) Morris. Herman had several children from a previous marriage to Essie (Belford) Morris, including Samuel Morris, who was killed in World War II.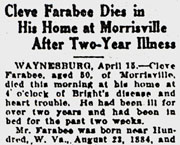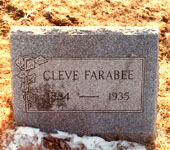 Cleve's newspaper obituary and grave in Waynesburg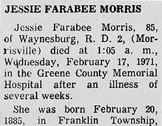 Obituary, 1971
Herman was a mechanic employed the the Pennsylvania State Highway Department and the Greene County Memorial Hospital. They had one son of their own, Glen Morris.
Herman died at age 78 on Aug. 11, 1964.
Jessie outlived Herman by seven years.
She died at Morrisville on Feb. 17, 1971, at the age of 85. She is buried at Greene County Memorial Park.

Mildred Zollars
~ Step-daughter Edna "Mildred" (Barnhart) Zollars ~
Stepdaughter Edna "Mildred" Barnhart (1905-1957) was born on April 12, 1905 in Greene County.
She was a young girl when her father Frank Barnhart died and age 13 when her mother married Cleveland Farabee in 1918.
Mildred married James Russell Zollars, Sr. (1903-1982), the son of Charles Norcross and Rebecca (Knisley) Zollars of Waynesburg.
The Zollarses produced a dozen children -- Ivanore Knisley Foster, Wilma Deary, James R. Zollars Jr., Dolores Cox, Donna Harrier, Patricia Mathison, Billie Zollars, Judith Adamson, Bonnie Cain, Cheryl Wise, Carol Gene Zollars and Robert Allan Zollars.
They resided near Waynesburg, and were members of the Morrisville Methodist Church. James was employed for many years as a truck driver, working for J.B. Flowers and later for Waynesburg Block Company.

Mildred camping with her mother and step father, New Wilmington, PA, 1922
Mildred passed away after a long illness, at age 51, on Jan. 11, 1957. A local newspaper reported that she was survived by 15 grandchildren, her half sister Gene Newkirk and half brother Glen Morris.
James lived for another quarter century after his wife's death. He retired and spent the final years of his life in Detroit, where his married daughter Donna Harrier made her home. After a lengthy illness, he died in Detroit's St. Clair Convalescent Center on June 30, 1982, at the age of 79. His remains were returned to Waynesburg for interment in Greene County Memorial Park, with the funeral officiated by Rev. Bernard L. Shuey. He left behind 34 grandchildren and 40 great-grandchildren.
Stepdaughter Ivanore Zollars married (?) Knisely and Raymond Foster and lived in Waynesburg. She was deceased by 2020.
Stepdaughter Billie Zollars resided in Waynesburg and Uniontown, PA.
Stepdaughter Wilma Zollars married Thoma Deary and made their home in Pittsburgh.She was deceased by 2020.
Stepson James R. Zollars Jr. lived in Pittsburgh. He died at a young age.
Stepdaughter Carol Gene Zollars (1935-2020) was born on July 1, 1935 in Waynesburg. She never married. After high school, she served for six years in the U.S. Marine Corps. After completing her term of duty, she graduated from nursing school in Boston. For years, in Massachusetts, she was employed as a nurse at the Walford E. Fernald School for the Mentally Handicapped in Waltham. Carol Gene retired and moved back to Waynesburg. Her retirement years were spent volunteering with the Central Greene School District with pre-school students. She belonged to the Rices Landing United Methodist Church and shared her musical talents as a singer and keyboard and guitar player. At the age of 84, she died in Uniontown Hospital on Feb. 11, 2020. Following cremation, her remains were placed into eternal repose in the National Cemetery of the Alleghenies.
Stepson Robert Zollars served in the U.S. Marine Corps. Afterward, in the early 1980s, he resided in Portland, OR. He was deceased by 2020.
Stepdaughter Cheryl Zollars married Gerald Wise. They made their home in Fairborn and Dayton, OH.
Stepdaughter Bonnie Zollars wed Timothy Cain. They made Clarksville, Greene County their residence. She was deceased by 2020.
Stepdaughter Judith Zollars married Ralph Adamson. They lived in Waynesburg.
Stepdaughter Dolores Zollars wed John Cox. They resided in Carmichaels.
Stepdaughter Donna Zollars married John Harrier. They relocated from Pittsburgh to Detroit, and brought her father there to live in his final years.
Stepdaughter Patricia Zollars wed Paul Mathison (or "Mathason"). Their home was in Waynesburg. She was deceased by 2020.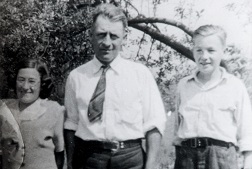 Hazel and Dolph Walker with son David
~ Daughter Hazel May (Farabee) Walker ~
Daughter Hazel May Farabee (1908-1944) was born on Dec. 4, 1908.
On June 15, 1929, at the age of 20, Hazel married 29-year-old Dolph David Walker (1901-1971), son of farmers P.D. and Mary (Bamberger) Walker.
At the time of marriage, Dolph worked as a concrete finisher and made his home in Amity, Washington County.
They had one son, David Lee Walker, born in Greene County. In about 1939, they relocated to a rural section of Washington County.
The Walkers occasionally took their son David to Morrisville for weekend stays with a great-uncle, Oliver J. Farabee. David later authored a memoir of these pleasant childhood experiences, entitled Visits With Uncle "Ol."
Sadly, Hazel was afflicted with kidney disease ("acute nephritis") and became deathly ill with bronchial pneumonia and influenza in late January 1944. She passed away shortly after her 36th birthday, on Jan. 31, 1944, at the Greene County Memorial Hospital in Waynesburg. Burial was in Amity.
Dolph outlived her by more than a quarter of a century. During the Korean War, his son David served in the U.S. Army overseas.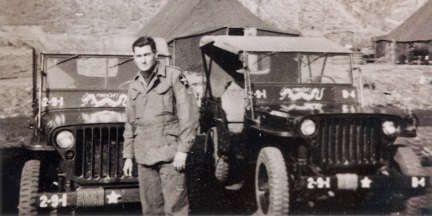 David Walker in wartime Korea
He died on Feb. 12, 1971 at Washington Hospital in Washington, PA. They are buried in unmarked graves at the Amity Cemetery in Washington County.
Son David Lee Walker (1929-2016) was born on Jan. 3, 1929 in Greene County. He grew up living next door to a favorite grand-uncle, Oliver J. Farabee, whom he called "Uncle Ol." (See David's memoir, "Visits with 'Uncle Ol'.") He served in the U.S. Army during the Korean War. On Sept. 11, 1948,the 19-year-old David wed Stella Lyle ( ? -2013), daughter of Wray and Alice (Rishee) Lyle. They became the parents of three daughters -- Sharon Cox, Becky Carson and Stacy Barton. Over the years, David assisted his father with concrete finishing work. Later, he became a mechanic at motor garages in Washington, PA and then spent two decades of employment with Molybdenum Corporation in Washington. Reported the Washington Observer-Reporter, "He had a lifetime love of cars, especially Fords, and used his artistic talents to draw them and customize Hot Wheels. He also collected diecast model cars and belonged to a Matchbox and Hot Wheels club. For many years, Mr. Walker and his wife Stella set up flea markets in Washington County, where they sold model cars, books and bikes." Sadly, Stella passed away on Sept. 13, 2013, drawing to a close their marriage of an extraordinary 65 years. Interment was in Claysville Cemetery. David survived his wife by three years and was admitted to Consultate Health Care of North Strabane in Canonsburg. He died there at the age of 87 on June 18, 2016. An obituary was published in the Observer-Reporter.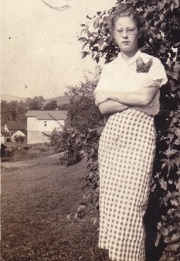 Gene Newkirk
~ Daughter Wilma "Gene" (Farabee) Newkirk ~
Daughter Wilma "Gene" Farabee (1919-1993) was born in 1919.
As a girl Gene enjoyed automobile travel with her parents and sisters to places near and far, often camping along the way in a large tent. Among their points of destination were Deep Creek, MD and Hopwood, Jones Mills and New Wilmington, PA and visiting Mount Vernon, VA, home of President George Washington.
They also took an extended driving vacation together to California, with stops in Wyoming and Utah among other states.
She married James M. Newkirk (1910-1995) on June 25, 1938. At the time, she was age 19 and he was 28. They had at least one son, James Larry Newkirk.
He was a coal miner at Gateway Mine for 36 years, and retired in 1976.
Gene passed away on Feb. 28, 1993, at the age of 73.
James outlived her by two years, and died on May 14, 1995. They are buried at Greene County Memorial Park in Waynesburg.
Son James Larry Newkirk (1941-2014) was born on Feb. 2, 1941 in Franklin Township. He married Dolly Wilson on Oct. 3, 1965, when he was 24 years of age. They had one son, James C. Newkirk. James served in the U.S. Army during the Vietnam War. He was employed circa 1965 with Hussey Copper Range in Leetsdale, Allegheny County, PA. He later went to work as a delivery truck driver for Barna's Furniture and Neubauers Flowers, in Waynesburg. With a background in welding, he accepted employment as a welder for Homestead Industries in Coraopolis, Allegheny County, PA and for Smith Machine in Eighty Four, PA. In his spare time, James loved dirt track automobile racing, photographing racing experiences, roller skating and building model cars. They also were members of the Oakview United Methodist Church. He died at the age of 73 on March 17, 2014. Interment was in the National Cemetery of the Alleghenies.
Copyright © 2001, 2005, 2014, 2018, 2020 Mark A. Miner