Home

Alice Reamey (Hayden) French
(1870-1923)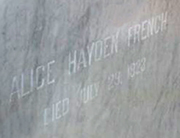 Kensico Cemetery
Alice Reamey (Hayden) French was born in 1870 in Columbus, Franklin County, OH, the daughter of William B. and Matilda (Langdon) Hayden.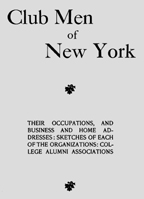 Book naming Raymond
At the age of 21, Alice married 27-year-old Raymond T. French (1864-1934), the son of Carlos and Julia Hubgbell (Thompson) French. The wedding took place at St. James's in Westminster, London, England on Oct. 1, 1891, with the nuptials reported more than two weeks later in the Oct. 17, 1891 edition of the New York Times.
Raymond's father, Carlos French (1835-1903) was a prominent manufacturer, legislator and board director in Seymour, New Haven County, CT. He served as president of the Fowler Nail Company and was a director of the Second National Bank of New Haven, the Colonial Trust Company of Waterbury and the New York, New Haven & Hartford Railroad Company. He also served as a member if the 50th Congress of the Connecticut Legislature. So it was into this environment that Raymond was born.
Alice and Raymond made their home in Seymour, CT and had three sons -- Carlos Hayden French, Raymond Langdon French and William Gordon French.
Raymond was an 1887 graduate of the Sheffield Scientific School at Yale University. A brief biographical profile of him was published in the 1913 book, Biographical Record of the Class of 1887, Sheffield Scientific School, of Yale University. Among other highlights, the profile said he had "made three trips to Europe, is a Democrat, and a member of the Protestant Episcopal Church."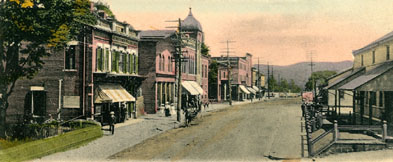 Quiet Seymour, CT - early 1900s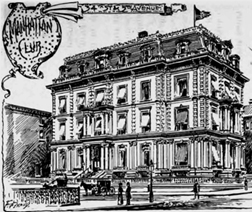 Manhattan Club, 1893
He also was a member of the prestigious private Manhattan Club, located at the corner of Fifth Avenue and 34th Street in New York. It was considered "the largest and most powerful, social, Democratic club in New York," said the book Club Men of New York. "The stated object is to advance Democratic principles, promote social intercourse among its members, and provide them with the conveniences of a club house... They occupy a magnificent house."
[The building is seen here circa 1893.]
In 1894, Raymond was named president of the Arethusa Spring Water Company in Seymour. Their home was at 94 Washington Avenue in Seymour. He also was a member of the Quinnipiack and Graduates Clubs of New Haven, the Megantic Fish and Game club of Maine, the Sons of the American Revolution and Red Men.
During the decade between 1910 and 1920, the Frenches separated. The 1920 census shows Alice making her home with sons Raymond and William on West 98th Street in Manhattan. The census taker recorded Alice as widowed when in fact she was not. Son Raymond, age 21, is listed as a "salesman - automobiles."
At the same time, Raymond T. maintained his home in Seymour, with son William sharing time there as a residence. Also in the Seymour household in 1920 were servants Delia Murphy and Nina Halentia. The census taker marked the 55-year-old Raymond T. as divorced and without an occupation.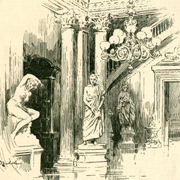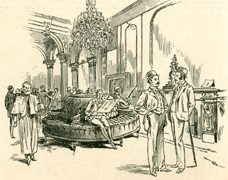 Manhattan Club's entrance hall, left, and parlor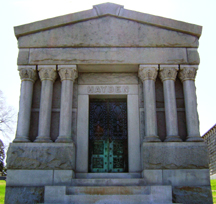 Hayden mausoleum, Kensico
Alice spent her final years in Catskill, Greene County, NY.
She passed away on July 30, 1923, at the home of her brother William "Langdon" Hayden in Alexandria Bay, NY. She was age 53. Following a funeral at her mother's home, led by Rev. Dr. S. DeLancey Townsend, of All Angels' Episcopal Church, her remains were laid to rest in the prominent family mausoleum at Kensico Cemetery near White Plains.
[Note -- a distant cousin also buried at Kensico was Michael H. Liady, husband of Helen Purinton, in 1909.]
Raymond passed away in Seymour on Feb. 5, 1934. The funeral was held at the family residence, followed by burial in the French family plot in Union Cemetery in Seymour.
~ Son Carlos Hayden "Carlo" French ~
Son Carlos Hayden "Carlo" French (1892-1962) was born on July 25, 1892 in Connecticut. He apparently was named for his paternal grandfather.
In his youth, Carlos attended Cheshire Academy, Phillips Andover Academy and Hamilton College. Then, during World War I, he enlisted in September 1917 in the 151st Depot Brigade, Camp Devens. He was promoted to sergeant and mess sergeant and then in September 1918 was named regimental supply sergeant for the 73rd Infantry, 12th Division. He was discharged from the Army on Jan. 17, 1919. Summaries of his war record were published in separate reports by Phillips Academy and Hamilton College.
When both were about age 21, in 1903 or '04, Carlos married Dorothy Burt (1893- ? ), a native of Iowa. They had three children -- Nancy Burt French, Margaret Sterns and Carlos French II.
Circa 1920 and 1930, when the federal census enumerations were made, the Frenches lived in New Haven, Seymour County, CT. In 1920, Carlos' occupation was listed as manager of an automobile firm. By 1930, he had become a sales manager for a metal factory. In 1930, their residence was on Washington Street in New Haven, and the family employed Bertha A. Hintz as a cook and Emma Phipps as a nurse maid.
Said the New York Times, "He was with the Seymour Products Company of Seymour before he became manager of the Fowler and Union Horse Nail Company of Buffalo, N.Y., in 1934." The family dwelled in Buffalo in 1935. Then, they "moved to West Hartford when his company was merged with Capewell [Manufacturing Company] in 1936." He then served as vice president with Capewell from 1936 to 1943.
The 1940 census lists the family on Westwood Road in Hartford. John and Mary Barsarn, a husband-and-wife team, lived under their roof as butler and cook.
The day after Christmas 1946, Carlos was named in a legal advertisement printed in the Catskill Examiner-Recorder as an heir-at-law of his late uncle, Cotton Allen Hayden. At the time, his address was given as 42 Westwood Road, West Hartford, CT, and he would have been age 54.
Carlos passed away in a convalescent home in West Hartford at the age of 69 on June 13, 1962. He was survived by eight grandchildren.
Daughter Nancy Burt French (1918- ? ) was born in about 1918, presumably in New Haven, CT. She was wed to (?) Safford. She was deceased by 2005.
Daughter Margaret French (1921- ? ) was born on Oct. 21, 1921 in New Haven. She married (?) Sterns.
Son Carlos "Carlo" French II (1926-2005) was born on June 11, 1926 in New Haven. He was united in matrimony at the age of 39 with 34-year-old Elaine (Gebhardi) Van Steenburgh (1931-2015). The nuptials were held in West Hartford on June 26, 1965. A native of West Hartford, Elaine was the daughter of Gustave and Evelyn (Thompson) Gebhardi and is said to have been "the first C-section at Hartford Hospital." Elaine had been married once before, to Richard F. Van Steenburgh, and brought children to the marriage -- Laura V. Marchese, John E. Van Steenburgh and R. Dana Van Steenburgh. Carlos and Elaine had one son of their own, Carlos French III. He also had a daughter Andrea Anderson. Carlos and Elaine enjoyed nearly four decades of marriage together. The family were members of the first Church of Christ Congregational in West Hartford. After attending Kingswood preparatory school and Westminster School, Carlos attended Williams College. The Hartford Courant noted that "He served in the Navy during World War II and the Korean War. Carlos was an avid skier and a member of the Mt. Laurel Ski Club and part founder of Sundown Ski Area. He started his career at Fuller Brush in Hartford and retired from Pratt & Whitney Aircraft of East Hartford, after more than 35 years of service. He spent most of his retirement in Myrtle Beach, SC and enjoyed his days on the golf course, and traveling with his wife and friends." Elaine, said the Courant, "graduated from Old Hall High School, [West Hartford], and had many fond memories of her class reunions and Green Mountain College, VT. She worked for many of years as a medical secretary for Hartford Hospital, UCONN Health Center, and Children & Family Services." In retirement, Elaine resided in Myrtle Beach, Boston and Santa Fe, NM. Of Elaine, the Courant said that she was "known for her heart of gold to help others and her contagious smile. She had a love for animals, especially rescuing cats, volunteering, playing bridge, golf, skiing, traveling to Mexico and Europe, suntanning, and flowers (past member of the WH Garden Club). Most of all, she was very proud of her family and enjoyed hosting many family gatherings at her home in West Hartford, including the many enjoyable times at the Mt. Lakes vacation home in New Hampshire." In 2003, Carlos and Elaine moved to Boston to be with their son and closer to family in Connecticut. Having suffered for two years with heart disease, Carlos passed into eternity at the age of 78 on March 16, 2005. Funeral services were held in the First and Second Church of Boston and also a memorial service at the First Church of Christ, Congregational, in West Hartford. Elaine survived him by more than 10 years. She died in Albuquerque on April 14, 2015, at the age of 84. Burial was in Fairview Cemetery in West Hartford.
Granddaughter Andrea French married (?) Anderson.
Granddaughter Laura Van Steenburgh married John P. Marchese Sr.. They had two sons -- John Marchese Jr. and Christopher Marchese. The Marcheses eventually divorced.
Grandson John E. Van Steenburgh was wedded to Margaret L. (?). Margaret is believed to have had a son prior to marriage with John who took on the new surname -- Richard D. Van Steenburgh.
Grandson Carlos French III was a partner with Druh Shah.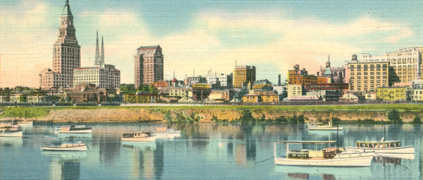 Hartford, in the 1930s
~ Son Raymond Langdon French ~
Son Raymond Langdon French (1898- ? ) was born on Aug. 11, 1898.
He married England-born Gertrude (?) in about 1921, when he was age 23 and she 29. They had three known children -- Marjorie French, Jean French and Gloria Frances Browning Cain.
When the federal census was taken in 1930, the Frenches made their home on Ocean Drive in Stamford, Fairfield County, CT. Raymond's occupation was listed as an automobile dealer. That year, Anna Belang (nurse) and Anna King (cook) were servants in the household.
On Dec. 20, 1939, the New York Times printed a photo of daughter Gloria to illustrate a story about her introduction to society luncheon at Sherry's Restaurant. At the time, the family made its home at 910 Park Avenue, New York.
Shippan Point, Connecticut
The day after Christmas 1946, Raymond was named in a legal advertisement printed in the Catskill Examiner-Recorder as an heir-at-law of his late uncle, Cotton Allen Hayden. At the time, his address was given as Shippan Point, Stamford, CT, and he would have been age 48. Houses above the Shippan Point coastline are seen here.
Nothing more about Raymond or Gertrude is known.
Daughter Marjorie French (1912- ? ) was born in about 1912 in New York. She grew up in Fairfield, Stamford County, CT.
Daughter Jean French (1913- ? ) was born in about 1913 in New York.
Daughter Gloria Frances French (1923- ? ) was born in about 1923 in New York. She was married twice, first to William Hull Browning 2d (1918-2005). On Aug. 25, 1940, the Times carried a prominent article about Gloria's wedding to William, the son of William C. and Elizabeth (Miner) Browning of Ridgefield, CT. (There is no Browning connection between our clan and Elizabeth's Miners.) At the time, Gloria was age 17. The nuptials were held at St. John's Protestant Episcopal Church in Stamford. Said the Times, "The bride attended Miss Hewitt's Classes in New York and Miss Porter's School, Farmington, Conn. Mr. Browning is a graduate of the Middlesex School and has studied also at Harvard University. He is a member of the Squadron A Association and the Apawamis Club of Rye, N.Y." Gloria and William had one daughter, Deborah Mykolyk. They are thought to have resided in Manhattan and Pound Ridge, NY. During World War II, William served as an ambulance driver with the American Field Service in the African and Italian theatres of war. He received the Medal of the Order of the British Empire for bravery and meritorious civil service. After the war, said a newspaper, William became an "international businessman ... [who] was associated with Kerby Saunders in Manhattan, and with two associates he formed the corporation Geodyne. Both companies were very involved in Pakistan and the Middle East." Gloria and William divorced after only four years of marriage, in 1944. He married again twice, and had more children. He suffered a "massive stroke" while in London en route to Jordan. He died at the age of 77 on New Year's Day 2005. In March 1946, after the war's end, Gloria married Lieut. Comdr. Cain ( ? - ? ), the son of Mr. and Mrs. Charles C. Cain of Babylon, NY. They were wed at Fifth Avenue Presbyterian Church. Up to the time of the wedding, Charles had served for five years with the Coast Guard, having received his education at Brooklyn Polytechnic Preparatory School. They had at least two children, Langdon French Cain and Wendy Cain. In April 1959, the Times reported that William had been named vice president for the realty development company Gulf States Land & Industries, Inc., in New Orleans, a subsidiary of Webb & Knapp, Inc. Said the Times, "He has been industrial and commercial director since January, 1958."
Granddaughter Deborah Browning married (?) Mykolyk.
Grandson Langdon French Cain, an automobile restorer, was a Navy veteran of the Vietnam War. He died in 1998 at the age of 50, having lived in New Orleans for 32 years.
Granddaughter Wendy Cain (?).
~ Son William Gordon French ~
Son William Gordon French (1900-1923) was born in Seymour on May 29, 1900.
He attended Amherst College from 1919 to 1921, following preparatory school education at Cheshire and Seymour High Schools.
William was married to (?) and had one daughter, Julia Sylvia French.
Sadly, he passed away in New York City at the age of 23, on Jan. 28, 1923.
His widow lived for years afterward on Cole Hill Road, R.F.D., Morristown, NJ.
The day after Christmas 1946, daughter Julia was named in a legal advertisement printed in the Catskill Examiner-Recorder as an heir-at-law of her late grand-uncle, Cotton Allen Hayden. At the time, her married name and address were unknown. She was named in the ad in care of Mrs. William Gordon French, Cole Hill Road, R.F.D., Morristown.
A short profile of William was printed in the Amherst College Biographical Review, 1963.
Julia's fate is not yet learned.
Copyright © 2009-2010, 2015 Mark A. Miner
Club Men of New York
title page courtesy of Google Books. Manhattan Club sketches originally published in Harper's Weekly, March 15, 1890. Hayden mausoleum photographs courtesy of Linda Burton Kochanov.