William 'Langdon' Hayden
(1872-1948)
William "Langdon" Hayden was born in March 1871 in Columbus, Franklin County, OH, the son of William B. and Matilda (Langdon) Hayden. Inheriting great family wealth, he was known as "Commodore" and was an avid yachtsman who is known to have entertained British royalty during visits to the United States.
Langdon is believed to have been an alumnus of St. Paul's School, a boarding school in New Hampshire. Later in life, he presented the "Hayden Cricket Belt" to the school to promote sports with an "earnest desire to keep them up to a high standard of excellence."
He attended Princeton University from 1889 to 1890, living in University Hall. He left without obtaining a degree, and went to work in the family manufacturing business in Columbus. In July 1889, while summering at the family's "Fairyland" island estate in Alexandria Bay in New York's Thousand Islands, he was introduced to May Dewey. In her diary, later republished by Kris Pinkney of Thousand Islands Life Magazine, May wrote of him: "This morning we went to the hotel and listened to the music... He came up to speak to me. He is another fellow I have lost my heart as he is such a lovely fellow." [Diary of May Dewey]
On Aug. 15, 1894, when Langdon was age 22, he married Louise Kinsman (1877- ? ), a native of Ohio. The 1900 census of Columbus shows that they had been married for five years but had no children. That year, Langdon's employment is shown as "manager of foundry."
It is possible that they had a son, William Langdon Hayden, who was born on Aug. 24, 1897, and died the same day. The child is buried in the Langdon Mausoleum in Greenlawn Cemetery in Columbus, but his connection needs to be confirmed.
Circa 1908, Langdon and Louise resided in Detroit, MI. With his brother in law Dr. Edward Quintard, Langdon was an investor and board director of the Ontario Development and Mining Company, Ltd., incorporated on Oct. 26, 1908. Edward was board president, and Langdon was vice president and treasurer. They are mentioned in the 1910 publication, The Davis Handbook of the Cobalt Silver District, authored by Harold Palmer Davis.
The family's whereabouts in the 1910 U.S. census are unknown. They may have been in Canada at that time. At some point, their marriage ended.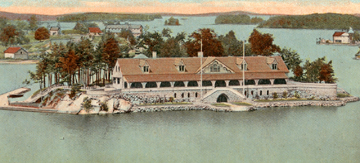 Thousand Islands Yacht Club, where Langdon was a board member.

Lloyd's Register of Yachts
Langdon and his brother Harold were amateur tennis enthusiasts and champions. In mid-August 1915, reported the Times, Langdon and W.G. Willis won a doubles tournament at the Thousand Islands Yacht Club. Langdon and Harold also were deeply interested in yachting and motor boat racing, with Langdon serving on the board of the Thousand Islands Yacht Club. In the early 1920s, he served as chairman of the club's moving pictures committee, likely arranging for top films to be shown there as entertainment for members.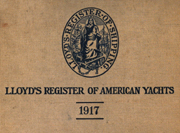 Lloyd's Register of Yachts
In 1917, Langdon (treasurer), brother Allen (rear-commodore) and first cousin C. Leverett Hayden (secretary) were listed in Lloyd's Register of American Yachts as 1917 officers of the Thousand Islands Yacht Club. Other leaders of the yacht club were president Charles S. Rees and vice-commodore J. Norris Oliphant. The club, organized and incorporated in 1894, maintained a summer address of Alexandria Bay, NY, and a winter address of 27 West 44th Street, New York City. Annual dues were posted as $60 and $30.
When the census again was taken in 1920, Langdon resided by himself in Manhattan, on West 55th Street. Marked as "married," he was employed as "manager - real estate."
Langdon maintained a summer home on Fairyland Island. In July 1923, his sister Alice French passed away while staying there. A 1926 article in the New York Daily Times said that Langdon and his wife had "occupied their house on Fairyland Island for the past five summers."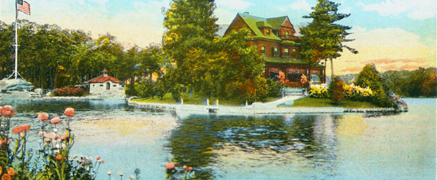 Antique postcard: "W.L. Hayden's Fairyland, Thousand Islands, N.Y."
Sometime between 1920 and 1923, Langdon married again, to Ysabel Pagels (1873-1942), a Maryland native. The 1930 census shows them living at East 48th Street in Manhattan, with Langdon continuing his career as a manager of the family's real estate empire.
Langdon and Ysabel reopened the Little Fraud cottage in June 1926, after having been closed for 10 years, since the death of his father in 1916. An article in the New York Daily Times ran a headline story, "Haydens Open 'Little Fraud'."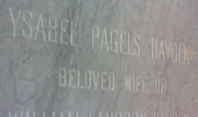 Kensico Cemetery
The New York Times reported on Aug. 3, 1927, that Langdon -- nicknamed "Commodore" -- announced that the Prince of Wales (Edward, who later became Edward VIII, King of England, but resigned to marry Wallis Simpson and was known thereafter as the Duke of Windsor), Prince George, Premier Stanley Baldwin, Mrs. Baldwin and other members of their party "will come into American waters Friday just below Alexandria Bay, where they will be met by a convoy of fast cruisers and yachts flying the burgee of the Thousand Islands Yacht Club... The Magedoma will come into American waters at the Crossover Light, just below the Thousand Island House, at 3 p.m., and from there proceed with the American convoy as far as the Thousand Islands Yacht Club. At the club a salute of twenty-one guns will be given and the American and the British flags will be dipped simultaneously.
Langdon and Ysabel traveled together to warmer climes in the winter of 1929 with his widowed sister Mabel Burr. In its "Personal, Home and Abroad" column, the Catskill Recorder noted that they would leave "Catskill next month for a Winter 'somewhere in Arizona'."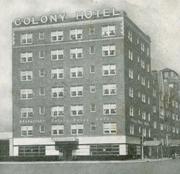 Colony Hotel
Ysabel died in New York on Feb. 3, 1942, at the age of 69. Laid to rest in the Hayden Mausoleum at Kensico Cemetery, her crypt was inscribed "Beloved Wife."
Langdon outlived his wife as a widower for the remaining six years of his own life. He made his home in the Colony House Hotel in Great Neck, Long Island, NY circa 1946-1948. The seven-story hotel was located on Third Street, at the corner of Grace Avenue, two short blocks from the railroad station. It advertised itself as "a fireproof Residential Hotel, closely duplicating the quiet orderliness of a pleasant country home, for people who are more interested in home life than high life. One room or more."
He was mentioned in the New York Times obituary of his brother Allen (Sept. 25, 1946). He and his nieces and nephews also were named in a legal advertisement in the Catskill Examiner-Recorder the day after Christmas 1946 as among Allen's heirs at law.
On Aug. 10, 1948, at the age of 72, Langdon passed away at his home at Great Neck. He was the last of his generation in the family, and his death ended an era. His remains were brought to Valhalla, near White Plains, to be laid to rest with his wife, parents and siblings in the Hayden Mausoleum at Kensico Cemetery.
Copyright © 2009-2010, 2015 Mark A. Miner
Thousand Island Yacht Club flag and Lloyd's Register cover images courtesy of Google Books. Kensico mausoleum photographs courtesy of Linda Burton Kochanov.