John 'Harold' Hayden
(1879-1931)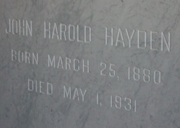 Kensico Cemetery
John "Harold" Hayden was born in 1879 in Columbus, Franklin County, OH, the son of William B. and Matilda (Langdon) Hayden.
Harold was a sailboat and motorboat racer and community philanthropist who apparently found only brief happiness during his relatively short life. He received a trust fund from the estate of his late grandfather, Peter Hayden, and it was administered by New Rochelle Trust Company.
His first wife, Elsie (Vilas) Hayden, was a star tennis player who was active with the American Red Cross during World War I.
Harold is mentioned in several books by Paul Malo, a historian of the Thousand Islands region and lifestyle in New York. One of Malo's books, the 2003 Fool's Paradise, states that the Hayden family "was perhaps the richest on the river -- they were over on Fairyland...."
He would have grown up and spent considerable time as an adult at Fairyland, the family's prominent vacation home in the Thousand Islands region of New York, near Alexandria.
Circa 1901-1902, Harold studied at Cornell University, taking courses in mechanical engineering, but apparently the experience did not hold his interest. He discontinued his studies the same year as his marriage.
Harold wed Elsie Vilas (1881-1917), the daughter of Mr. and Mrs. Royal C. Vilas of Chicago. Elsie's father was president of the Pyle National Head Light Company of Chicago. Like the Haydens, they maintained an attractive summer residence on the St. Lawrence River.
Their engagement was announced in the New York Times on Aug. 31, 1902, as well as in the New York Evening Telegram and Rochester Democrat. They were joined in matrimony eight months later in a "brilliant wedding" in Chicago, at St. James Episcopal Church, on May 2, 1903. In reporting on the wedding, said the Times, "Green and white was the color scheme, the combination being carried out in the church and house decorations, as well as in the costumes of the bridesmaids. The bridal party included Allen Hayden of New York, brother of the bridegroom, best man. Among the bridesmaids was Mabel Seaman of Brooklyn. N.Y.; and among the ushers was W.W. Wright of New York... The reception as the home of the bride's parents following the ceremony was a large one, several hundred guest having been asked." The Times added that the newlyweds would reside in Albany.
Harold and Elsie had three children -- John Harold "Jack" Hayden Jr., Eleanor Hayden, M.D. and William B. Hayden II.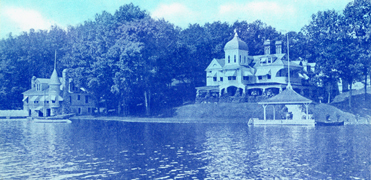 Fairyland, in an early blue-tint postcard
Fool's Paradise says that Elsie "was a noted tennis player..." Even after their marriage, circa 1913, Elsie continued to compete -- and win -- in the annual tennis tournament held on the courts of the Thousand Island Yacht Club.
Elsie's brother Jack Vilas was "a well known aviator and society man," said the Watertown Daily Times. In June 1914, the Times reported that Jack was "not expected to be at the Thousand Islands this summer. Mr. Vilas was married during the past year and he and Mrs. Vilas will remain at Chicago, where Mr. Vilas expects to participate in several aeroplane contests. His brother, "Billy," however, is now at the Thousand Islands as a guest of J.H. Hayden."
John is believed, in the winter of 1901-1902, to have commissioned the design and construction of a houseboat named Lysander. Considered of the scow type, it was 85feet long, 21 feet wide and had a draft of 52 inches. The vessel contained five staterooms, two baths, servants quarters, electric lights and hot water heat. In a report published in Houseboats and Houseboating, designer R.W. Haddock wrote that it "has no power for propelling purposes and is intended for a floating home to be towed from place to place at will." Later, the Lysander was available for charter by outside parties. By the summer of 1941, it was owned by Col. K.W. Slauson, who was away serving at Hickam Field in Honolulu, and who turned over management to Captain Enoch Root of Alexandria Bay.
The Haydens were listed in the 1908 edition of the Social Register, New York, as residing with his parents at 150 West 59th Street. Later, they made their home on Second Avenue in Pelham, Westchester County, NY.
Displaying his love for the outdoor life, Harold took part in the annual trap shoot contest of the Alexandria Bay Yacht Club. It was held on the Wellesley Island farm of G.T. Rafferty. In 1901, he finished second, behind J. Day Knapp of Chippewa Bay, and just ahead of S.H. Vandergrift of Pittsburgh. He also is believed to have competed in golf and tennis tournaments as well.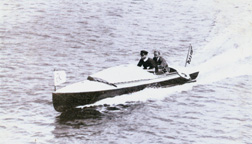 A competitor motorboat, P.D.Q., 1911
Harold owned the Mit and Mit II motorboats which captured victories in Thousand Island Yacht Club races circa 1912-1913. In 1912, his win brought the Gold Challenge Cup to the club, to be held for a year, in "one of the three greatest races in the world," reported the Watertown Daily Times. His victory in 1913 returned the prestigious race trophy to the club circa 1913 and generating headlines in the New York Times. In 1916, he drove the P.D.Q. IV to victory in a challenge cup race on the St. Lawrence River sponsored by the Thousand Islands Yacht Club, with his brother Allen serving as a judge, and they were mentioned in a related article in The Rudder. Seen here, a competitor boat, the P.D.Q, from a cover photo in March 1911 in Motorboat magazine.
When the federal census was taken in 1910, the Haydens made their residence in Pelham, and had four servants in the house. Harold's occupation that year was manager of an oil company.
Harold and Elsie are believed to have summered near Point Viavian, in the residence of Elsie's father. In 1915, while "not seriously ill [but] somewhat indisposed," said the Daily Times, Elsie and Harold decided not to spend the summer at Alexandria Bay. She "will not open her house, unless at the end of the season."
When World War I broke out, Elsie took active steps to play a patriotic role and support America's wartime effort. She organized a corps of the American Red Cross in Alexandria Bay. Reported the Watertown Daily Times, "She was instrumental in organizing the Red Cross chapter there and it was due in no small degree to he work that the Bay chapter did such valuable service. At her solicitation the millionaire colony contributed time and money. The chapter had unlimited funds with which to buy knitting machines and when the final accounting was made it was shown that outside Watertown, the Bay chapter had made the larges contribution to Red Cross work."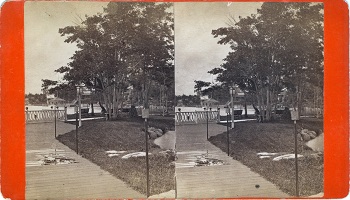 Stereoview of Hayden Island's boardwalk, mounted on bright orange cardboard, published by A.C. McIntyre of Alexandria Bay. McIntyre claimed to have produced 75 negatives of the island.
In their own response to the world war, Harold and his brother Allen both took an examination to become ensigns in the U.S. Navy, reflecting their expertise on the water.
Business directories of the era show that Harold and his brother Allen were involved on the boards of several New York companies. Among these were Hayden Automatic & Equipment Company, of which Allen was president, and Harold secretary, with Allen, Harold and Elsie serving as directors. Offices were located at 26 Cortlandt Street, with the company's capital valued in 1908 at only $500. Also in 1908, the brothers were officers and directors of New York Vitak Company, located at 180 Lafayette, capitalized at $50,000. Other New York Vitak board directors were William E. Waddell and Thomas M. Hardesty.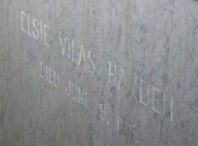 Kensico Cemetery
Sadly, Elsie passed away suddenly on June 9, 1917, at the age of 36. In a brief obituary, the Catskill Recorder said she died "at Pelham Manor, where the funeral took place on Tuesday." She was laid to rest in the Hayden family mausoleum at Kensico Cemetery in New York. Her crypt is seen here, inscribed with her name and date of death.
At the time of Elsie's death, Harold was away serving in the U.S. military. He returned home on a leave of absence. Her untimely demise left him a widower at age 38, with three motherless children under the age of 14.
In his mourning, Harold made a philanthropic promise to the American Red Cross at the Josiah Gilbert Holland Memorial Library, located on Market Street in Alexandria Bay. Reported the Watertown Daily Times:
As an expression of Mrs. Hayden's love for Alexandria Bay and its people, and also as a token of his own love for his late wife, Mr. Hayden has made arrangements to remodel and redecorate the Library hall, in memory of Mrs. Hayden. He will also install an adequate heating apparatus for the hall. The room in the future will be known as the "Elsie Vilas Hayden Memorial Room" of the Holland library and it is to be turned over to the Red Cross auxiliary, who will see to it that the room, as has hitherto been the custom, will be used by other patriotic organizations and for the benefit generally of Alexandria Bay. the room will be furnished in a manner suitable for Red Cross work, but later, when it is hoped the making of surgical dressings will not be necessary, Mr. Hayden will refurnish it in a suitable manner for use by the local charity and patriotic organizations.
Harold's generosity unfortunately led to controversy. While contractor John Brown had bid the job at $500, the actual bill was $1,200, which Harold considered excessive and refused to pay. Brown sued Harold for the difference, which led to local newspaper headlines and unwanted negative publicity. The Daily Times reported that the case would be tried at the state supreme court in Watertown, in the September Term 1916.
The philanthropic gesture was remembered for many years. In an article in Feb. 4, 1925, the Watertown Daily Times reported that "The second floor of the library was never fully furnished until 1917 when J.H. Hayden had them done over into the most complete Red Cross rooms to be found anywhere. This he did in memory of his wife, Elsie Vilas Hayden, who died shortly after the war broke out." Harold's sister in law, Ysabel (Pagels) Hayden, despite living in Columbus, was an ex officio member of the library board of directors, and may have persuaded Harold to offer his generous donation.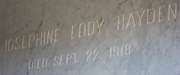 Kensico Cemetery
Adding to the chaos and heartache, in what should have been a happier circumstance, Harold married again, to Josephine Morris Eddy (1881-1918). But during a late summer trip to Rideau Lakes, she contracted a fatal case of influenza. She died at New Rochelle, Westchester County, on Sept. 22, 1918, at the age of 37, leaving Harold a second-time widower in just two years. Josephine's remains were brought for eternal rest to the Hayden mausoleum at Kensico Cemetery. Her inscribed crypt is seen here.
Harold has not yet been located on the 1920 federal census, although they may have been in Canada at the time. Circa 1923, at the time his sister Alice French died, Harold lived on Hayden Island.
In 1922, the Catskill (NY) Recorder said that Harold and friend E.A. Brown had driven there to visit his brother Allen before embarking on a driving trip to California. Circa 1923, he and his son resided at the Hotel Westminster in New York City at 420 West 116th Street.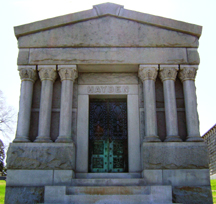 Hayden mausoleum, Kensico Cemetery
Harold is known to have spent the winter of 1930-1931 at Ivy Lea, Canada.
Sadly, while in Ivy Lea, at the age of 51, Harold took his own life, on April 30, 1931. The reasons are a mystery, and were not revealed in newspapers of the day.
His body was brought to Alexandria Bay for funeral preparations, and then shipped to New York City for burial in the family mausoleum at Kensico Cemetery.
A brief death notice was published in the New York Times and a more expansive obituary appeared in the Lowville (NY) Republican. His death also was noted in The Cornell Alumni News, saying he had taken a year of mechanical engineering at the school and "was prominent as a devotee of motorboat racing."
~ Son John Harold "Jack" Hayden Jr. ~
Son John Harold "Jack" Hayden Jr. (1904- ? ) was born in 1904.
He lived in New Rochelle, Westchester County, in 1931 at the time his father died. He would have been age 27 at the time.
The day after Christmas 1946, Jack was named in a legal advertisement printed in the Catskill Examiner-Recorder as an heir-at-law of his late uncle, Cotton Allen Hayden. At the time, his address was given as 2524 Parkhurst Boulevard, Tampa, Florida.
Nothing more about him is known.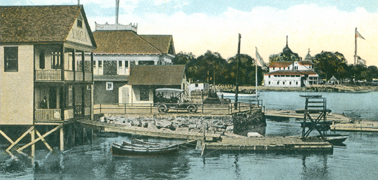 Boat house at New Rochelle
~ Daughter Eleanor Hayden, M.D. ~
Daughter Eleanor Hayden, M.D. (1907-1993?) was born on May 20, 1907.
Eleanor made her home circa 1931 in New Rochelle, Westchester County. She may have tried her hand at songwriting, as the work "Dream Man," copyrighted April 14, 1931, is credited to an "Eleanor Hayden" of New Rochelle.
She graduated from Mount Vernon Seminary in Washington, DC in 1926 and New York University in 1936, and then went on to obtain her medical degree in 1939 from NYU's College of Medicine. Said the New York Times, "She aided in organizing the Brooklyn Red Cross Blood Bank and was in charge of its Mobile Unit until she received her commission as a first lieutenant in the Medical Corps" during World War II. Her wartime service was in the Army Ground and Service Forces Redistribution Station in Lake Placid, NY.
The day after Christmas 1946, Eleanor was named in a legal advertisement printed in the Catskill Examiner-Recorder as an heir-at-law of her late uncle, Cotton Allen Hayden. At the time, her name was "D'Orbassan" and her address was 1521 Unionport Road, Parchester, NY.
In August 1944, her uncle W. Langdon Hayden announced in the New York Times that Eleanor was betrothed to Fernand M. d'Orbessan of New York. The marriage apparently did not last, as Fernand is known to have married again, to Martha A. Wilson (1898-1960), daughter of Elizabeth Johnson and widow of Thomas C. Wilson, who in turn was founder in 1925 of Thomas C. Wilson, Inc., manufacturers of boiler tube cleaners. The second Mrs. d'Orbessan died on July 24, 1960, with an obituary carried in the Times.
Eleanor maintained an office during the 1950s at 3-01 150th Street in Whitestone, NY. In 1953, she was a health officer in training for the New York City Department of Health and applied for membership in the American Public Health Association.
Eleanor is believed to have died on April 27, 1993, with burial at the Long Island National Cemetery in Farmingdale, Suffolk County, NY (Section C, site 262-B).
Fernand, also a World War II veteran, passed away on Jan. 30, 1975, and also is interred at the national cemetery in Farmingdale (Section C, site 259BB). More about Eleanor and her medical career will be added when learned.
~ Son William Buck Hayden II ~
Son William Buck Hayden II (1908- ? ) was born in 1908.
He resided in 1931 in New Rochelle and would have been age 23 at the time.
The day after Christmas 1946, William was named in a legal advertisement printed in the Catskill Examiner-Recorder as an heir-at-law of his late uncle, Cotton Allen Hayden. At the time, his address was given as 25 West 16th Street, New York City.
Nothing more is known.
Copyright © 2009-2010, 2015 Mark A. Miner
Kensico mausoleum photographs courtesy of Linda Burton Kochanov