Peter Hayden was born in 1865 in Columbus, Franklin County, OH, the son of William B. and Matilda (Langdon) Hayden.
Unlike his brothers, who were sportsmen of the first rank and welcomed publicity of their exploits, Peter spent his life outside of the limelight, except when personal circumstances were unavoidable. His paper trail is very thin.
Peter was named for his grandfather, industrialist Peter Hayden, who built a fortune of millions in the Columbus steel and banking industries.
The young Peter at age of 15 resided with his parents in Columbus at the time of the 1880 census. He would have moved with his parents back and forth to New York over the years, including to the family's treasured summer home in the Thousand Islands, named "Fairyland."
At the age of 27, Peter married 16-year-old Mary A. Jones (?) (1876- ? ). They had one son, Hamilton Hayden, born circa 1894, and apparently resided in Columbus.
The marriage apparently only lasted for about five years and ended in divorce. The Syracuse Daily Journal reported the following in the spring of 1897:
Columbus, O., May 21.--Fashionable society is shocked by the news that Peter Hayden, son of William B. Hayden, the New York millionaire, has sued for divorce from his wife, Mary A. Hayden, alleging neglect of duty and infidelity, and making Raymond E. Jones co-respondent. All the parties belong to the 400 of that city.
Peter is not known to have remarried, but this needs to be confirmed. He made his home in Columbus and New York City, apparently living occasionally under his parents' roof in Catskill, Greene County, NY.
He may be the same "Mr. Peter Hayden, of Columbus, Ohio," who in March 1902 made news when he shot a rare European Widgeon bird while hunting on the Licking Reservoir. According to one published report, in The Wilson Bulletin, "The specimen was given to Mr. [Irving A.] Field, and is now in the collection of Dennison University. The frequent occurrence of this Old World form in the eastern part of this country makes it a possible visitor to any of our inland lakes. This record for central Ohio fills in a considerable gap in its inland distribution."
The Catskill Recorder in the spring of 1914 reported that "Mr. and Mrs. W.B. Hayden, Mr. and Mrs. Allan Hayden and Peter Hayden yesterday closed their residence on the river bank and started for their Summer home in the Thousand Islands." At the Christmas holidays of 1915, the Recorder noted that Peter won a turkey shoot contest at the Catskill Gun club, and that his brother Allen had won a bird shoot.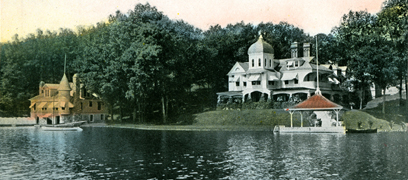 Fairyland, the Hayden family's idyllic summer estate in the Thousand Islands near Alexandria, NY.
Peter and his son Hamilton were mentioned in a 1916 newspaper obituary of Peter's father, William Buck Hayden. A year earlier, son Hamilton was named in a Catskill Recorder article for having attended a society ball benefitting the Home for Aged Women of Greene County, on which his aunt Ida (Werner) Hayden served on the board of directors. Also attending the ball at the State Armory, and sitting in the family's reserved Box No. 1, were Hamilton's grandparents, Uncle Allen and Aunt Ida.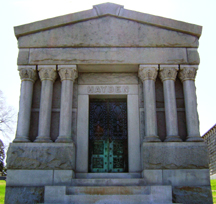 Kensico Cemetery
Peter was living in New York City in 1925 (at age 60) at the time of his mother's passing. In 1931, at age 66, he resided in Catskill, Greene County, NY at the time of the untimely death of his brother John "Harold" Hayden. By 1935, he had a home at 63 Ferris Lane in Poughkeepsie, Dutchess County, NY.
Peter spent his final years in Chaffey's Lock, Ontario, Canada. On Jan. 11, 1935, at the age of 70, Peter died in Chaffey's Lock. His remains were returned to New York to rest in the family mausoleum at Kensico Cemetery (seen here) in Valhalla, near White Plains, Westchester County.
At his death, he left an estate worth $5,000 to his brother Langdon, of New York. An Associated Press story, published in the Poughkeepsie Daily Eagle, said that the will had been filed for probate in New York.
~ Son Hamilton Hayden ~
Hamilton Hayden (1894- ? ) was born in about 1894 in Columbus, OH.
After the divorce, he and his mother moved into the household of his 50-year-old grandmother, Eugenia M. Jones in Columbus. The 1900 census shows 24-year-old Mary A., marked as having been married for eight years, with one child. It also lists six-year-old "boarder" Hamilton Hayden in the Jones household, and marked as "at school."
By 1920, Hamilton appears to have married Frances Wood (1892- ? ), daughter of postal carrier Francis R. Wood of Kingston, NY. They had two sons, Hamilton W. Hayden, born in New York, and John Hayden. That year, when the census was enumerated, they lived on Manhattan Avenue in New York. Hamilton was marked as a salesman - machine company, most likely for one of the Hayden family's many businesses. He may have been a member of the De Molay Order in Poughkeepsie circa 1934.
Circa 1923, he received his mail at Room 950 of the Ellicott Square Building in Buffalo, NY.
Circa 1939, they resided in the former home of Hamilton's late father, at 63 Ferris Lane in Poughkeepsie. The Poughkeepsie Evening Star and Enterprise reported in mid-September 1939 that son John would spend his junior year of college in Cleveland, rooming in Picklands hall dormitory. Frances served as a volunteer with the American Association of University Women at Vassar College in 1938 and helped organize a benefit performance to raise scholarship funds.
Federal census records for 1940 show the family continuing to live at 63 Ferris Lane. Hamilton's occupation is listed as "salesman - road machinery."
The day after Christmas 1946, Hamilton was named in a legal advertisement printed in the Catskill Examiner-Recorder as an heir-at-law of his late uncle, Cotton Allen Hayden. At the time, his address remained as 63 Ferris Lane, Poughkeepsie.
Nothing more about him is known.
Son Hamilton W. Hayden (1918- ? ) was born in about 1918. In 1940, when he was 22, he lived at home with his parents.
Son John Hayden (1923- ? ) was born in about 1923.
Copyright © 2009-2010, 2015 Mark A. Miner
Hayden mausoleum photograph courtesy of Linda Burton Kochanov.