Elza Loran Minard
(1871-1955)

Elza Minard
Elza "Elzie" Loran Minard was born on May 20, 1871, in rural Brown Twp., Knox County, OH, the son of Clenon C. and Mary Ann (Kunkle) Minard.
In 1892, at the age of about 21, Elzie married 21-year-old Della Myers (1871-1945) and Nellie Daup. Della was a native of Loudonville, Ashland County, OH, and was born on a farm which today is part of the 1,110-acre Mohican State Park.
Elzie and Della became the parents of four children -- Amos C. Minard, Cecil Calvert Minard, Carrie Clever and Doyle Denmar Minard.
The Minards resided in Mansfield, Richland County, OH, and near Jelloway, Knox County, OH. They lived in Morrow County, OH at the time their son Cecil was born in 1896, and in Howard, Knox County when son Amos was born in July 1900.
Elzie worked as a roofing contractor and carpenter. He built his own house at 63 Lexington Avenue in Mansfield. He also helped his son Doyle construct a house on Mansfield's Plain View Avenue. They were members of the Main Street Evangelical United Brethren (EUB) Church.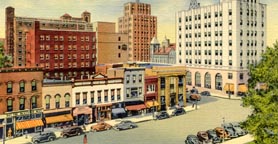 Bustling Mansfield in the 1930s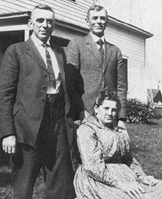 Elzie with Frank and Arvilla
When Elzie's father died in 1912, Elzie was appointed executor. He was instructed by his father's will to sell property near Butler, OH to pay for funeral expenses.
Elzie is seen here, standing at far left, with his brother Frank and sister Arvilla, date unknown. He always said that the Minards were German and that the ancient ancestors came via the Netherlands to the Hudson Valley of New York and thence to Pennsylvania.
Elzie and Della celebrated their 50th wedding anniversary in 1942.
Sadly, Della passed away on Feb. 20, 1945 at age 74. She is buried in the Mansfield Memorial Park.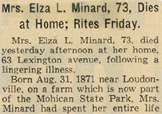 Obituary, 1945
Elzie later married Nellie Daup ( ? - ? ), but little is known of her.
Daughter Carrie died on July 9, 1955 -- and just six hours later, on the same day, Elzie passed away, at Mansfield General Hospital.
Elzie was buried at Mansfield Memorial Park. Carrie was laid to rest at the family's traditional burying ground at Shauck Cemetery in Morrow County, OH.
~ Son Amos Minard ~
Son Amos Minard (1900- ? ) was born in 1900.
He married Ruth Horner (1900- ? ), the daughter of John and Rachel (Harris) Horner of Ripply Twp., OH. The ceremony took place on Sept. 10, 1921, in Pittsburgh, Allegheny County, PA, by the hand of alderman George J. Anderson.
At the time of marriage, Amos was a roofer and resided in Mansfield at 63 Lexington, and Ruth resided in Pittsburgh's Sixth Ward.
They had a daughter, Eileen Minard.
They resided on South Boulevard in Mansfield.
In October 1943, when Eileen's engagement was announced in a local newspaper, to Jay Shors of Cleveland. Jay was employed with Famwick Airflex Company in Cleveland. The fates of Amos and the Shors are unknown.
~ Son Cecil Calvert "C.C." Minard ~
Son Cecil Calvert "C.C." Minard (1896-1974) was born in 1896.
He was married twice. The name of his first wife is unknown, but they had one daughter, Betty Grogg.
His second wife was Helen (Snouffer) Shoenfelt (1893-1977), a native of Altoona, PA, who had three sons to a previous marriage -- Robert Shoenfelt, Beauford Shoenfelt and Orville Shoenfelt.
They resided in Mansfield, where he was a longtime engineer for the Pennsylvania Railroad and was a member of the Brotherhood of Locomotive Firemen.
In the 1930s, Cecil allowed his photograph image and testimonial to be used in Ohio newspaper advertising to extol the virtues of including bran in one's diet. In his words, published in the ad, he said:
For years I had been a victim of deranged kidneys and bowels. My back was so stiff and sore all the time, and it was IMPOSSIBLE for me to get any sleep. Bowel constipation had gotten to be CHRONIC with me and I was always taking physics. I decided to get Vegobran and take it and it was just what I needed. It worked the kidney trouble right out of me, and now I don't have a single ache or pain in my back, and I can sleep all night long for the first time in TWO YEARS. My bowels are regulated perfectly and I am feeling sound and well. I never saw anything like the way Vegobran can act on a person.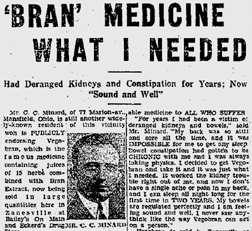 Bran advertisement featuring a photo and testimonial from Cecil Calvert Minard (Zanesville Times-Recorder, June 2, 1932)
Cecil died on Sept. 19, 1974, and was laid to rest at Mansfield Memorial Park. Helen outlived him by three years, and died in Mansfield on March 19, 1977.
Daughter Betty Minard married Clarence E. "Shorty" Grogg (1917-1998), a native of Clarksburg, Harrison County, WV. They resided in Mansfield for many years, and had four children -- Judy Larimore, Gary Grogg, Michael Grogg and Donald Grogg. Shorty was employed as an auctioneer and as a truck driver for Dearman's. He also was a World War II veteran with the U.S. Army. Shorty passed away on March 30, 1998, and is buried in Mansfield Memorial Park.
~ Son Doyle Denmar Minard ~
Son Doyle Denmar Minard (1906-1984) was born in 1906.
He resided in Mansfield for many years, where he was a roofer and general foreman of McKinley Roofing.
He and his wife Anna (Bikar) Minard ( ? -1982) had three children -- Ronald D. Minard of West Jefferson, OH; Leann Sohl of Mansfield; and an infant son who died in Mansfield just after Christmas 1926.
The Minards divorced in 1958.
Son Ronald D. Minard was a teacher for 14 years in Ohio. He then was a principal for a dozen years and superintendent for three years at Eastern Local School District in Reedsville, Meigs County, OH. He and his first wife Dolly (now divorced) had three children -- Andrew Minard, Alex Minard and Angie Minard. Ronald married Teresa Jean Jones in 1997
~ More ~
We are grateful to cousin and longtime genealogist, the late Mary Jane (Armstrong) Henney (granddaughter of Samantha "Jennie" [Minard] Armstrong), for providing the framework of information for this biography.
Copyright © 2002, 2005, 2009-2010 Mark A. Miner