Francis D. 'Frank' Minard
(1860-1937)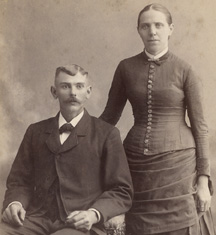 Frank and Lizzie
Francis D. "Frank" Minard was born in 1860 in or near Jelloway, Knox County, OH, the son of Clenon C. and Mary Ann (Kunkle) Minard. He was a farmer who helped organize large annual Minard Reunions in Ohio.
On Oct. 5, 1884, when they were both 24, Frank married Mary Elizabeth "Lizzie" Beam (1860-1917). The ceremony was performed by Samuel Schwank, pastor of the Evangelical Lutheran Church of Loudonville, Ashland County.
Their portrait, seen here, which may have been taken around the time of their wedding, was made at the studio of Theo H. Campbell in Mansfield, Richland County, OH.
The Minards had three sons -- twins Elva W. "Will" Minard and Alva Wilbert "Bert" Minard, and Frederick R. Minard.
Will and Bert are seen here as infants in a portrait taken at T.H. Campbell's studio in nearby Mansfield, Richland County, OH.

Twins Will and Bert
The family resided in Pike Township, Knox County, OH. Later, they moved to a farm south of Nunda in Brown Township, Knox County, where they lived for many years.
When Frank's father died in 1912, Frank received 50 acres of the home farm and was to make a $100 payment from the farm to the children of his deceased sister, Samantha "Jennie" Armstrong.
At some point, most likely in the 1890s, Frank was elected president of the annual Minard Reunion. A newspaper clipping from a Mt. Vernon newspaper shows that the reunion lasted at least for eight years, and likely more. As this reunion clearly pre-dates the first annual Minerd reunion in Western Pennsylvania, it is the first organized reunion known in the family, and more research is being done to learn more about its origins. The newspaper article from the eighth reunion, states: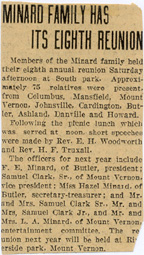 Undated news clipping
Members of the Minard family held their eighth annual reunion Saturday afternoon at South park. Approximately 75 relatives were present, from Columbus, Mansfield, Mount Vernon, Johnsville, Cardington, Butler, Ashland, Danville and Howard. Following the picnic lunch which was served at noon, short speeches were made by Rev. E.H. Woodworth and Rev. H.F. Truxall. The officers for next year include F.E. Minard, of Butler, president; Samuel Clark, Sr., of Mount Vernon, vice president; Miss Hazel Minard, of Butler, secretary-treasurer; and Mrs. and Mrs. Samuel Clark Sr., Mr. and Mrs. Samuel Clark Jr. and Mr. and Mrs. L.A. Minard, of Mount Vernon, entertainment committee. The reunion next year will be held at Riverside Park, Mount Vernon.
Sadly, Mary suffered from an incurable case of diabetes. She died on July 1, 1917, at the age of 57, at her home two miles east of North Liberty. She is buried at Zion Evangelical Lutheran Church about 1.5 miles southwest of the town of Jelloway. Rev. Burkholt preached the funeral sermon, and an obituary was published in the Mt. Vernon Democratic Banner.
A grand-niece fondly recalled that Frank:
...looked like Abraham Lincoln, the same dark hair and rugged features. I had great respect for him when I was a little girl. In front of his house at the bottom of a small hill ran a quiet, sparkling stream. It started at the spring under the spring house that sat there and was cool even on the hottest day. To a town girl this seemed most remarkable. However, the thing that thrilled me the most was the fact that a snake would lay on a big stone beside the little stream and sun itself on those hot days. It never bothered anyone and I just knew it was there to protect he crocks of butter, cream and other goodies that were there keeping cool in the water in the spring house. When someone said something about killing the snake, it was explained that the snake was to protect the food by killing the rodents that might have eaten the good things left there.

Above: Riverside Park in Mt. Vernon, site of Minard reunions. Below, left: Hazel Mumper, Lois Raymond and Mary Russell at the 1935 gathering. Right: Frank (center), Hugh Armstrong (left) and Elzie Minard.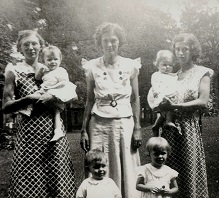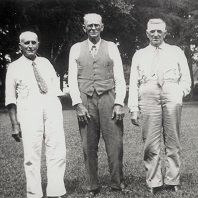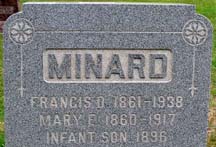 Zion Lutheran Church
Sadly, in January 1937, Frank died suddenly at home, at age 76.
He was buried with his wife at Zion Lutheran Church.
~ Son Alva "Bert" Minard ~
Son Alva ("Bert") Minard (1885-1961) was born in 1885.
He resided in Butler, Richland County, OH.
On Nov. 4, 1906, he married Mary Josephine "Mae" Snively (1885-1962), the daughter of John and Mary (Reichert) Shively. They had four children -- Hazel Marie Mumper, Mary Turney, Lucille Sidle and John Minard.
Bert was a longtime farmer and, like brother Will, was a member of the Amity (OH) Grange.
Mary died at home at age 76 in 1961.
Later, Bert married Edith (Bumpus) Evans ( ? - ? ). He and Mae are buried at Zion Lutheran Church.

The Mumpers
Daughter Hazel Minard (1908-1994) was born in 1908. She married Irvin Mumper ( ? -1990). The nuptials took place on April 12, 1932, when she was 24 years of age. Together, they owned the Frigid Food Storage and the Red and White Supermarket in Loudonville, Ashland County, OH. Hazel was a member of the Zion Lutheran Church, Hanover Range, Homemakers Club and Professional Women's Club. They retired in 1963, and celebrated their golden wedding anniversary with an open house on April 12, 1982. They had five children -- Jean Kauffman, Joanne Utterback, Mary Lou Wachtel, Larry Mumper and Elaine Vostine -- with 17 grandchildren and five great-grandchildren circa 1982.
Daughter Lucille Minard ( ? - ? ) married (?) Sidle. Lucille died sometime prior to 1962.
Daughter Mary Minard ( ? - ? ) married Dwight Turney ( ? - ? ). They resided circa 1962 in Danville, Knox County.
Son John Minard (1914-2000) was born in 1914. He married Dorotha Wright (1916-1994). They resided in Mt. Vernon, and were married for 57 years. John he was employed with Cooper Energy Services in Mt. Vernon for 37 years. Dorotha was a member of Amity United Methodist Church, the Amity Grange and the Amity Garden Club. They had one son, Ralph Minard. Dorotha died at home on Jan. 31, 1994. John also passed away at home, on Sept. 19, 2000, and was buried in Amity Cemetery.
~ Son Elva "Will" Minard ~
Son Elva ("Will") Minard (1885-1964) was born in 1885. He lived in Danville, Knox County.
He married his first wife, Goldie Miller, on Christmas Day 1906. They had two children -- Raymond "Earl" Minard and Walter "Russell" Minard.
Will filed for divorce from Goldie in August 1922, charging her "with gross neglect and adultery," reported the Mt. Vernon Democratic Banner. "The plaintiff says the defendant has been guilty of gross neglect and that she refuses to cohabit with the plaintiff and to care for their children...."
Later, he wed his second wife, Priscilla (Twix) Wolford (1886-1959).
He lived near Mt. Vernon, Knox County, and was a member of the Amity (OH) Grange. He is buried with his second wife, Priscilla, at Zion Lutheran Church.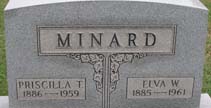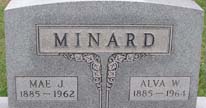 The twins' graves at Zion Lutheran Church near Jelloway
Son Earl Raymond Minard (1908-1985) was born in 1908. He "lived in the Mansfield area for a number of years before moving to Seattle," said an Ohio newspaper. He was "a former employee of Nisner Brothers and The Tappan Co." Earl was married several times, including to Edna Mae (?) and Marilyn (?). He and Edna Mae had two children -- Richard Minard, Donis Minard. He and another of his wives had a daughter, Doris Sturts.
Son Russell Minard (1910-2001) was born in 1910. He married Mary Elizabeth Hasenzahl (1913-2001), the daughter of William and Olive Hasenzahl. They resided in Lexington, Richland County, and had three children -- Ronald E. Minard, Larry R. Minard and Linda Jenkins. Russell "retired in 1972 following 32 years of service to the Tappan Company as a welder," said a local newspaper. Mary died in Lexington at age 87 on Feb. 17, 2001, and Russell passed away just a few months later in Lexington, at age 90, on May 11, 2001.
~ Son Frederick R. Minard ~
Son Frederick R. Minard (1889 - ? ) was born in about 1889.
He lived in Akron, Summit County, OH, having secured employment with a tire and rubber company.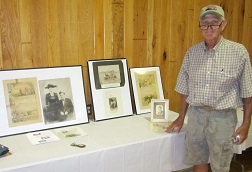 Danny Minard of Ohio
On April 3, 1913, at the age of 24, Fred married 23-year-old Emma M. Wilson (1890- ? ). She was a native of Parkersburg, Wood County, WV, and the ceremony took place there, by the hand of Rev. Robert B. Smith.
In 2013, a century after their wedding, their grandson Danny Minard and his wife Sharon traveled from their home in Canal Fulton, OH to attend the clan's national reunion, held in Indian Head, PA. He brought a number of old family photographs and certificates to display, and said he has at least one other document written in German, confirming this branch's connection.
~ More ~
We are grateful to cousin and longtime genealogist, the late Mary Jane (Armstrong) Henney (granddaughter of Samantha "Jennie" [Minard] Armstrong), for graciously providing information in this biography.
Copyright © 2002, 2005, 2009, 2012-2013 Mark A. Miner