Phoebe (Miner) Fawcett
(1805-1881)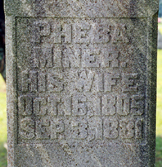 Maplewood Cemetery
Phoebe (Miner) Fawcett was born on Oct. 16, 1805 near Kingwood, Preston County, WV, the daughter of Burket and Frances (Skinner) Minerd. She and her husband later made their marks as stewards of the Preston County (WV) Poor House, but faced the unspeakable tragedy of losing a son in the Civil War.
Phoebe married Charles B. Fawcett (1801-1874), the son of William H. and Nancy Fawcett. Charles was born on June 15, 1801 in Kentucky. Oren Morton's 1914 History of Preston County tells us that while in Kentucky, Charles "had also seen a face there, and this face drew him back from Kentucky in 1822, to marry and live in Kingwood." We can only assume that it was Phoebe whose good looks drew him from the wild frontier back to West Virginia.
The Fawcetts produced 11 children -- Mary Catherine Gribble, Ann Moon, Kesiah Miller, James S. Fawcett, Wreah A. Fawcett, William M. Fawcett, Burkett M. Fawcett, John "Allen" Fawcett and three others who may have died young.
Morton's history says that sons "William M., and John A., settled at or near Kingwood, Birkett M. living on Scotch Hill."
For 21 years, from 1847 to 1868, the Fawcetts were widely known as the proprietors of the Preston County Alms House, otherwise known as the "Poor House." The facility was operated by the county government. According to Charles A. Thomas' recently published book, Images of America: Preston County:
It provided a home for the indigent who had no place to live and no income. The present welfare systems have modified the need for such a facility. The Preston County High School is now located on many acres of this property.
The 1850 census of Preston County shows that the poor house had three residents that year -- a 94-year-old man and an 81-year-old man, both labeled "pauper," and a six-year old "insane paup[er]."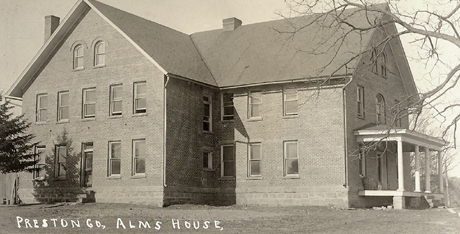 Rare photo of the Preston County Poor House
In 1850, Charles purchased 30-acre portion of a 500-acre tract in Preston County "on the waters of Threefork Creek." He later acquired 14 acres "on the waters of Greens Run," which he sold in 1868.
As with many families whose sons went off to fight in the Civil War, tragedy visited the Fawcetts. In August 1863, son Burkett, a private with the 3rd WV Infantry, was killed in action at the Battle of Rocky Gap near White Sulphur Springs, WV. The Fawcetts learned the news "from letters received and information received from members of the same company, and from general report." His body is not thought to have been sent home.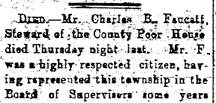 Preston County Journal, 1874
The Civil War took another toll on this family. Charles is said to have been "thrown in prison a few weeks, accused of harboring two Confederate Spies, he was later proven innocent and released." The source for this is a family memoir in Taylor Publishing's 1979 Preston County, West Virginia, History.
Two years after the war ended, Charles added to his real estate holdings by acquiring a 50-acre parcel "about three miles from Kingwood on the Turnpike leading to Morgantown … near a flat called Kelsoe's Folly" along the pike. He then bought 57 more acres along the "Folly" in 1871. In 1869, he served as surveyor of roads of the Kingwood District.
Charles died of heart disease at the age of 74 on Nov. 26, 1874. His obituary in the Preston County Herald said he "was a highly respected citizen, having represented this township in the Board of Supervisors some years since."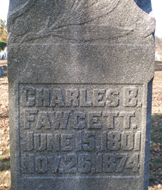 Maplewood Cemetery
In his will, dated Sept. 4, 1874, Charles left the following property:
to his wife, all of his "estate, real and personal," giving her the right to sell any of it at any time "for her comfortable maintainance and support."
to son Allen, the 107-acre farm where he resided, called the "home place," located about 2¾ miles west of Kingwood;
to daughters Mary Catherine Gribble and Kesiah Miller, and to the children of his dead daughter Ann Moon, a 1/3 interest each in the farm he had purchased from Samuel W. Wright, with the Gribbles and Millers to reside there on their portions.
Phoebe outlived her husband by seven years. She died at the age of 76 on Sept. 3, 1881 at Kingwood at the home of their son Allen. The Preston County Journal eulogized that
…She had been feeble for a long while, and may be said to have died of old age. She was … a member of the Methodist Episcopal Church for over a half-century. Aunt Phoeba was a good woman. Kind, generous, and motherly, she was known by a great many people. She and her late husband, 'Uncle Charley,' kept the poor house for many years, and the inmates of that place never had kinder masters. Aunt Phoeba died in the full hope of a Christian…. The audience-room [at the funeral] was literally packed, and then even all could not be seated, so large was the congregation.
The Fawcetts are buried together in the Maplewood Cemetery in Kingwood. Charles later was mentioned in Samuel T. Wiley's History of Preston County, West Virginia (Kingwood: Journal Printing House, 1882; reprinted 1968 by McClain Printing Company, Parsons, WV).
Son Marcellus married Ida M., maiden name unknown.
The "home place" property was conveyed from son Allen to his daughter and son in law, Martha and Levi S. Shomaker, in 1912.
Copyright © 2000, 2006, 2008, 2021 Mark A. Miner