Emma (Minerd) Treseder
(1859-1919)

Emma Treseder
Emma Jane (Minerd) Treseder was born on Nov. 30, 1859 in Farmington, Fayette County, PA, the daughter of Samuel and Rebecca (Smalley) Minerd.
When the federal census was taken in 1880, Emma made her home with her parents in West Newton, Westmoreland County, PA. She and her unmarried sister Margaret "Hester" Minerd are shown as laborers in a local paper mill, with Emma listed as having a "finger cut off," apparently related to her work in the mill. It may well have been her right hand involved in the accident, as in a later photo, she is shown covering the hand with her left hand.
In 1886, when she was unmarried and at age 27, Emma and her parents and siblings ventured westward. They left their longtime homes and became pioneer settlers of Kansas, settling in Pittsburg, Crawford County.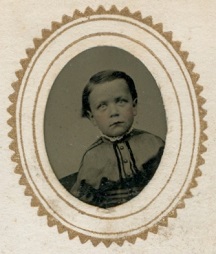 Tintype of Stephen as a child
Some 11 years after they arrived in Kansas, In October 1897, for the price of $1,000, Emma and her sister Margaret acquired lots 3 and 4 in Pittsburg's Third Addition from their brothers John and Levi Springer.
She is named in the Pittsburg City Directory of 1900-1901 as a clerk for Israel Bros., and residing in her parents' home at 303 West 9th Street.
On Dec. 16, 1909, when Emma was age 45, she married 50-year-old widower Stephen Treseder (1860-1936), son of Martin and Elizabeth (Roberts) Treseder. He was a native of Dodgeville, Iowa County, WI, and his parents were immigrants from England. The ceremony was performed by Rev. Gerritt Snyder, a minister of the Gospel. News of their union was published in the Pittsburg Headlight.
Stephen and his first wife Julia J. Prideaux (1858-1904) apparently had come to Pittsburg from Dodgeville, Iowa County, WI. He and Julia had been married in about 1879 and had three children, only one of whom apparently lived to adulthood. Thus, at the time of his nuptials with our Emma, he brought a 28-year-old daughter to the marriage, Beulah Treseder (born 1881 in Wisconsin).
In about 1904, perhaps as a gift or gesture of friendship, Stephen presented Emma with a pewter pitcher onto which were engraved the words, "E. Minerd, 1904." Emma kept this for the rest of her life, but because they never had any children, she later gave the pitcher to her firstborn nephew, Orville Baldwin Minerd.
The Treseders are listed together in the Pittsburg City Directory of 1903-1904, with an address of 307 North Walnut. But they did not marry until 1909, as confirmed by the date on their marriage license on file today at the Crawford County courthouse in Girard, KS.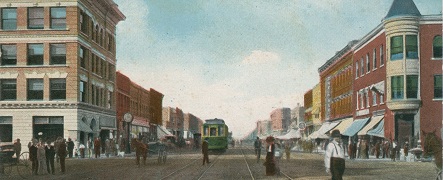 Pittsburg's Broadway, north from 4th Street, early 1900s
Stephen made news in the Pittsburg Daily Headlight in March 1908 during a time when he worked at the L.B. Price Mercantile store in Pittsburg. One of his old friends from Milwaukee, George Willoughby, a manager of the Pewitt and Sherman Coffee and Spice Company, had murdered his wife and then tried to take his own, and Stephen began carrying around the man's photo. The Daily Headlight quoted Stephen as saying:
George Willoughby and I were friends from boyhood and we remained together for years after we became men and traveled for the same firms. It was while we were both traveling salesmen that we would meet one time each month at Ludington, Mich., and we would put up at the same hotel and remain there for two and three days at a time. It was at the hotel where we stayedthat Willoughby met his wife, who was at that time head dining room girl. She was not attractive in many ways, but her unfortunate condition in life aroused Willoughby's sympathy. He was attractive and a favorite with many women. On several occasions when we would meet at the hotel he would tell me that he did not love the girl but that he was going to marry her because she was without a home, and he could not bear the thoughts of having a girl in such a wretched condition who displayed such true devotion for him. At the same time Treseder was going with one of the girls at the hotel, but the marriage, while Treseder had been informed that it was to take place, was a surprise even to him, as he did not believe Willoughby to be in earnest. After the marriage, Willoughby told Treseder that he did not love the girl more than he did before, but the marriage was a reward to her for the womanly devotion which seemed to charm him. All these twenty years Willoughby has lived with the woman, and has made profession of religion. e never gave her a reason to believe that he did not bear the same feeling for her as she did for him, according to Treseder, who talked with both of them less than two years ago. After killing the woman last Thursday, Willoughby confessed for the first time that he had married the woman through sympathy and that he had many times become infatuated with more admirable women, but had on such occasion banished the thought of love from his mind, until about four years ago, when he became in love with a Chicago woman and he has been supporting her since that time. His infatuation for this woman caused him to commit the crime he did, and remorse a few minutes later caused him to attempt self-destruction.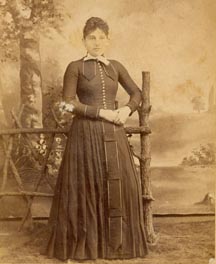 Emma hiding her right hand
When the federal census was taken in 1910, the Treseders resided on West Euclid Street in Pittsburg. Stephen was employed as a salesman in a clothing store, and Emma worked as a sales lady in a dry goods store. (In his years in Dodgeville, WI, Stephen also had worked as a clothing salesman.) That same year, Stephen's daughter Beulah made her home with an aunt and uncle, Clara V. and William Hoffenbacher, in Hancock, Houghton County, MI. Advertisements placed in the Pittsburg Daily Headlight circa 1912 show Stephen as manager of the Ridgley Clothing Company, with the tagline "Do not Enter unless you see the name of RIDGLEY 718 N. Bd'y Over The Door."
Emma and her sister Margaret "Hester" Jackson, took in a small girl, Kathryn (Minerd) Schewaski Hughey, "which the two of them raised," recalled a nephew. The girl later was formally adopted by the Treseders.
Emma followed the teachings of the Christian Science Church. Stephen was active with the Pioneer Home Protective Society and in 1910, after becoming a member, had enlisted 120 new members, and he and Emma were appointed to look after sick members. Reported the Daily Headlight, "Certainly Mr. Treseder knows the way to interest people in caring for their dear ones after they are gone." Their address in 1915 was 505 East 13th Street in Pittsburg and by 1919 was 1302 North Grand Street.
Over the years, the Treseders enjoyed visits of length from Stephen's daughter Beulah, and in August 1918 they traveled to see her in Carthage, MO and attended the local fair. Stephen also went to Joplin, MO with his friend C.F. Werner in late September 1911 to attend the Barnum & Bailey Circus show.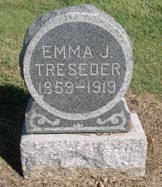 Mount Olive Cemetery
Stricken with cancer, Emma traveled to St. Louis for medical treatment in early September 1919, but physicians advised that surgery would not be effective. She returned home and passed away on Sept. 19, 1919, at the age of 60. An obituary in the Pittsburg Daily Headlight noted that S.E. Seymour read the Christian Science liturgy at the funeral service. Another obituary, in the Pittsburg Sun, erroneously reported her birthplace as "Fayette county, Illinois."
She was placed to eternal rest beside her parents, at the Mount Olive Cemetery, with an unusual round marker of carved granite placed at her grave. The marker -- seen here -- was photographed by the founder of this website in October 2010.
After Emma's death, Stephen was faced with the task of settling the estate. After all the accounts were settled and debts paid, both Stephen and their adopted daughter Kathryn received cash payouts of $88.40.
Stephen apparently did not remarry but remained a widower. In 1930, at the age of 70, he and his unmarried daughter Beulah are enumerated in the federal census of Pittsburg. His occupation was listed as representative of an insurance agency.
Stephen died in Pittsburg in 1936 at the age of about 76. His remains were transported to Carthage, Jasper County, MO for interment in Park Cemetery. [Find-a-Grave]
~ Stepdaughter Beulah Treseder ~
Stepdaughter Beulah Treseder (1881- ? ) was born on Jan. 21, 1881 in Iowa County, Wisconsin, a twin with her sister Blanche. Sadly, the twin died at the age of 15 in 1897 in Wisconsin, leaving Beulah as an only child.
She never married. Her home in 1915 was in Houghton, MI.
Beulah was named in a Pittsburg Daily Headlight story in January 1918 when, living in Hancock, MI, she traveled to Pittsburg to visit her father. She commented on the number of English-born copper miners in Michigan who had "responded promptly to the call of war and most of them enlisted in Canadian regiments soon after the war began."
Circa 1919, at the death of her step mother, Beulah was named in the Daily Headlight obituary and at the time was living in Carthage, Jasper County, MO.
Beulah is believed to have died in Pittsburg on Dec. 14, 1930. Her grieving father arranged to have her remains shipped to Dodgeville, Iowa County, WI for burial beside her mother.
Copyright © 2000, 2007, 2010, 2016 Mark A. Miner