Home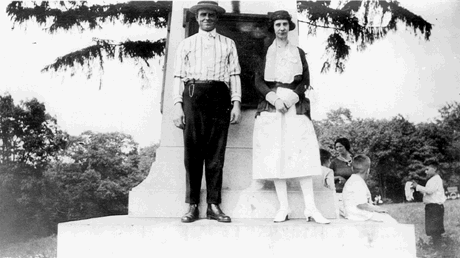 Sightseers James C. and Eliza (Hess) Minerd Jr. enjoy a 1920s outing at Braddock's Grave near Uniontown, Fayette County, PA. James was a coal miner and veteran of World War I, and Eliza was a grade-school teacher whose photograph graced the cover of our 1997 reunion booklet, A Sense of Wonder.
Today, the popular tourist attraction, along the National Highway (US Route 40), is owned by the National Park Service as part of the Fort Necessity National Battlefield. Over the years, some of our cousins have played vital roles in helping preserve this historic site.
One cousin, William Alexander Gaither, owned an adjacent farm. For many years, starting in the 1870s, Gaither was "engaged" as caretaker of the site when it was solely marked by a grove of trees surrounded by a wooden fence. Another cousin, William A. Stone, served on a commission in 1913 to raise funds to erect the permanent memorial. Stone's name is on a prominent plaque on one side of the shaft's granite face.
The monument marks the resting place of the ill-fated British Army officer, Maj. Gen. Edward Braddock, of the Coldstream Guards. Braddock died in 1755 during the French and Indian War, mortally wounded in battle near Pittsburgh, while leading an expedition toward Fort Duquesne. The disaster, at what is now Braddock, PA, cost the British Army nearly 1,000 dead and wounded. Young Lt. Col. George Washington served in Braddock's command, and "acting with exceptional resolution, coolness and courage, had two horses shot from under him and received four bullets through his clothing," says Robert C. Alberts' book, The Most Extraordinary Adventures of Major Robert Stobo. Later, Braddock died after retreating to the mountains above Uniontown, where Washington is said to have presided over the secret burial. Click to see other photo images of the grave and fort from our archives.
Copyright © 2002 Mark A. Miner