Matilda (Minerd) Starrett
Myers Mayle Croston
(1865-1955)

Matilda "Della" (Minerd) Starrett Mayle Myers Croston was born in 1865 in Barbour County, WV, the daughter of William and Margaret (Male) Minerd.
Matilda apparently was married three times, and perhaps four. She is not known to have had any natural-born children.
She is believed to be the same "Matilda Minerd" who, on Nov. 24, 1883, at the age of 18, wed 22-year-old John Starrett in Taylor County, WV. John is lost to history from there.
She was divorced from her second husband, whose last name was "Myers." Nothing more about him is known.
In the early 1900s, she is known to have written a penny postcard note to her married sister Cyrena Cooper and her husband Elwood in Deer Park, MD. The handwriting is faded, and the scribble is hard to read, but is believed to say:
Sareney, i have got love in my hart for you. i would lov to see you. elwood i might come and see you at christmas. i don't no. write to me. This is Lills baby. goodbye my sister. you must trust the lord.
Circa 1920, Matilda's name was "Tillie Mayle." The census-taker reported that she was age 52 and cohabitated with 42-year-old widower Henry Croston (1878-1954) and his 15-year-old daughter Ensie (or Enzy) on a farm in the Court House District of Taylor County. Living just a few doors away were Matilda's first cousin, Jefferson Davis Mayle and his family, as well as other branches of the Mayle, Croston, Dalton and Parsons clans.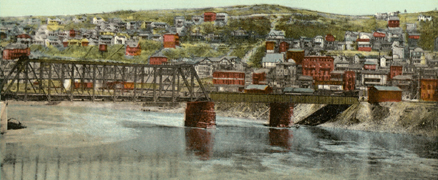 Grafton's Baltimore & Ohio Railroad bridge spanning the Tygart River.
Henry was the son of William and Lydia (Kennedy) Croston, and 10 to 12 years younger than Matilda. He and his first wife, Berthena (Collins) Mayle, were married in about 1901. Berthena brought a son to the marriage, Benjamin F. Mayle (born in 1896), and they had one daughter of their own, Ensie. In 1919, Bertha died of cancer at the age of 47.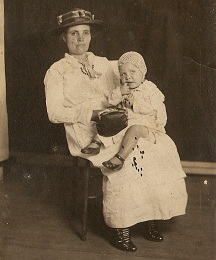 Matilda with her niece, Mildred
"Garnet" Minard, circa 1914.
On July 9, 1921, Matilda wed Henry Croston, in a ceremony led by Rev. E.H. Waters in Taylor County. Her name at the time of marriage, as clearly hand-written by a Taylor County clerk, was "Myers," and she was marked as "divorced." She thus became a step-mother in a complicated way to her husband's stepson Benjamin F. Mayle and daughter Enzy Croston.
The Crostons made a living as farmers, residing in the West Hill community near Simpson, Taylor County.
When the federal census was taken in 1930, they were enumerated by themselves in the Court House District of Taylor County, and marked as "Negro" by the census-taker. In that census, Henry disclosed that he was age 28 at the time of his first marriage, and Matilda was a tender 15.
Henry suffered from prostate cancer, and passed away at the age of 77 on Aug. 19, 1954. His death ended a marriage of 33 years.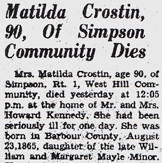 Matilda only outlived her husband by a year, and resided in the home of her first cousin, Howard Lee Kennedy Sr. (the son of Ruth Ann [Minerd] Kennedy) in the Grafton area. She passed away at the age of 90 on Dec. 20, 1955, due to heart disease with senility and a fractured hip as contributing factors.
She was buried beside or near her husband at West Hill Cemetery in Webster, Taylor County. In her obituary, the Grafton Sentinel said she was "survived by two half brothers, Billy Minor and Tillison Minor of Philippi and two half sisters, Mrs. Hulda Mayle of Philippi and Mrs. Crissia Tremble of Fairmont."
~ Step-Stepson Benjamin F. Mayle ~
Step-stepson Benjamin Franklin Mayle (1896- ? ) was born in about 1896 in West Virginia, the son of (?) and Berthena (Collins) Mayle. He was but a young boy when his father died, and was the age of five when his mother remarried to Henry Croston. He was age 23 when his mother died, and two years later his step-father married our Matilda Minard.
Nothing more about him is known.
~ Stepdaughter Enzy Croston ~
Stepdaughter Enzy Croston (1905- ? ) was born in 1905 in Taylor County, the daughter of Henry and Berthena (Collins) Croston. Her fate after 1920 is shrouded by the misty haze of the past.
Copyright © 2004-2012 Mark A. Miner