Home

Sarah (Minerd) Shepard
(1840s?-1877)
Sarah Jane (Minerd) Shepard likely was born in the early 1840s in Tontogany, Wood County, OH, the daughter of Samuel and Susanna (Hueston) Minerd.
Her husband was wounded in action during the Civil War, and was held as a prisoner of war.
In about 1866, Sarah married Army veteran William H. Shepard (1840-1916), the son of Cyrus and (?) (Huston) Shepard. He may have been a distant cousin of Sarah on the Hueston/Huston side of the family.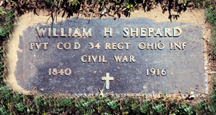 Union Hill Cemetery

William was a native of Port Clinton, Ottawa County, OH, who had moved to Tontogany at a young age. William and Sarah knew each other from childhood, as he had resided on a farm about a mile and a half away from the Minerds. He stood 5 feet 7 inches tall, with blue eyes and brown hair.

The Shepards had seven known children, born between 1868 and 1877 – Frank Shepard, Clarie E. Shepard, Orra Shepard, twins Edward Shepard and Eva Shepard, Jenny E. Shepard and John W. Shepard. Edward and Eva were twins, born in 1872.

During the Civil War, William enlisted in the Army, and was a member of Co. D., 34th Ohio Volunteer Infantry, along with his future brother in law, Alpheus Minerd. William and Alpheus "messed and bunked together" during their time together as fellow soldiers. They saw action in 24 battles during a six-month period in 1864, including the following:

Princeton, WV (May 6), Cloyds Mountain, VA (May 9-10), Panther Gap, WV (June 3), Piedmont, VA (June 5), Buffalo Gap, WV (June 6), Lexington, WV (June 10), Buckhannon, WV (June 14), Otter Creek, VA (June 16), Lynchburg, WV (June 17), Liberty, WV (June 20), Salem, VA (June 21), Monocacy, MD (July 9), Snickers Gap (July 17), Third Winchester, VA (July 20-24), Kernstown, VA (July 23), Summit Point, VA (Aug. 21), Halltown, VA (Aug. 24, 26-27), Berryville, VA (Sept. 3-4), Martinsburg, WV (Sept. 18), Opequon, VA (Sept. 19), Fishers Hill, VA (Sept. 22) and Cedar Creek, VA (Oct. 19).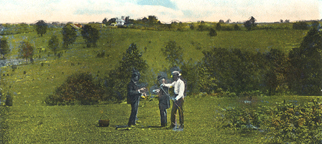 A rare old photo of the Cedar Creek battlefield, showing Belle Grove house in the distance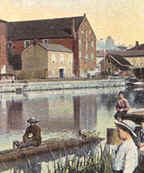 Pemberton Prison

Just after the new year began, on Jan. 11, 1865, the 34th Ohio fought at Beverly, WV. Alpheus and Shepard were captured, and sent to Pemberton Prison in Richmond, VA. For more than a month, they were incarcerated together.

The red-brick Pemberton was a converted warehouse, along the James River, and beside Libby Prison, a notoriously filthy and deadly facility, considered one of the Confederacy's worst.

One Libby prisoner complained of having to sleep on bare floors, in front of open windows, with insufficient clothes or blankets. The men also were exposed to cold temperatures, dampness and germ-carrying insects from the nearby, slow-flowing river. Sanitation was non-existent -- prisoners relieved their bladders and bowels in the corners of their rooms.

On Feb. 17, 1865, they both were released through a parole, "and we came to our lines together," William recalled. They both received 30-day furloughs at the end of February, and as a tandem returned to Tontogany. However, when they returned to their regiment in early April, they were assigned to different regiments, and became separated.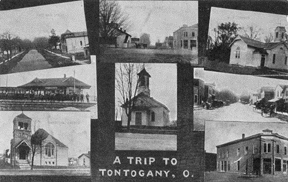 Views of Tontogany, Ohio

William was discharged on June 5, 1865 at Clairsville near Cumberland, Allegany County, MD. He returned home to Tontogany, where he worked as a farmer. After residing there for 20 years, the Shepards moved to nearby Haskins, Wood County in 1885.

Tragically, Sarah may have suffered with complications in her pregnancy with their seventh child. On Sept. 11, 1877, a day after giving birth to their son John, she died in Tontogany. Her resting place is unknown.

On Dec. 27, 1882, after five years as a widower, William married to Alice J. Duncan (1860-1905). He was two decades older than his new wife. The ceremony was performed at Blissfield, Lenawee County, MI.

They bore three more children of their own, born between 1882 and 1890 – Marshall A. Shepard, Carl C. Shepard and Cora A. Shepard.

Three years later, in 1885, the Shepards moved to Haskins, Wood County, OH. It was there that William was interviewed by the government in the pension investigation of Alpheus Minerd.

When undergoing a medical checkup in 1891, as part of his military pension obligation, William complained of pain in the rectum, frequent diarrhea, severe constipation as well as pain in the shoulders, elbows, hips and knees. The physician wrote: "[He] has good muscular development and presents a fairly healthy appearance. His disability is not caused by any vicious habits."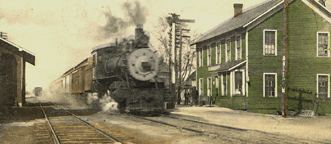 The C.H. & D. railroad depot in Haskins

Obituary, 1905
William became widowed again when he was age 65. Sadly, Alice died of "dropsy" at their home in Haskins, at the age of 45, on May 9, 1905, after a sickness of several months' duration. Her obituary in the Bowling Green Daily Sentinel (seen here) said that she "has been quite ill nearly all spring and her death was not altogether unexpected."
William passed away of heart disease, "la grippe" and bronchitis on Dec. 23, 1916, at the age of 76. He is buried at Union Hill Cemetery, where his Minerd in-laws also rest for eternity. M.A. Shepard of Grand Rapids was the informant on his death certificate, but the connection to William is not known. No newspaper obituary has been found for William in the Wood County Public Library in Bowling Green.
~ Son Frank Shepard ~
Son Frank Shepard
~ Daughter Clarie E. Shepard ~
Daughter Clarie E. Shepard
~ Daughter Orra Shepard ~
Daughter Orra Shepard
~ Son Edward Shepard ~
Son Edward Shepard was born in 1872, a twin with his sister Eva.
~ Daughter Eva Shepard ~
Daughter Eva Shepard was born in 1872, a twin with her brother Edward.
~ Daughter Jenny Shepard ~
Daughter Jenny E. Shepard
~ Son John Shepard ~
Son John Shepard
Copyright © 2002, 2004, 2006, 2010, 2022 Mark A. Miner