Charles Ray Minor
(1884-1962)

Charles R. Minor
Charles Ray Minor was born on Aug. 1, 1884, at Pursley Creek near Waynesburg, Greene County, PA, the eldest of five sons of Elias and Elizabeth (King) Minor.
He and his next-youngest brother William were especially close. As young men, they worked hard to support their family and keep it together, even as their parents endured a rocky marriage. During that time, their mother was sickly, so they hired a housekeeper to do house chores. Fortunately, their mother recovered and resumed her role in the home.
As the eldest sons, Charley and Bill had a friction-filled relationship with their father. When they were in their early 20s, at their mother's request, they asked their father to leave home for good. Charley never spoke to his own children about his father.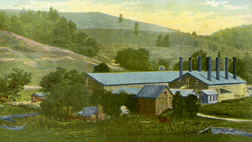 Gas pumping station at Brave, Greene County
Charley was a farmer. He also learned how to repair oil and gas drilling rigs, and acquired his own specialty tools. Later, he and Bill expanded this work into the actual operation of rigs, and went into partnership together, under the name "Minor Brothers."
Seen here is a rare old photograph postcard showing what was billed as the "largest gas pumping station in the world," near the village of Brave in Greene County.
Unfortunately, due to very difficult economic times, the company went out of business during the Great Depression, and the brothers had to file for bankruptcy. The bankruptcy papers are still on file with the National Archives branch in Philadelphia. They have not yet been examined by family researchers, though an unsuccessful effort was made to see them in 1993. Bill's biography has more details about their firm.
Though possessing a strong temper, Charley made a habit of not using curse words. The strongest language he used were terms such as "dod drottit" and "jeemsus criminy ned."

Charley's old valley home near Pursley Creek, circa 1990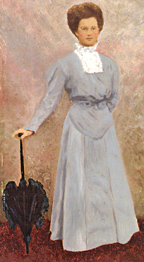 Bertha (Chess) Minor
Charley was married five times. His first bride was 23-year-old Bertha D. Chess (1888-1916), the daughter of Peter T. and Perthenia (Mundell) Chess, and a resident of Harvey's, Greene County. They were wedded on Aug. 1, 1911, when he was age 27 and she 23.
A color-tinted photograph of Bertha and her parasol, circa 1910, is seen here.
During their brief marriage, the Minors produced one son, Albert "Ray" Minor.
In the mid-1910s, Charley's mother Elizabeth moved to Missouri to care for an ailing sister. When the sister died, Elizabeth married her brother in law, James W. Harker, and remained there to live. Charley and Bill would pay for her train fare so she could return home every so often.
Double tragedy rocked the family in the early months of 1916. On Feb. 12, brother Bill's wife Elizabeth died in childbirth. She was only age 23.
A little over a month later, Charley's wife Bertha, who had spent three to four months suffering from tuberculosis of the intestines, succumbed to the illness, on March 23, 1916. They had only been married for five years, and their son Ray was but a few months old. Her mortal remains were laid to rest at the quiet Mt. Zion Cemetery near Bluff, Greene County.
While Charley went on to marry again four times, he never got over Bertha's passing, and carried the color-tinted photograph of her in his wallet for the remainder of his life.
Charley and Bill, already very close as brothers, were further bonded in grief, having lost their wives within a six-week span of time.
Needing a change, Charley moved to Akron, OH, where he obtained employment as a laborer with Goodyear Tire & Rubber Company. It was one of the largest rubber factories in the world, employing thousands of people, with an annual payroll of more than $43 million at that time. Charley hated the work, although it paid a steady wage. He quit and went to work for the rival B.F. Goodrich Company, under the alias "Charles Ray," so his former employer would not find out.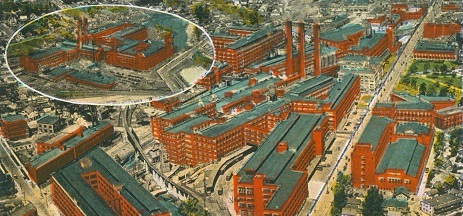 Sprawling Goodyear plant in Akron

Charley & Evelyn
While in Akron, Charley met an attractive redhead, Evelyn Hogue ( ? - ? ), and it's believed they were married there. Thinking she would be a good mother to his young son, Charley brought her back to Pursley Creek to live in the old Minor homeplace. Evelyn (wearing a headcap) and Charley are seen in the photo during a visit from brother Harold from Cleveland.
Evelyn, although of the Irish Catholic faith, was willing to be converted to the Baptist faith and be baptized outdoors in a stream in the middle of winter.
She is said to have really loved Charley, according to family observers, but he did not share the feeling in such a rural location. "She was lost there," one relative recalled.
They did not reproduce and divorced on Nov. 7, 1927.
Bertha's younger half-sister, Letha Chess (1905-2001) became Charley's third wife. She was the daughter of Peter and Mary Elizabeth (Russell) Chess.
The couple went on to bear two sons, Glenn Richard Minor and James Robert Minor. Sadly, Glenn died at the tender age of three days, on May 31, 1931, having received an injury at birth leading to a fluid buildup in the brain. He was buried in the Minor family plot at Mt. Zion Cemetery.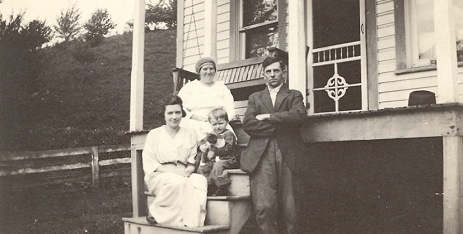 Charley and Evelyn with visiting sister in law Esther (front) and her son Don

Letha (Chess) Minor
Letha and Charley divorced on Nov. 7, 1943. She moved with her son to the Morrisville section of Waynesburg. She eventually married Floyd D. Rush ( ? - ? ). Letha was "a member of the Morrisville Methodist Church, Women Society of Christian Service and the East Franklin Grange," said the Parkersburg (WV) News and Sentinel.
Later, Letha moved to Belpre, OH to be near their son. While there, "She was a member of the Belpre Heights United Methodist Church and taught the Friendship Sunday school class at the Belpre Putnam Howe Village. She was an avid Pittsburgh Pirates and Pittsburgh Steelers fan." In 1991, during a visit by the founder of this website, she shared a lot of information about the Minors, which has been vital to the understanding of the family. She passed away at St. Joseph Hospital, Parkersburg, on Oct. 13, 2000, and is buried in Wind Ridge Cemetery, Wind Ridge, Greene County.
At the age of 60, on March 14, 1945, Charley married his fourth wife, widow Ivel "Pearl" (Fox) Snyder (1892-1978). A resident of Mt. Morris, Greene County, she was the daughter of James P. and Smilda (Walters) Fox. She had been widowed in 1943 at the death of her husband, Albert L. Snyder. She had two children of her own, J. Walter Snyder and Evelyn Hobert. Charley and Pearl divorced at some point, and she took back her first married name of "Snyder." She passed away on July 31, 1978 at the age of 85.

Where Charley,
Bertha & son
Glenn rest
After he had retired, Charley moved to a house in Waynesburg. It was on Eighth Street, near the hospital.
On March 8, 1950, the 65-year-old Charley eloped to Winchester, VA to marry his fifth wife, 29-year-old Laurene/Loreen (Gray) Renner (1914- ? ). She was the daughter of Ross and Alcie (Roberts) Gray of Rogersville, and a resident of Waynesburg at the time. The nuptials were led by Rev. Robert A. Whitten of the Congregational Christian Church. There was a 30-year difference in their ages. Charley's residence at the time was on Waynesburg's Sherman Avenue.
Later in the year of marriage with Laurene, the family was heartbroken when Charley's beloved nephew Fred Minor died of a massive heart attack. Charley was so devastated by the untimely death that he could not attend the funeral. Instead, he asked Loreen to go in his place, and for his son Ray to be her escort. Loreen was only two years older than her stepson, and at the funeral home, when friends asked who the attractive woman was on his arm, he quipped "She's my mother."
Charley and Loreen eventually separated.
Charley suffered a stroke, and passed away just two days before Christmas, on Dec. 23, 1962 in Waynesburg. He is buried at the Mt. Zion Cemetery with his first wife Bertha and infant son Glenn. The unique marker is shaped like the trunk of a tree. The "Dad" floral arrangement was photographed circa 1991.
In February 1979, the Cornerstone Clues newsletter of the Cornerstone Genealogical Society of Waynesburg published Bertha's name and funeral information in an article with records of local funeral homes.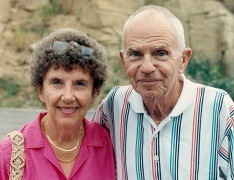 Kay and Ray Minor
~ Son Albert "Ray" Minor Sr. ~
Son Albert "Ray" Minor Sr. (1915-2008) was born on June 9, 1915 in Waynesburg, Greene County.
Ray joined the U.S. Army in 1935 and served for three years, receiving his honorable discharge in 1938. He then came to Pittsburgh and boarded in the Emsworth home of his uncle and aunt, Porter Owen and Mary "Belle" (MacDonald) Minor.
Then when America was plunged into World War II with the Japanese attack on Pearl Harbor, Ray enlisted the very next day. He was posted to Brisbane, Australia, where he attended Officer Candidate School. An article in the April 21, 1943 edition of the Pittsburgh Sun-Telegraph said that once he completed the course, he was commissioned a second lieutenant. The Sun-Telegraph noted that he was "a nephew of Capt. P.J. Minor, with the Army Ordnance Department, stationed in Pittsburgh."
When while in action with the enemy, he "was wounded three times for which he was awarded two Purple Hearts on the Island of Blak off the coast of New Guinea," said the Tampa (FL) Tribune. "From Blak, he was returned to the hospital at Fort Storey, Va." He received his discharge at Camp Rucker, AL.
He then spent 19 years in the Army Active Reserve, and reached the rank of lieutenant colonel.
On Feb. 10, 1945, in Pittsburgh, he married Anna "Kathryn" Reichart (March 10, 1922-2011), daughter of Herbert Woods and Mabel (Rimer) Reichardt of Sligo, Allegheny County, PA. Rev. Dr. Mark Depp and Rev. W.S. Wise co-officiated at the wedding, held at Christ Methodist Church. The groom was age 29, and the bride 23, at the time. The Pittsburgh Post-Gazette announced the wedding, saying Ray had just returned from a tour of 30 months' duration in the South Pacific. The article also said that Kay "wore a white chiffon gown with sweetheart neckline, three-quarter-length sleeves, and a bustle effect of ruffles cascading to end in a sweep train. Her fingertip veil of bridal illusion was held in place by a cap trimmed with Battenberg lace and orange blossoms. She carried a colonial bouquet of white lilacs and sweetpeas surrounding a pale orchid." Their wedding reception was held in the Hotel Schenley.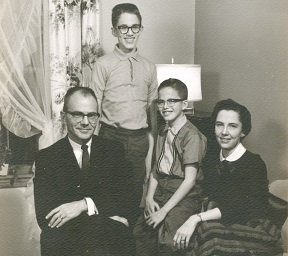 Ray, Kay and their sons
The couple's marriage endured for an extraordinary 63 years.
Two sons were born to this marriage, Albert Ray Minor Jr. and John Patton Minor.
Ray went to work for Amoco Chemicals Corporation, retiring in 1979. Kay was employed as an executive secretary for Fentno Art Glass Company followed by Rich's Department Stores. She belonged to the National Secretaries Association and, in May 1969, received the NSA's Secretary of the Year Award for the Georgia Division.
The couple retired to Sun City Center, near Tampa in Hillsborough County, FL. They belonged to the Sun City Center United Methodist Church, where Kay sang in the choir. Ray held memberships in the Veterans of Foreign Wars, Military Officers Association of America, Retired Officers Association, American Legion, the E.A. Minor Lodge of the Masons in Lithonia, GA, the Scottish Rite of Georgia, Egypt Shrine of Tampa and Shrine Club of Sun City Center.
Kay liked to golf and scored three holes in one between the ages of 72 and 80.
While on a vacation to Pennsylvania, Ray and Kay met in Waynesburg with the founder of this website in the late 1980s. The couple shared important content for this biography.
Ray passed away in Sun City Center, Hillsborough County, FL, at the age of 92 on April 2, 2008. An obituary in the Tampa Tribune said he was survived by six grandchildren and nine great-grandchildren.
At his death, he was survived by six grandchildren and nine great-grandchildren. Burial was at Florida National Cemetery in Bushnell, FL.
Kay outlived her husband by three-plus years and remained in Sun City Center. At the age of 89, she succumbed to death on Sept. 7, 2011. She rests for all time with her husband at Florida National Cemetery.
Son Albert Ray Minor Jr. was united in matrimony with Louise. He has made his home in Westerville, OH.
Son John Patton Minor was joined in wedlock with Amy. They put down roots in Chillum, MD. Evidence suggests that upon retirement, the couple relocated to Sun City Center.
~ Son James Robert "Roper" Minor ~
Son James Robert "Roper" Minor (1932-2021) was born on Oct. 15, 1932 in Greene County.
After graduation from Waynesburg High School, he joined U.S. Army and served during the Korean War.
He was married twice. He and his first wife bore a son, Joseph Wayne Minor.
The couple eventually divorced.
Circa 1959, James wedded his second bride, Norma Piggott (Oct. 23, 1935-2020), a native of Elizabeth, Wirt County, WV and the daughter of Ocie (Knopp) Piggott. Their union endured for a remarkable 61 years.
Three children were born to this union -- James E. Minor, Kathryn Scimia and Kimberly K. Adams Jobes.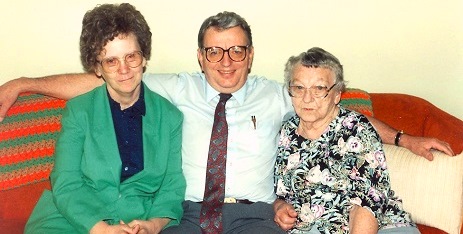 Above: James with his wife Norma and mother Letha. Below: James (green shirt) at the 2006 Minerd-Minard-Miner-Minor Reunion, with cousins, L-R: John Minor, Bill Shriver and Donald Minor, who hadn't seen each other for decades, if ever.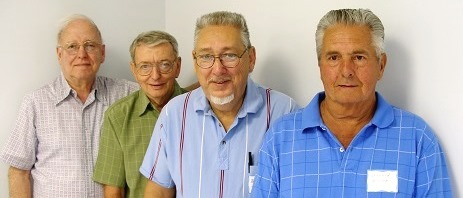 Norma grew up in the vicinity of Parkersburg, Wood County, WV. She earned a living over time with G.C. Murphy Co. and the Community Bank. Her final position before retirement was as a teacher's aide with the Belpre City Schools. She lost her vision at one point and was sightless for the final decades of her life.
James earned a living over the years as an operator in chemical plants in the Belpre-Parkersburg area. His final employer was Shell Chemical, from which he retired in 1997.
They dwelled for many years in Belpre, OH and were members of Belpre Heights United Methodist Church. He belonged to the Belpre lodge of the Masons and the Order of Eastern Star.
The Minors entertained a visit from the founder of this website in the early 1990s. In 2000, they attended the Minerd-Minor Reunion in Kingwood, PA, and returned in 2006 when the event was held at the Indian Creek Valley Community Center in Indian Head, PA.
Sadly, at the age of 84, Norma passed away in The Willows Center near Belpre on March 22, 2020.
James only outlived his bride by slightly less than a year. He succumbed to the angel of death on March 12, 2021.
Son Joseph Wayne Minor married Mary. Together they bore a son, Kevin J. Minor. Joseph is a talented steel drum musician, and he was pictured playing his instrument in a July 2003 edition of the Washington (PA) Observer-Reporter. Circa 2020-2021, the couple resided in Picayune, MS.
Son James E. Minor lives in Belpre.
Daughter Kathryn Minor wedded Thomas Scimia. They have made a longtime home in Belpre and are the parents of Steven T. Scimia.
Daughter Kimberly K. Minor was joined in marriage with (?) Adams. The couple bore a son, Brian Adams. Later, Kimberly was united in wedlock with John Denton Jobes ( ? - ? ), son of John Denton and Mary Frances (Geiger) Jobes Sr. They live in Williamstown, WV, across the Ohio River from Marietta, OH. John brought a son to his marriage with Kimberly, Ryan Charles Jobes. Another daughter was born into this family, Kristen Jobes. The family was plunged into grief when their son Ryan was killed in an automobile accident on Interstate 64 near Beckley, WV on Dec. 20, 2005.
Step-grandson Ryan Charles Jobes (1986-2005) was born on April 12, 1986 in Parkersburg, Wood County, WV. He grew up in Williamstown where he starred in high school basketball, cross country, golf, tennis and track and was vice president of his class. He garnered many awards, among them the Parkersburg News and Sentinel "Athlete of the Week," Chamber of Commerce Leadership Program, first place in the high school art show and election as homecoming king. He received All Region cross country honors, was his high school's nominee for Wendy's High School Heisman Award, was featured in Sports Illustrated's "Faces in the Crowd" for track and field and cited in Who's Who in Sports (2002-2003). He set state records in the 400-meter, 800-meter and 1600-meter races and was the anchor of the winning team's 1600-meter relay in the 2004 state championships, helping his team win back-to-back team titles and capturing the "Most Valuable Athlete" award. In recognition, he was honored as Ray McCoy West Virginia Track Athlete of the Year and the Pat Woody Memorial Award. He received a full scholarship in track at the University of Richmond and, in his freshman year, was twice named Atlantic 10 Rookie of the Week and won a race at the Liberty Record Bash. In his spare time, he belonged to the Fellowship of Christian Athletes, a youth group leader, and a volunteer with the American Red Cross blood drive and YMCA Summer College Internship Program. Tragically, just five days before Christmas 2005, while driving home on Interstate 64 near Beckley, WV, he was killed at the age of 19 in an automobile accident. In remembrance, the Williamstown Athletic Boosters established the Ryan Jobes Memorial Track Scholarship Fund. He was inducted into the Mid Ohio Valley Sports Hall of Fame on June 11, 2016.
~ Legacies ~
On Oct. 23, 2005, the Mt. Zion church was pictured on the front page of the Pittsburgh Post-Gazette. It illustrated an article, "Tiny Bluff May Sit This Hand Out," about an Internet gambling company's "tempting proposition to the people of Bluff; Change the name of your town to PokerShare.com, and we'll give you $100,000."
Copyright © 2000, 2004-2005, 2008, 2017, 2020-2021 Mark A. Miner