Nettie (Thorne) Blood
(1861-1950)
Annette "Nettie" (Thorne) Blood was born in May 1861 most likely in Bourbon, Marshall County, IN, the daughter of Jacob and Amy (Minerd) Thorne.
Her pharmacist-husband played a direct role in the founding of the nation's giant Walgreens drug store chain, and together she and he were listed in The Chicago Blue Book of prominent householders in the Windy City.
As a young girl, Nettie moved with her parents and siblings from rural Indiana to the bustling, growing city of Chicago. Nothing else of her early life is known.
The federal census of 1880 shows Nettie as unmarried at the age of 19, residing with her parents on Cottage Grove Avenue in Chicago.
By 1900, she had moved in with her lawyer-brother and sister in law Willis and Jessie Thorne, unmarried sister and school principal Leona Thorne and widowed mother, occupying a new home at 4217 Vincennes Avenue in Chicago. In both the 1880 and 1900 censuses, she was listed as having no occupation.
At the age of 47, in 1908, Nettie married Isaac W. Blood (1846-1916), age 55, the son of Rev. John and Ann (Mason) Blood, and a native of England. The ceremony was performed by Rev. William White Wilson, rector of St. Mark's Episcopal Church in Chicago. They were eight years apart in age. He brought two adult children to the marriage with Nettie, who instantly became a sort of step-mother.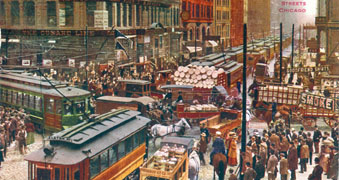 Intersection of Dearborn and Randolph Streets, Chicago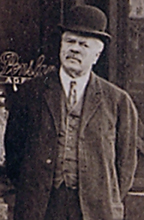 Isaac W. Blood
~ Isaac's Life Before Nettie Thorne ~
Upon arriving from England in the United States, sometime between 1855 and 1860, Isaac and his parents and siblings made their home in Connecticut, settling in Huntington, Fairfield County. His father was a Congregationalist minister. It is not known in what year Isaac moved to Illinois. He is seen here circa 1900, when he was age 54.
Isaac's first wife was Mary M. (1840- ? ). She had been married once before, to Arthur Hussey ( ? - ? ), a bookkeeper who lived in St. Louis. She thus apparently brought two children to her marriage to Isaac -- Alfred Hussey and Arthur Hussey.
When the federal census was taken in 1870, Isaac, Mary and the Hussey boys lived in Leland, La Salle County, IL. By 1880, the Bloods had produced a daughter of their own -- Mabel E. Blood. That year, the census-taker recorded them residing in Leland, with Isaac employed as "merchant-drug." Stepson Alfred Hussey (age 21) and daughter Mabel Blood (age 5) were in the home, as were William Hutchinson, a local physician who boarded with the family.
While in Leland, Isaac became a druggist and operated his own business. He joined a Masonic lodge, joining in 1868 and was a member in good standing for more than 45 years. He was honored as a "patriarch member" in October 1914 at the 29th Annual Assembly of the Masonic Veteran Association of Illinois.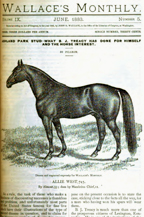 Horse journal naming Isaac
Circa 1883, Isaac owned several well-bred horses. As he set his sights on relocating his business to Chicago, he decided to sell the livestock and was mentioned thus in the June 1883 edition of Wallace's Monthly: "At Leland, Ill., there is a host of the get of Bashaw, 50, of both sexes, in the vicinity, belonging to various parties, and ... many of them are eminently desirable for breeding purposes. Among these Bashaws are two stallions, one of which is standard-bred, and both of which belong to I.W. Blood, of Leland. Mr. Blood being a druggist, and having prepared to move his business to Chicago, will sell either one or both of these stallions at figures far below the usual prices of such stock."
Isaac then moved his pharmacy business to a store on Chicago's South Side, in the Barrett Hotel at the corner of Cottage Grove and Bowen Avenue. He also acquired a second store at 4501 Lake Park Avenue. Over the years, he built a significant reputation as a registered pharmacist.
Circa 1889, he served as president of the Chicago Retail Druggists' Association. In 1895, he attended the annual meeting of the Illinois Pharmaceutical Association, held in Peoria, and was elected as the association's second vice-president for the year, as nominated by Professor Hallberg.

Charles R. Walgreen

~ Isaac's Role in the Birth of Walgreens Drug Store ~
In late 1898, according to John U. Bacom's book America's Corner Store, Isaac hired a 25-year-old registered pharmacist and Spanish-American War veteran who came to him with much-needed experience -- Charles R. Walgreen, Sr. The new hire was put to work in the Cottage Grove location.
It wasn't much of a store, even by the standards of 1898: just 20 feet by 50 feet, much smaller than [chief competitor] Valentine's. Mr. Blood's store was dank and dingy, lit by dangerous and shadowy gaslights, with narrow aisles and cracked and dirty tile floors. The products on the shelves were of uneven quality, and Walgreen himself could honestly not vouch for all of them.
His store at 4501 Lake Park Avenue had large picture windows along the street. Among the products and services advertised in the windows were razor blade sharpening, Morse's milk chocolate creams, and film development for 10 cents. Unfortunately, the building was not "strategically located," and likely not as profitable as the other property. Isaac eventually sold the Lake Park Store circa 1900 for $1,500.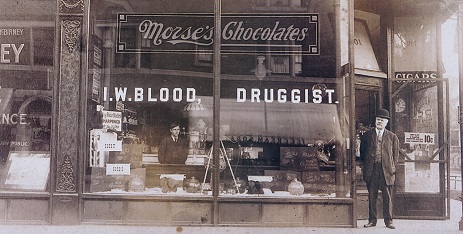 Isaac W. Blood at his store at 4501 Lake Park Ave., in Chicago, circa 1900.

Walgreen Drug Stores Historical Foundation.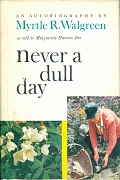 Book naming Isaac

Walgreen dreamed of someday owning the Cottage Grove store himself, but Isaac quoted a steep price of $4,000. Walgreen's wife Myrtle later wrote in her autobiography, Never A Dull Day, that "he certainly did not have enough to make an offer for anything much larger than a chicken coop... [He] had to get together a larger down payment. The way he got it together was to work unceasingly to make the business more profitable."

In June 1901, after a year of working and saving, Walgreen offered his employer a down payment for a buyout. By that time, Isaac raised the asking price by 50 percent, to $6,000. Walgreen depleted his life savings and borrowed funds and agreed to the price. For the first year or two, until the loan was satisfied, the store went by the joint name of "Blood-Walgreen."

Walgreen not only repaid the loan but went on to revolutionize the pharmacy business. He accumulated 19 stores by 1916, and consolidated them under his brand name. Within a quarter century, Walgreen had opened 100 stores. He pioneered such innovations as malted milkshakes and demand for women's makeup and lipstick.

In July 1967, the company was profiled in Time Magazine, stating that "the Golden Rule for all Walgreen store managers is: go below, never above, the recommended price." Today, Walgreen Co. and its subsidiaries comprise the nation's largest drugstore chain with sales of close to $60 billion and 237,000 employees, ranking among the Fortune 500. It's widely admired as one of Fortune Magazine's "most admired companies."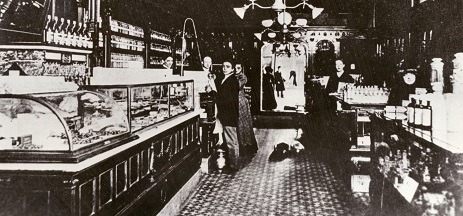 Isaac's former store at Cottage Grove and Bowen Streets, 1901, now in the hands of up-and-coming Charles R. Walgreen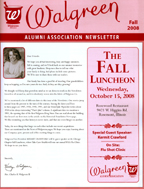 Walgreens newsletter
naming Isaac
In addition to the Bacon book, Isaac is named in several other Walgreens histories, including the 1963 Never A Dull Day, authored by Myrtle R. Norton Walgreen, and the 1989 book Pharmacist to the Nation by Herman and Rick Kogan. Isaac also is prominently featured in the company's official history on its website, with his store acknowledged as the very first one in the 100-year history of the company.
Isaac's name today is part of the popular lore and legend of Walgreens humble beginnings, told over and again by the company as part of its culture. In fact, when Walgreens celebrated its centennial anniversary in 2001, Isaac was mentioned in the company's tabloid-size booklet, Walgreens: Celebrating 100 Years As the Pharmacy America Trusts.
During that landmark anniversary, Hallmark produced commemorative miniature models of the storefront as ornaments and were sold only in Walgreens stores. The Walgreen Alumni Association Newsletter for Fall 2008, published by Mrs. Charles R. ("Kathy") Walgreen III, mentions Isaac in an article about the trials and tribulations of the Barrett Hotel where the very first store was located.
Chicago's famed Museum of Science and Industry -- which receives more than two million annual visitors and is one of the "most visited" museums in the nation, features a "Yesterday's Main Street" exhibit which includes a replica of the first Walgreen store. The display opened in 1986 as part of the company's 85th anniversary celebration. The Walgreens.com website states that "early photographs and drawings were used to recreate the facade of this store... Build under the direction of the Walgreen Drug Stores Historical Foundation, painstaking care was used to position hundreds of authentic Walgreens artifacts inside the replica."
~ Nettie and Isaac Married in 1908 ~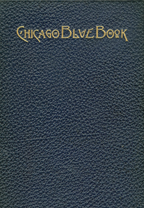 Social directory
naming the Bloods
Nettie and Isaac were wed on Aug. 26, 1908, about six years after he sold his store to Charles Walgreen.
Comfortable from the proceeds of the sale, Isaac was semi-retired, although he continued to maintain some sort of employment as a pharmacist. He was a member of the Dearborn Lodge No. 310 of the Masons; the Fairview Chapter of the Royal Arch Masons (R.A.M.); the Chevalier Bayard Commandery of the Knights of Pythias; and the oriental consistory and mystic shrine of the Knights Templar. Today perceived more as outdated social clubs, lodges such as R.A.M. were filled with leading lawyers, engineers, physicians as well as business owners and merchants.
The Bloods made their home with Nettie's mother, brother and sister in law Willis and Jessie Thorne, and unmarried sister Leona Thorne at 4217 Vincennes Avenue in Chicago. They were listed together in The Chicago Blue Book from 1909 to 1914 -- which the publisher called a "list of fashionable addresses" but not "absolutely an Elite Directory." Instead, it was "simply a compilation of about four thousand names of the most prominent householders of Chicago and suburbs within a radius of thirty miles, published in the most convenient form for reference by our lady patrons." An original copy of the Blue Book is preserved today in our family archives.
When the federal census was taken in 1910, Isaac was age 64, and Nettie was 47 (or 49).
In September 1912, the Bloods received shocking news of the tragic death of the pastor who had married them -- Rev. William White Wilson -- struck down and killed in Chicago by a moving streetcar. Wilson, age 55, had served as rector of the St. Mark's Episcopal Church for 23 years at the time of his death.

Chicago Tribune obituary
Sadly, Isaac suffered from hardening of the arteries which led to repeated strokes in 1916. He finally died of their effects on Oct. 13, 1916, in Chicago. He was 71 years of age.
The Chicago Tribune carried a perfunctory death notice,with no apparent other commentary about his career as a pharmacist. He was laid to rest at Rosehill Cemetery in Chicago, possibly with his first wife. Nettie later would be buried elsewhere.
Nettie survived her husband by more than 35 years. She is shown as a widow on the 1920 census.
When sister in law Eva Tilbury died in Pittsburgh in May 1931, Nettie traveled by train to attend the funeral but had to return home immediately afterward. Writing shortly afterward, Nettie's newly widowed brother Corwin Tilbury wrote: "She was to accompany Mentzer and I to Chicago by motor but this morning she had a long distance phone call from Leona saying she (Nettie) must be at home on Monday to sign some legal papers. She had presumed that they could attend to the matter but the Bank said, no other signature would be accepted by the court.."
In 1947, Nettie was residing with her unmarried sister Leona Thorne at 4531 Woodlawn Avenue in Chicago. That year, after her half brother Corwin Tilbury died in Pittsburgh, Nettie learned that she was named in the will. Due to a minor controversy over the terms of the will, she was asked to attend a court hearing in Pittsburgh, but she declined, citing "illness." Corwin's bequest was that she receive 40 percent of the assets in his estate, which resulted in a payment to her of close to $3,000.
Chicago Tribune, 1950
Sister Leona passed away at the age of 89 on Dec. 6, 1948, in Chicago. Nettie wrote a note to cousin Goldie Minerd the following month, saying: "Leona was not any sicker than she had been for some time but a slight stroke took her in a few days. Will has been so bad we have not dared tell him and the doctors say we must not... I don't see how I am going to live without her - we have never been separated - but I must, I presume."
As she entered her final years, Nettie moved to a new home at 5495 Dorchester Street, with her attorney Frank Reed handling her arrangements. She died in Chicago on Feb. 4, 1950, at the age of 88.
Her death notice in the Chicago Tribune newspaper noted that she was "wife of the late Isaac." The obituary said that her viewing would be held at a chapel on 4227 Cottage Grove Avenue, followed by a funeral at the Oak Woods Cemetery chapel at the corner of 67th Street and Greenwood Avenue. Burial was in the Oak Woods Cemetery.
~ Fate of Isaac's Child and Stepchildren from His First Marriage ~
Stepson Charles Hussey (1856- ? ) was born in about 1856. He was deceased by 1902.
Stepson Dr. Alfred Hussey Blood (1860-1902) was born on Aug. 2, 1860 in Chicago under the surname "Hussey." He took on the "Blood" surname when his mother wed Isaac W. Blood. He pursued a career in medicine and was an 1881 graduate of Rush Medical College in Chicago. Said the Belvidere Daily Republican, "After his graduation he practiced medicine 2 years in Leland, then he returned to the city and practiced with Dr. Webb of Chicago and in February '84 came to Capron, Ill., where he has since lived and practiced medicine. His ability as a physician and his generosity as a man have won for him many friends..." At the age of 35, on June 7, 1896, he married Jeanette N. Nesbitt ( ? - ? ). The couple did not reproduce. He died at the age of 49, in Capron, IL, on Oct. 22, 1902, with an obituary appearing in the Daily Republican.
Stepson Arthur Hussey ( ? - ? ) was born in (?). He was deceased by 1902.
Daughter Mabel E. Blood (1875-1958) was born in 1875. She married Oliver Dwight ( ? - ? ) of Leland. Oliver is known to have "bought hogs at the old Chicago stockyards," reported Valley Life [link]. The couple's children were Marion A. Dwight and Howard O. Dwight. Mabel was placed into jail circa 1894 under what proved to be false pretenses. Her accuser underwent trial but the case was excused. She was a godmother to former Leland Mayor Duane Hoadley. Mabel was a member of the Order of Eastern Star and once served as matron of the Forrestville chapter. As a widow, she made her address at 9144 South Ada Street in Chicago. Mabel died on Sept. 10, 1958. Burial was in Cedar Park. Her death notice appeared in the Chicago Tribune.
Minerd.com extends is deep appreciation to the Walgreen Co. and Walgreen Drug Stores Historical Foundation for providing the rare image of Isaac W. Blood's original store, and other historical publications mentioning Isaac, for permanent addition to our Minerd-Minard-Miner-Minor Archives.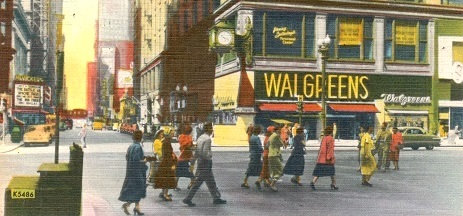 Walgreens store in the 1930s at Chicago's State and Madison Streets, billed as the "world's busiest corner."
Copyright © 2002, 2008-2010, 2012, 2019, 2022 Mark A. Miner
Wallace's Monthly cover image courtesy of Google Books. I.W. Blood store photo and Walgreen Alumni Association Newsletter courtesy of the Walgreen Drug Stores Historical Foundation, Deerfield, IL. Walgreen in-store color photographs and logo courtesy of Walgreen Co.