Willis Edward Thorne
(1863-1949)


Will and Jessie Thorne
Willis Edward Thorne was in July 1863, in Etna Green, Kosciusko County, IN, the son of Jacob and Amy (Minerd) Thorne.
He became a lawyer in Chicago and enjoyed a general practice for many decades.
As a boy, Will and his parents and siblings lived for a time in Bourbon, Marshall County, IN, and later moved into the Windy City in Cook County, IL.
Will graduated from Northwestern University and also the Union College of Law at the University of Chicago in 1884 and is listed in that year's Twenty-Fifth Annual Catalogue of the university.
On Sept. 25, 1894, when Will was age 31, Will married 29-year-old Jessie Sweger (1867-1916). She was the daughter of Aaron and Margaret (Cockran) Sweger. The marriage took place in Chicago by the hand of an influential friend, Rev. Charles Edward Cheney, Rector of Christ Church and Bishop of the Synod of Chicago.
They had two known children -- Dorothy Adrienne Thorne and Robert Thorne.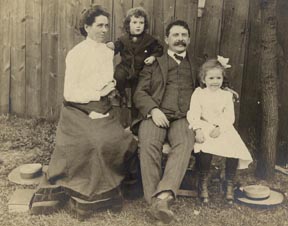 The Thornes with their 2 children
Eldest child Dorothy was born on April 28, 1898, and at that time the family made their residence at 816 48th Street in Chicago's 32nd Ward.
Will and Jessie once had an informal portrait taken with their children. In the picture are son Robert (left) and daughter Dorothy (right). A print of that portrait was sent to one of Will's cousins, John "Reuben" Minerd, who resided on the Indiana-Ohio state line near Dixon, OH. The irony is that Will would outlive everyone else in the image.
The 1900 census of Cook County shows Will, Jessie and Dorothy living on Vincennes Avenue in the Hyde Park section of Chicago. Also living under their roof were Will's mother and unmarried sisters Leona and Nettie. Will's occupation was listed as "lawyer."
~ Will's Legal Career ~
Will's practice focused over the years on municipal law, among other areas. Many of his cases were published in legal journals, including Reports of Cases At Law and in Chancery Argued and Determined in the Supreme Court of Illinois and the Northeastern Reporter.
In 1896, Chicago City Council named him as special counsel in a case involving the opening of Webster Avenue (Asylum Place) from Elston Avenue to the Chicago River. Two years later, he pursued Chicago's Superintendent of Water, H.O. Nourse, in 1898 in a high profile case, representing E. Rudert, who resided at 5217 Kimbark Avenue. Witnesses included officials of the Civil Service Commission as well as lawyers and others. The case was summarized in the 1898 publication, City of Chicago, Fourth Annual Report of the Civil Service Commission. "After hearing the testimony of the parties on both sides," the report declared, "and no evidence being brought by the complainant to sustain the charges, although aided by his attorney, Willis Thorne, the Commissioners voted unanimously to dismiss the case."
In a case in 1921, he represented petitioner Charles H. Sergel, a trustee of the Sanitary District of Chicago, in a matter challenging the authority of Sanitary District president William J. Healy. He was a speaker in March 1925 at a forum on the Municipal Railway Ordinance, and prepared a related paper on indeterminate permit law.
His legal work also involved civil matters, such as defending the Chicago Junction Railway Company in a complaint regarding the storage and transfer of goods in a local warehouse.
Active in the community, Will was a member of the City Club of Chicago and circa 1926 served as chairman of the Club's Education Committee, publishing a report in the booklet, Public Library Branches in Public School Buildings for School and Community Use. Will made other marks as an author over the years. In 1920, he wrote The League of Nations, the Big Issue, printed by Hawkins & Loomis Co.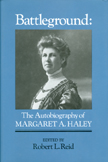 Book naming Will
The 1982 book Battleground: The Autobiography of Margaret A. Haley, edited by Robert L. Reid, mentions an episode that must have been devastating for Will and his sister, Leona, a longtime teacher in the Chicago public schools. In 1925, the Illinois Legislature was debating a bill brought by the Chicago Board of Education, spelling out mandatory retirement for teachers between the ages of 70 and 75. (Leona was age 66 in 1925.) School superintendent William McAndrew was a reformer and thus was promoting the legislation. Margaret A. Haley, an activist with the Chicago Teachers Federation, felt differently and wanted to sue the board of education to block the bill. She went to the office of Isaiah T. Greenacre, the lawyer for the federation, and found to her great surprise that Will was there -- "the last man whom anyone would expect to discover under the circumstances," she later wrote.
[Thorne] had helped Don Rogers get the Men's City Club back of McAndrew. Thorne was furious at Rogers' use of him. He had never for a moment thought that he was pulling chestnuts out of the fire for the superintendent and he had expected that Rogers would return to him with a report of his activity, which of course Rogers had never done. Thorne's fury had been aroused most of all by the fact that his own sister was on the list which McAndrew had sent in for retirement.
~ Heartaches and Transitions ~

Chicago Tribune, 1916
The shadow of death made its first visit to the Thorne family on Sept. 12, 1905, when daughter Dorothy died, just five days after her seventh birthday. The details are obscured by the misty haze of history. She was buried near her grandfather Jacob Thorne in Oak Woods Cemetery.
In the mid-1910s, the Thornes made their residence at 7400 Harwood Avenue. Sadly, and at the untimely age of 50, Jessie passed away on July 9, 1916, at Wesley Memorial Hospital in Chicago, after suffering from pneumonia and pernic anemia, an auto-immune disorder affecting red blood cells. Jessie's perfunctory death notice, published in the Chicago Tribune, states: "THORNE-- Jessie Sweger Thorne, July 9, 1916, wife of Willis E. and mother of Robert S. Funeral services from the late residence, 7400 Harvard av., Tuesday, July 11, at 2:30 p.m." She was laid to rest in the family plot at Oak Woods Cemetery in Chicago (Section J-2).

An overflow crowd at Cubs Park in the summer of 1929
Corner of State and Madison Streets, Chicago
With this death, Will lost both his wife and his mother iin a span of less than six months.
In 1920, the widowed Will and his son Robert made their home with Will's sisters Leona and Nettie in the family-owned residence on Vincennes Avenue in Chicago. Robert was a university student at the time, and Leona was a public school principal.
Will was a great follower of the Chicago Cubs baseball team of the National League, and often listened to their games on his radio. He may well have attended games at Cubs Park (later renamed Wrigley Field). In a letter that sister Lena wrote in the summer of 1935, she said: "If this letter is unusually incoherent, don't blame me - for a noisy ball game is in progress over the radio. Will is taking a day off and of course the ball game is the only thing of interest to him."
Heartache struck the family again just four days before Christmas 1921. Son Robert, age 21, was a student at the University of Chicago, and boarded at 4531 Drexel. Tragically, suffering from the same heart disease that felled his mother -- mitral insufficiency -- he died on Dec. 20, 1921. He expired while staying at his father's residence at 4531 Woodlawn Avenue. He was buried beside his mother in Section J-2 of the Oak Woods Cemetery.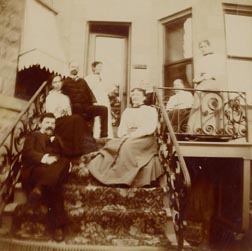 Will at lower left, at a family home
Will's grief at his losses, within a five-year span, cannot be imagined.
Will, Leona and Nettie continued to reside together in 1930 as he continued his general law practice.
In the winter of 1932, his sister Leona wrote this about him: "Will is much better but stays home usually one day a week - Grippe is hard to shake off - I think it's his nerves now as much as anything. I'll tell you right now - he doesn't like women clients - they don't like to lose their money and that's all people are doing now. He had two of them for a couple of hours yesterday!"
In another letter in November 1933, Leona wrote: Will won his case in Ottawa and we are glad it's over with - It was a tiresome trip - to be made as often. The trial lasted 5 days - Will's side was on the stand 3 days - the other side 2 days."
A letter written by Will's half brother Corwin Tilbury in December 1932 states: "Willis is taken to his office every morning and uses as taxi to come home in the evening. they tell me he cannot use the elevated because he cannot climb the steps. He is not so well."
Circa August 1935, Will's single sister, Leona Thorne, continued to reside in their home in Chicago.

President F. Roosevelt
Will apparently was an ardent Republican. His half-brother Corwin Tilbury noted in a March 1939 letter that "Will is still condemning F.D.R. on paper but I guess none of it is being published. They do not tell me anything for the reason, I suppose that I am not in full agreement with their views." At the start of President Franklin Delano Roosevelt's second term in 1937, Will penned the 219-page War Eternal of Predatory Greed and Self Preservation: With Special Reference to the Political Psychology and Technique of President Roosevelt, copyrighted on Oct. 14, 1937. FDR, our nation's 32nd president, was elected to office an unprecedented four times.
Will was living in Chicago in May 1947 at the time his half-brother, Corwin Tilbury, died in Pittsburgh. He was mentioned in his brother's newspaper obituary in the Allegheny Valley (PA) Advance-Leader.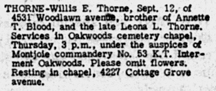 Chicago Tribune, 1949
The Illinois Statewide Death Index shows that Will died in Kane County, IL (and not Cook County, wherein Chicago is located), on Sept. 12, 1949. A brief obituary was published in the Chicago Tribune, certainly not of a length befitting his standing as a member of the city's legal community. The wording simply stated: "Willis E. Thorne, Sept. 12, of 4531 Woodlawn avenue, brother of Annette T. Blood, and the late Leona L. Thorne. Services in Oakwoods cemetery chapel, Thursday, 3 p.m., under the auspices of Montjoie commandery No. 53 K.T. Interment Oakwoods. Please omit flowers. Resting in chapel, 4227 Cottage Grove avenue."
Copyright © 2002-2005, 2008-2010, 2019 Mark A. Miner
Cubs Park photograph courtesy of the Library of Congress. Battleground published by the University of Illinois Press.