Levi 'Grant' Younkin
(1868-1954)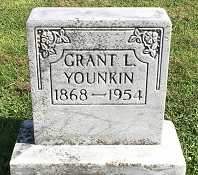 Rockwood Odd Fellows Cemetery
Levi "Grant" Younkin was born on Sept. 19, 1868 near Casselman in South Milford Township, Somerset County, PA, the son of William "Shedrick" and Caroline (Cupp) Younkin.
On March 18, 1893, the 25-year-old Grant married 22-year-old Alice A. Pritts (1871-1925), the daughter of George Washington and Barbara (Meyers) Pritts.
They were the parents of two children -- Dessa R. Younkin, born in 1893, and George Pritts Younkin, born 11 years later, in 1904.
Alice was employed as a school teacher at the time of their wedding, working in Scottdale, Westmoreland County, PA. It's doubtful she continued working in this profession after marriage, as married women teachers were frowned upon during this era of public education.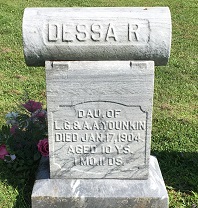 Young Dessa's final resting place
In about 1900, the Younkins moved to Black Township next to Rockwood, a town set on a hillside in Somerset County, where Grant obtained employment as a car inspector for the Baltimore & Ohio Railroad.
The federal census enumeration of 1900 shows that Grant also was a farmer. They enjoyed visits with the many relatives living in the community. At the tail end of 1900, the Younkins are known to have visited in Casselman with his uncle and aunt, Charles and Sarah (Artest) Younkin, which was noted in the gossip columns of the Meyersdale Republican.
Sadly, their daughter Dessa contracted a deadly case of typhoid pneumonia in early January 1904. She suffered for a week and succumbed to death on Jan. 17, 1904, at the age of 10 years, one month and 11 days. Details of her untimely passing are not known. Her remains were placed into eternal repose in the International Order of Odd Fellows Cemetery in Rockwood. A Rockwood Gazette obituary, reprinted in the Somerset Daily American eulogized that "her death was a grevious surprise to her many friends. She was a bright, lovable child, and her loss is a crushing blow to the parents."
Even more heartbreak enveloped Alice's world when her father George, considered one of the early pioneers of Scottdale and "a man of sterling character in the community," passed away of heart trouble. The Connellsville Daily Courier said that he had died at home "at Prittstown, in Fayette county, on the Mt. Pleasant and Connellsville road, above McClure's." The Courier story listed Alice's surviving siblings as Thomas Riggs Pritts of Rockwood, John E. Pritts, a feed merchant in North Scottdale, Miles Edward Pritts of the Scottdale offices of the Union Supply Company, Joseph S. Pritts of Prittstown and Lida A. Pritts of the family residence.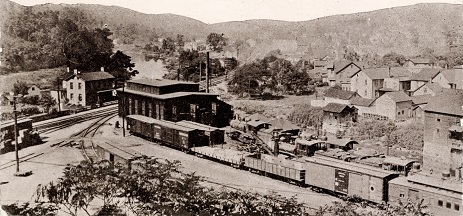 Railroad yard in Rockwood, early 1900s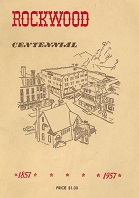 Booklet naming Grant
Grant and his nephew John Vough Jr. were close, and were near each other in age. In 1913, reported the Connellsville Daily Courier, Grant and Alice went to Kansas to visit the Voughs, who had migrated there from Rockwood. After spending three weeks with other friends and relatives, said the story, "Mr. Younkin reports that Kansas in a dry state in every respect now, as there has not been rain there for about three months."
Alice had a combination of medical issues which led to her death, among them anemia, cirrhosis of the liver and colon and spleen obstructions. She passed away at the age of 53 on Jan. 20, 1925. Interment was in the International Order of Odd Fellows Cemetery in Rockwood.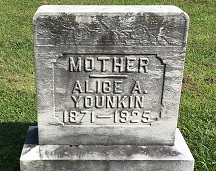 Rockwood IOOF Cemetery
Grant outlived Alice for almost three decades, continuing his work as a B&O Railroad laborer.
He maintained a home at 355 West Broadway in Rockwood. He was a longtime member of the Main Street Evangelical United Brethren Church.
Suffering from cardio-vascular problems and kidney disease, he passed away at the Rockwood home of his son George on June 9, 1954, at the age of 85. In a funeral service led by Rev. J.R. Patterson, his remains were lowered into repose next to Alice's, re-united in death after a long separation. An obituary was published in the Daily American and Daily Courier.
Grant and his uncle Daniel and cousin Emery Younkin are named in a list of old-time railroaders in the commemorative booklet Rockwood Centennial: 1857-1957, published for the town's 100th birthday.

Obituary, 1982
~ Son George Pritts Younkin ~
Son George Pritts Younkin (1904-1982) was born in 1904. He elder sister died the year he was born, and thus he essentially grew up as an only child.
In 1922, when he was age 18 and she was 17, George married Helen L. Mitchell 1903 -1982).
They produced two sons -- Louis E. Younkin and Paul George Younkin.

News story, 1940s
George was a construction worker and a laborer on the "steam railroad." Helen resided in West Virginia at the time her Social Security number and card were issued, and her parents had come from England.
Circa 1944, the Younkins made their home in McKees Rocks, near Pittsburgh, where George labored as a time keeper. Later in life they resided in North Fort Myers, FL.
George passed away in North Fort Myers on June 19, 1982. An obituary was published in the Meyersdale (PA) Republican in his native Somerset County.
Helen outlived her spouse by almost six years. She died on Feb. 22, 1988. They are buried in Coral Ridge Cemetery.

Louis E. Younkin
Son Louis E. Younkin (1925-1944) was born in 1925 and was killed in action in World War II. Louis was a 1942 graduate of Rockwood High School, where he was great friends with future Rockwood postmaster Walter Gardner. A 1941 edition of the school newspaper, The Rohistat, reported that Louis "has recently had his first date and the lucky little blonde is from Somerset." After graduation, he enlisted in the Army Air Force as World War II raged in Europe. He was promoted to lieutenant, after graduating from bombardier school in Texas.
In 1944, while on a mission over Germany, Louis's airplane vanished. While his remains were not thought to have been found, he is reported to be buried at the Netherlands American Cemetery in Margraten, Netherlands, and is featured on a special page on the website of the American Battle Monuments Commission.
There is a community memorial marker in the Rockwood IOOF Cemetery, as well as a monument to war dead at the Somerset County Courthouse. His high school graduation photograph graciously was gifted to the founder of this website in the mid-1990s during a visit from the founder of this website.
Louis also is pictured in the book, Down the Road of Our Past, Book II, published by the Rockwood Area Historical and Genealogical Society. His Rockwood IOOF Cemetery memorial was a stop during the 2019 Younkin Reunion cemetery tour.

One of several monuments to Louis in Somerset County -- this one at Rockwood IOOF Cemetery
Son Paul George Younkin (1923-1998) was born on Aug. 25, 1923 in Rockwood. Another source gives his year of birth as 1922. He moved as a boy with his parents to McKees Rocks, Allegheny County, PA. At the age of 21, during World War II, he was employed as a welder in Pittsburgh. He stood 5 feet, 6 inches tall, weighed 160 lbs. and had brown eyes and dark brown hair.
In July 1944, Paul married 19-year-old fellow welder Alice E. Wright (1925- ? ), daughter of Edward and Lillian (Hanselman) Wright. At the time, she made her home at 439 Harriet Street in McKees Rocks. The couple is thought not to have reproduced, and the marriage is believed to have dissolved at some point in time, but details are not yet known.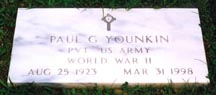 Rockwood IOOF Cemetery
Paul served in the U.S. Army during the Korean War and saw combat. He returned to the United States via a troop ship which arrived in San Francisco in October 1951. He relocated back to Rockwood by the mid-1950s and continued his work as a welder and truck driver. At the age of 32, his world was turned upside down on Sept. 13, 1955 when, drunk, he went to visit a friend's home in Rockwood and sexually assaulted their 12-year-old daughter. He also damaged appliances, a radio and a television set in the household during the incident. He was arrested by Rockwood Police Chief Lloyd Morgan, jailed in Somerset and underwent a hearing before Justice of the Peace W.F. Sembower. He was found guilty and sentenced to a five-month period in the Somerset State Hospital. Then in March 1956, his case was examined and he was sent back to Somerset County Jail. Paul posted a $1,000 bond and was released in March 1956, only to be arrested again on a surety of the peace charge by Constable E.D. Peck. He was pronounced guilty and sentenced on May 25, 1956 to incarceration in Western State Penitentiary in Pittsburgh, for a term between 18 and 36 months.
Paul served his term and resumed life in Somerset. He underwent surgery in Somerset in March 1971 of an unknown nature. He died on March 31, 1998, at the age of 75, and was buried at the Rockwood IOOF Cemetery. He left a scant paper trail. A search for his newspaper obituary in the Somerset Daily American has proven unsuccessful. More will be added here when learned.
Copyright © 2001, 2003, 2005, 2007, 2009, 2017-2020 Mark A. Miner
Younkin grave marker photographs by the late Olive Duff.