Home

Family of Andrew J.
and Minerva (Minerd) Inks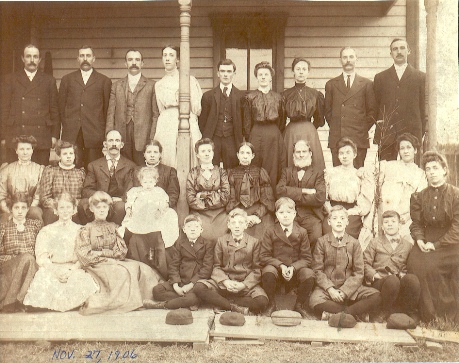 This wonderful portrait shows the family of Andrew "Jackson" and Minerva (Minerd) Inks of Farmington and Fairchance, Fayette County, PA. It was taken at an unknown residence on Nov. 27, 1906 -- perhaps at a Thanksgiving celebration. Thanks to cousin Rita Ramirez, who diligently tracked down the photograph and laboriously sought to identify the faces, we know the following identities:
Back row, left to right: Unknown, Bailey D. Inks, Albert and Etta (Frederick) Inks, Lewis and Tamzon (Inks) Grimm, Nevada (Minerd) and Calvin L. Inks Sr., and John H. Inks.
Middle row, left to right: Unknown, unknown, Joseph G. and Emma (Inks) Williams with baby Laura, Harriet Inks, Minerva (Minerd) and Andrew J. Inks, Bertha (Inks) Wilson and Alice (Powell) Inks.
Front row, l-r: Unknown, Sylvia Mae Inks, Ethel Minerva Inks, unknown, Andrew T. Inks, unknown, Clarence R. Inks, unknown, Mary Jane (Treacher) Inks.
Copyright © 2002, 2011, 2022 Mark A. Miner