Home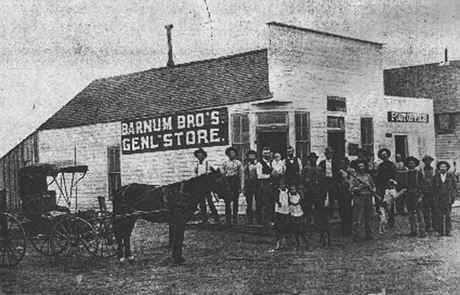 Taken circa 1900, this image depicts the general store in Columbia, Kingfisher County, OK, run by brothers Edward and Alva Barnum. A newspaper once said it was "a general merchandise store ... with the large postoffice operated in conjunction." The Barnums also had a blacksmith shop in town. Ed Barnum's wife, Laura (Brown) Barnum, and her parents, James R. and Lydia (Miner) Brown, were "Eight-Niners," a nickname given to participants of the Great Oklahoma Land Rush of 1889. The writings of Laura and her sister Nellie (Brown) Jones, describing their girlhood experiences as pioneer settlers, are published on our site, courtesy of Laura's grandson, Keith Barnum. They include:
"The Oklahoma Land Rush of 1889"
"The Run of 1889"
"Chills, Fever, Friends and Good Times"
See our tribute to all western pioneers of the Minerd-Miner-Minor family.
Copyright © 2001 Mark A. Miner