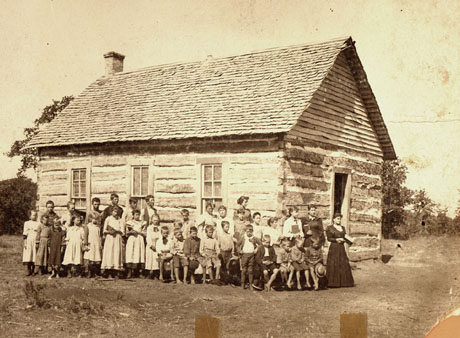 One of the great stories of our family's pioneer experience is the 1889 settlement by James R. and Lydia (Miner) Brown and their children in what was then the Oklahoma Indian Territory. Several memoirs about the "Run of 1889" -- the official chaotic opening of Oklahoma lands to settlers -- are published on our site, authored by the Browns' daughters Laura Barnum and Nellie Jones.
Seen here, just five years after the historic settlement, the Browns' future daughter-in-law, Nannie (Snyder) Brown, was the teacher of the one-room, log-hewn Excelsior Township Schoolhouse near Kingfisher, OK. Among Nannie's young students in the 1894-1895 school session were her future sisters in law Emma McGirk and Bertha Keck. Nannie stands as the tallest person in the photograph, just to the right of the third window from the left. Emma stands second from right in the back row, and Bertha is the sixth girl from left.
Of the solid-looking schoolhouse, one family member penned this in a memoir:
Built in the fall and winter of 1890-1891. The shingles are shakes or clapboards, made from the native oak trees. Also the siding in the gable ends and door and window casing.
Nannie eventually married the Browns' eldest son Frank. Later in life, they moved to Arvin, CA. For this wonderful photo, we are indebted to the website of the "Barnums of Kingfisher County, Oklahoma," on MyFamily.com.
Copyright © 2002 Mark A. Miner