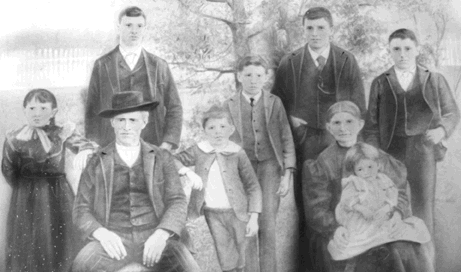 THIRD IN A SERIES - Civil War veteran Martin Miner, seated with hat, was elected vice president of the first annual Minerd Reunion in Western Pennsylvania in 1913. This year, we are celebrating the 90th anniversary of that landmark event.
Martin is thought to have also helped organize the reunions in 1914 and 1915, until sudden death cut short his service. A survivor of the Battle of Gettysburg, he was active in soldiers' encampments. He also was a local school board director.
Others in this photograph include his wife Amanda (Williams) Miner holding baby Nettie Brooks. Standing, from left to right, are: Agnes Miller, Warren W. Miner, Edward C. Miner, Charles A. Miner, George B. Miner and John W. Miner. They were residents of Normalville, Fayette County, PA. Of Martin's numerous descendants, at least 9 have worked in the field of public education.
Click to see the other 1913 reunion organizers, including the father/son team of Isaac and Roy Minerd and secretary Esther (Barnhouse) Freed.
Copyright © 2003 Mark A. Miner