William 'John' Firestone
(1883-1952)
William John Firestone, also known as "W. John Firestone" and "W.J. Firestone," was born in November 1883 in the coal mining and coke oven town of Davidson near Connellsville, Fayette County, PA, the son of George E. and Barbara (Minerd) Firestone Sr. He was one of two sons given the first name "William."
John labored as a young man for the railroad, working as a flag man in or near Uniontown, Fayette County. He made his home in Fairchance.
At the age of 23, on April 19, 1906, John married 17-year-old Mary Ellen Bloom (1889-1960). She was a native of Dunbar, Fayette County, and the daughter of William and Martha Bloom. Justice of the peace James Farrell conducted the nuptials in Fairchance.
They were the parents of one daughter, Ruby Sell, born in September 1906.
By 1910, the couple relocated to Youngwood, Westmoreland County, PA, where John secured a job as a brakeman with the Pennsylvania Railroad. They made their home that year on North Third Street, and remained there through the next decade, as evidenced by the 1920 census. Their residence was near the intersection of North Third Street and Depot Street.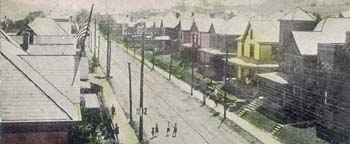 Typical street in Youngwood, early 1900s
Among the many cousins who were employed by the Pennsy at Youngwood during that era were Edward Lemon, Ernest Earl Minerd, George B. Miner, Warren W. Miner, Arnold A. Overholt, John Scott Riley, Ulysses "Grant" Rose, Frank Sullen and Johnston D. Wagner.
The Firestones' marriage ended in divorce sometime before 1930. The federal census enumeration of 1930 shows the 46-year-old John living alone in Youngwood, in a house on North Fourth Street, and working as a railroad brakeman. The census-taker recorded John as being single.
He resided in 1939-1940 in Altoona, Blair County, PA, and was mentioned by name that year in the Connellsville Daily Courier newspaper obituary of his sister Mary Bryner Rhome.
In 1940, at the death of his brother William, John was mentioned in the obituary in the Uniontown (PA) Morning Herald newspaper, and also was said to be living in Altoona. Later that year, however, when the federal census was taken, John had returned to Pittsburgh and made his home with his daughter at 18 East Lacock Street. His work that year was as a railroad flagman.
Suffering from hardening of the arteries, his left foot began to be infected with gangrene. He was admitted to the Mayview State Hospital near Pittsburgh, and spent nearly five years and eight months there. Death occurred at the age of 70 on Jan. 11, 1952. Burial was in Youngwood Cemetery. Hospital officials misspelled his mother's maiden name as "Menbert" on the Pennsylvania certificate of death.
Mary earned her own living circa 1940 by working as a housekeeper in Greensburg, Westmoreland County, and carried the Firestone surname until her death on Pittsburgh's North Side in 1960 at the age of 70. A newspaper reported in an obituary that in addition to her daughter, she was survived by her sister Bertha Childs of Uniontown and brothers Adam Bloom of Harrisburg, PA and Theodore Bloom of Girard, OH. Her remains were brought to Youngwood for a funeral officiated by Rev. Nelson E. Stants and burial in Youngwood Cemetery.
~ Daughter Ruby M. (Firestone) Sell ~
Daughter Ruby M. Firestone (1906-1967) was born on Sept. 20, 1906.
At the age of 17, on June 30, 1924, she was united in matrimony with 21-year-old John B. Sell (1903- ? ), son of Jacob B. and Emma Sell of Youngwood, Westmoreland County, PA. The ceremony took place in Westmoreland County. John earned a living as a draftsman for an electrical contractor in Pittsburgh.
The Sells separated in the late '20s after only a few years of marriage, with Ruby unofficially taking back her maiden name and boarding in the home of Charles and Della in Greensburg, generating income as a hotel servant. At the same time, John lodged with Swedish-born Bror Larson on Cedar Avenue in Pittsburgh. They officially divorced by 1937, although legally Ruby kept the name "Sell."
John remarried to Helen by 1938 and had a daughter Sally. He died in July 1971 in Jeannette, Westmoreland County.
Ruby spent her final years in Pittsburgh, residing with her father at 18 East Lacock Street. She died at the age of 59, on Jan. 10, 1967, in Allegheny General Hospital.
Her remains were returned to Youngwood for burial in Youngwood Cemetery, with Rev. J. Milton Shaffer leading the funeral service. A short obituary in the Connellsville Daily Courier noted that "Several cousins survive."
Copyright © 2001, 2006, 2013, 2016 Mark A. Miner