Andrew Jackson Van Horn
(1834-1923)
Andrew Jackson Van Horn was born on Nov. 28, 1834 near Grand Rapids, Wood County, OH, the son of Samuel and Sophia (Minard) Van Horn. He was a corporal in an Indiana regiment during the Civil War, and was held as a prisoner of war. As well, a letter he wrote to a brother in 1904 demonstrates the Van Horn family connections with the Minerds.
As a young man, Andrew stood 5 ft., 11 in. high, with brown eyes and black hair. He worked as a carpenter and "joiner." Andrew and his brother Eli were active in the development of the United Brethren Church near Grand Rapids. According to the book Historical Record of Wood County:
The United Brethren Society, the first church body in Weston or Grand Rapid township, was organized at Henry Kimberlin's house in 1832, by Henry Kimberlin, John Crom, Sr., and Jacob Crom, who were local preachers. [In] 1850 the building on the Weston and Grand Rapids road, west of Beaver Creek, was erected. The names of the members, in 1856, were ... John, Jacob, Sally and Mary Kimberlin, ... Sabina Kimberlin, ... [and] Eli and Andrew Van Horn...:
On Feb. 11, 1858, Andrew married his first wife, Mary Ann Dealy (1839-1869), who was one of 14 children of Henry and Catharine (Rusk) Dealy. The ceremony was performed by Esquire "Jont" (?) Daniels. It took place on or near the Indiana-Ohio border, as the location has been described as both "Monroeville, Ind." and "Paulding County, Ohio," which are contiguous areas.
Andrew and Mary Ann had six children, born in or near Monroeville between the years 1858 and 1866 -- Samuel Henry Van Horn, Jane Van Horn, Phidilla Aretta "Ritta" Winters, Andrew Newton Van Horn, Louisa Almena "Minnie" Parsons and Ivona Jane "Iva" Van Brandtner Nixon Jones. Sadly, Samuel, Jane and Andrew Newton are believed to have died young.
Many members of Andrew's extended family also resided in the Monroeville area, including Minerd first cousins Barbara Ball, Mary Jane Dillon, Sarah Elizabeth "Betsy" Krick, James Minerd and Caroline Pring.
With the Civil War underway, Andrew joined the 74th Indiana Infantry on July 29, 1862, and was assigned to Company C. At the time, he was a few months away from his 29th birthday. In a chapter on Civil War veterans, the Commemorative Historical and Biographical Record of Wood County (OH), said that he "started from Indiana, but belonged to this township."
Andrew was captured and held as a prisoner of war within a few months of his enlistment. He was later paroled (exchanged) at Munfordville, KY on Sept. 17, 1862. The details are not known. He was absent without leave in the latter half of November 1862, but rejoined the regiment.
During the Battle of Stones River at Murfreesboro, TN, which claimed 23,000 casualties over the Christmas/New Year's holiday of 1862-1863, Andrew and his regiment were in the vicinity but did not take part. During that time, he became sick from "exposure" to bad weather.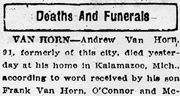 Lima Republican Gazette, 1923
Andrew also suffered in the first half of 1863 from diarrhea, fever and "pleuratic adhesion" (lung inflammation). He was hospitalized in Nashville in mid-June 1863, and was transferred to the 2nd Regiment of the Veterans Reserve Corps on Sept. 7, 1863.
In April 1864, he was detached to another regiment to serve as a guard in Louisville, KY. He was discharged from the Army in Detroit on Aug. 26, 1865, and returned home to his wife and family.
Tragically, Mary Ann died at age 30 in Monroeville on Feb. 23, 1869. The cause of death is not known, but her death left her husband alone with five young children.
On Sept. 23, 1870, after just a year and seven months as a widower, Andrew married Louisa Evangeline Dean (1851-1920). She is believed to be the daughter of Benjamin and Mary (Andrews) Dean. The ceremony took place at Decatur, Adams County, IN, and the details were recorded in the Van Horn family Bible. There was a 13-year-gap in their ages.
Andrew and Louisa went on to have seven more children -- twins Eva Bell Van Horn and Oscar Leroy Van Horn, Mary Myrtle (also known as "Yvette" or " Mertie") Radabaugh Smith, Walter Van Horn, Arthur Van Horn, Victoria Van Horn and Jesse "Franklin" Van Horn. They may also have had a son or otherwise raised George F. Van Horn.
In the postwar years, Andrew followed his trade as a carpenter. However, he suffered from what he called "rheumatism and disease of eyes and lungs" as a result of his military service. He applied for and was awarded a federal pension for his service, in the amount of $6 a month.
As Andrew aged, he also was plagued by "Disease of Back and palpitation of heart, also severe Deafness of both ears caused by periodical gatherings in [my] ears which bursts and matters and Discharges and makes [me] almost totally deaf in both ears..." By 1904, at the age of 70, he added "partial loss of the use of [my] right arm and kidney trouble and piles" to his list of ailments, with his arm injured "by a cow." Surgeons who examined him that year observed that he:
... has a full head of light iron gray hair - prominent nose - florid complexion - full face of short iron gray whiskers and mustache. His hands show work. He does not look older than his stated age.
The Van Horns made their home in the 1880s in Belmore, Putnam County, OH. That year, the federal census shows that Andrew's occupation was as a brick and stone mason.
By 1893, Andrew had moved the family to Lima, Allen County, OH, residing at 525 East Findlay Street and 1043 North Jefferson Street. They remained there for at least a decade, with Andrew working as a carpenter.
Andrew suffered through the indignity and pain of the well-publicized suicide of his troubled son in law, James A. Radabaugh, in November 1894. The Radabaughs resided under his roof, but when interpersonal troubles ensued. With Radabaugh unemployed, he made up his mind to shoot himself in front of the Van Horn inlaws, although in reality the suicide took place between two houses, as he tried to elude police. The news made major headlines in the Lima Times-Democrat, with Andrew mentioned therein.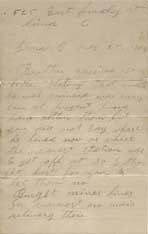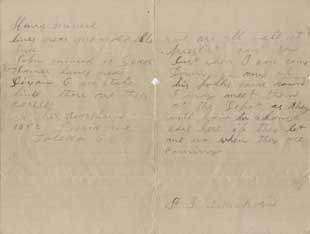 Andrew's faded 1904 letter to a brother, naming their Minerd uncles
Writing from home in Lima on May 25, 1904, Andrew sent a letter to one of his brothers. In it, he penned:
Received your letter stating that uncle Samuel Minerd was very low at present. I would have ritten them but you will not say where he lived or where the nearest station was to get off at so I thought best for you to let them no Burget Miner lives in Van Wert, no [illegible] delivery their. Henry Minerd lives near Monroeville, Ind. John Minerd is Dead. Son James lives near Dixon O. on state line. Those are their adreses. Arthur Van Horn 1652 Peoria Ave., Toledo O. We are well at present. Can't say when I can dome down. If any of his folks come down I may meet them at the Depot as they will have to change cars here if they let me know they are coming. A.J. Vanhorn.
The letter must have reached Andew's uncle Samuel Minerd, for the letter was found in the possession of one of Samuel's great-granddaughters.
In 1906, Andrew migrated again to Gladwin, Buckeye Township, Gladwin County, MI (the same community where distant cousin and fellow Army veteran Daniel H. Knight resided). At some point, they moved on to Kalamazoo, Jackson County, MI.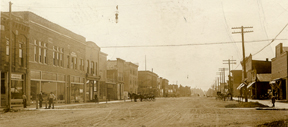 Gladwin's main street at turn of the century
By 1910, however, the Van Horns were back in Lima. Andrew, age 75, had no occupation. Their 17-year-old granddaughter Rhea Radabaugh resided in their home, and at the time worked as a cigar maker in a cigar factory.
In January 1920, the federal census shows Andrew and Lousia making their home on Sulphur Springs Road in Bath, Allen County. Their 29-year-old widowed son Frank and 20-year-old granddaughter Ivah Van Horn lived under their roof.
Louisa died on Nov. 13, 1920 in Lima. She was buried in Woodlawn Cemetery. By that time, they had moved to 1041 North Jefferson Street in Lima.
Andrew was examined again in 1921 by government surgeons to ascertain his physical condition for pension purposes. At the time, he was receiving $50 per month. The resulting reports show that at the age of 88, he had lost 3 inches in height, and that his hair was white. The physicians noted that he had hurt his right shoulder in a fall five years before, and had damaged his right knee in another fall a dozen years earlier. As a result, Andrew received a raise in his pension payments to $72 per month. Wrote one surgeon:
Senility ... is present in a degree far greater than found in a man of his age. Marked feebleness of body and mind... Can not count fingers [at a distance], but can distinguish light and darkness... [He] is unable to dress, undress or attend to calls of nature without aid.
After a little more than a year, he passed away in Kalamazoo on Feb. 6, 1923. Said his obituary in the Lima (OH) Republican-Gazette, "Van Horn resided in Lima longer than 40 years. He moved to Kalamazoo 15 years ago. His body will be brought to the home of his son here..." He was buried in Woodlawn Cemetery.
~ Daughter Louisa Almena "Minnie" (Van Horn) Parsons ~
Daughter Louisa Almena "Minnie" Van Horn ( ? - ? ) was born on (?).
She married John Parsons on March 4, 1885 in Allen County, OH.
Circa 1923, they resided in Covington, KY.
~ Daughter Arretta "Retta" (Van Horn) Winters ~
Daughter Arretta Van Horn (1860-1938) was born in 1860 in Indiana.
She married William Wesley Winters on Aug. 6, 1882 in Wood County. Circa 1892, they resided in Findlay, Hancock County, OH. In 1923, they were living in Chicago, Cook County, IL. They had three children -- Homer Winters (1882- ? ), Myra Ethel Winters (1885-- ? ) and Clare D. Winters (1892-1948), all born in Ohio.
William died in Cook County on April 27, 1930.
Arretta outlived him by eight years. She passed away in Cook County on March 4, 1938.
Son Clare D. Winters, who registered for the military draft during World War I, died at age 55 in Cook County on Feb. 9, 1948.
~ Daughter Yvette Mary Myrtle "Mertie"
(Van Horn) Radabaugh Smith ~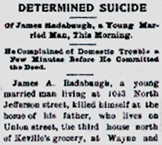 Lima Daily News, 1894
Daughter Yvette Mary Myrtle Van Horn (1867-1970) was born in 1867 in Indiana.
She first married James A. Radabaugh (1872-1894) in Allen County in about 1893.
A year or so into the marriage, James ended his own life in November 1894 with a gunshot to the head, an act headlined in the Lima Daily News. The event left Myrtle with a six-week-old daughter, Rhea Irene Radabaugh.
Myrtle later married laborer Edward W. Smith (1859- ? ). They made their home in Crawford Township, Wyandot County, OH in 1900, but by 1910 had moved to Columbus, Franklin County, OH, where they lived at 1355 River Street.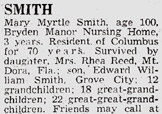 Columbus Dispatch, 1970
Myrtle and Edward had four more children -- Russell Smith, Bessie P. Smith, Maude D. Smith and Edward William Smith Jr.
By 1910, when the federal census was taken, Edward Sr. was working as a well drilling contractor in Columbus.
Edward's fate is unknown.
Myrtle passed away at the age of 100 at the Bryden Manor Nursing Home, Columbus, on Aug. 29, 1970. She was survived by 12 grandchildren, 18 great-grandchildren and 22 great-great grandchildren. She was laid to rest in the Green Lawn Cemetery in Columbus, having lived in the state capitol city for seven decades. Her obituary was published in the Columbus Dispatch.
Daughter Rhea Irene Radabaugh (1893-1987) married Joseph Emanuel Reed (1887-1977), the son of William and Ida M. Reed of Lima. In 1920, the Reeds lived in Gladwin, MI, where Joseph was a farmer. By 1930, they had moved to Midland, Midland County, MI, where James was employed as manager in a pickle factory. The Reeds had two daughters, Mary J. Reed and Ruth E. Reed. Later in life, Rhea and Joseph moved to Florida. He died in Lake County at the age of 90 on Dec. 23, 1977, and she passed away at the age of 93 on June 19, 1987, in Marion County, FL.
Son Edward William Smith Jr. lived in Grove City, Franklin County, circa 1970.
~ Son Walter Van Horn ~
Son Walter Van Horn (1874- ? ) was born in November 1874.
When he was age 22, Walter married 21-year-old Ida M. Snow (1875- ? ) on March 16, 1896 in Allen County, OH. They had four known children -- William Henry Van Horn, Zelma R. Van Horn, Leon Van Horn and Herbert P. Van Horn.
The federal census of 1900 shows the family living on North Jefferson Street in Lima. That year, Walter made a living as a day laborer. They may have moved into Indiana during the next decade, as their son Herbert was born there about 1906.
Family lore states that tragedy struck the family shortly after the birth of their youngest son Herbert in 1906. A fire swept through their house, claiming Ida's life. Walter was so distraught that he abandoned the family and moved west.
Walter's trail took him to Sioux Falls, SD, where he made his home in 1923, when he was named in his father's newspaper obituary.
Son William Henry Van Horn (1896- ? ) was born in October 1896. He was about age 10 when his mother was killed.
Daughter Zelma Van Horn (1898- ? ) was born in September 1898.
Son Herbert P. Van Horn (1906- ? ) was born in about 1906 in Indiana. After the untimely death of his mother, he is believed to have been taken into the home of grandparents Luther and Emma L. Ellis in Lima. He is shown there in the 1920 federal census, when he was 13 years of age.
~ Son Arthur Van Horn ~
Son Arthur Van Horn (1875- ? ) married Lizzie Reese on April 8, 1896 in Allen County, OH.
In 1904, they lived at 1652 Peoria Ave., Toledo, Lucas County, OH.
Circa 1923, they resided in Jackson, Jackson County, MI.
Busy Lima Square in Lima, early 1900s
~ Son Jesse Franklin "Frank" Van Horn ~
Son Jesse Franklin "Frank" Van Horn (1891-1966) was born in May 1891 in Ohio.
Frank served as a corporal in World War I, in Company D of the 126th Infantry, 32nd Division. When the federal census was taken in 1920, Frank lived with his parents at age 28, and was marked as "widowed." That year, he was employed as a car repairer in the local Baltimore and Ohio Railroad shops.
He married Goldie (?) later in 1920. They had at least two known sons -- Jesse Franklin Van Horn Jr. and Harold B. Van Horn.
They lived in Lima circa 1921 and in 1930 their home was in Bath Township, Allen County. Frank's occupation in 1930 was as a pattern maker for a motor bus company.
Frank died in Lima in June 1966, at the age of 75. Nothing more is known.
~ Son George Van Horn ~
The fate of son/ward George Van Horn is unknown.
~ Acknowledgements ~
Notes about the fates of some of the Van Horn children were provided by Mary Bowles via William H. Gerdeman Jr., and by Judy Solomon.
Copyright © 2003-2008, 2012, 2015 Mark A. Miner