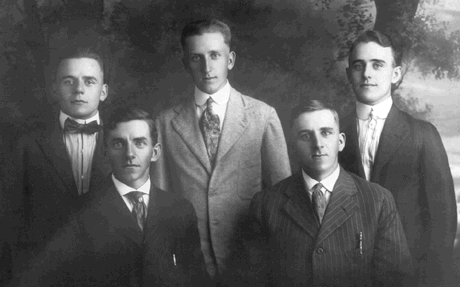 Five handsome brothers -- the sons of Elias and Elizabeth (King) Minor of Pursley Creek near Oak Forest, Greene County, PA -- pose for an old fashioned studio portrait circa 1910. This photograph is thought to have been taken for their mother, who had remarried and was moving to Missouri. All five men lived active, productive lives in diverse occupations and locations throughout the United States. Front row, left to right:
Charles Ray Minor - a wildcat oilfield contractor in the Waynesburg, Greene County region with his brother William, operating under the name "Minor Bros.," until the Great Depression forced them out of business.
William Thomas Minor - farmer, wool dresser and oilfield contractor who resided in Pursley Creek, just down the road from where he was born.
Back row, left to right:
Harold Earl Minor - a baseball player for the Brave village team in Greene County, PA, before becoming a railway mail clerk and moving to the Cleveland, Ohio area where he was a Cleveland Browns season ticket holder.
Albert "Ross" Minor - a World War I veteran who was a teacher known as the "Father of Sports" at Rogersville High School near Waynesburg. He later taught at Waynesburg College and spent many years in government service in the Panama Canal Zone before retiring to New Orleans.
Porter Owen Minor - a veteran of both World War I and World War II, he taught school and worked in the mining industry before becoming a salesman for Ruud Manufacturing and Consolidated Brass, and settling in Kalamazoo, MI.
Copyright © 2003 Mark A. Miner