Home

Harriet (Minerd) Dettling
(1902-1960)

Hattie Dettling
Harriet "Hattie" (Minerd) Dettling was born on Aug. 19, 1902 in Fayette County, PA, the daughter of James C. and Suvina (Yauger) Minerd Sr.
In November 1926, when she was 24, Hattie married 29-year-old Harry W. "Buck" Dettling (Dec. 24, 1896-1955), a native of Scottdale and the son of Harry William and Gertrude (Kramer) Dettling of Coalbrook, Fayette County. The ceremony was performed by her father's cousin, Rev. David Ewing Minerd, at the home of Hattie's sister, Etta McDowell. They honeymooned in Harrisburg.
In a long article about the wedding, the Connellsville Daily Courier reported that:
The maid of honor was Miss Dora Detling, sister of the groom; the best man, Ernest Conn of Fairchance. At 12 o'clock a turkey dinner was served, covers being laid for fifty guests, among whom were Mr. and Mrs. Detling, parents of the groom, Scottdale; Mr. and Mrs. J.C. Minerd, parents of the bride; Mr. and Mrs. Henry Minerd, Mr. and Mrs. Miller and Mr. and Mrs. Homer McCabe, all of Uniontown; Mr. and Mrs. John Conn and son, Ernest, of Fairchance; J.C. Minerd of Star Junction; Mr. and Mrs. Frank Minerd and daughter, Dora Frances, of Connellsville; Mr. and Mrs. Clinton Hager, Mr. and Mrs. Elzie Rhodeheaver and Mr. and Mrs. James Darby of Keister; Miss Eva Minerd and Miss Katharine Minerd and Harry Minerd of Bowood; Miss Dora Detling of Scottdale; Lawrence Darby and Miss Dorothy Darby of Keister. There were about twenty-five children in the party.
Buck served in France with the U.S. Armed Expeditionary Force during World War I.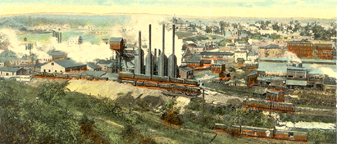 Bird's eye view of industrial Scottdale
The Dettlings resided in Scottdale, Westmoreland County and later 157 Searight Avenue in Uniontown, Fayette County. They did not reproduce.
Buck labored as a mechanic at the plant of the American Sheet & Tin Plate Company. In about 1946, he went to work as a pattern maker at an enamel plant in Uniontown. He was a member of the Third Presbyterian Church, Post 47 of the Veterans of Foreign Wars (VFW) and the Fraternal Order of Eagles in Scottdale.

Uniontown newspaper obituary
Stricken with a gastric ulcer and a cerebral hemorrhage which he had suffered in 1948, Buck again suffered bleeding of the brain and died at home on March 2, 1955, at the age of 58. Allen Q. Jones, commander of the VFW Post 47, requested that members attend the graveside burial at Sylvan Heights Cemetery. Funeral arrangements were by the Gleason Funeral Home. Said the Uniontown Morning Herald, he was survived by his father, three brothers and six sisters.
Later in life, Hattie moved to Strongsville, Cuyahoga County, OH. She passed away there, at her home on Pearl Road, at age 57 on Jan. 2, 1960.
She rests beside her husband in Sylvan Heights.
Copyright © 2001, 2006, 2008, 2012, 2017 Mark A. Miner