Home

Nett-Helen Letters
Pioneer Correspondence Between Sisters Nettie (White) Bailey of Kansas and Helen (White) Clark of Missouri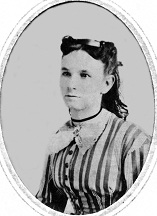 Nettie (White) Bailey
When Luther and Mahala (Minor) White and most of their children left Missouri and emigrated to Isabel, Kansas in early 1884, one beloved member of the family remained behind -- their married daughter Helen (White) Clark and her husband Will. The two families began a long series of letters, primarily between Helen and her recently married sister Nettie (White) Bailey, nicknamed "Nett," that capture the difficulty of pioneer life and the agony of their separation.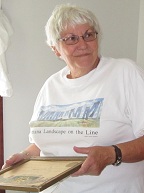 Janet (Hoyt) Sperry
Tragically, Nett was killed by lightning in July 1889, just five years after the letters begin. But the correspondence between family members continued through 1911. The final letter is from Layton White to his niece Blanche just before his death. She was so fond of him that it became a keepsake.
The trove of letters lovingly was kept together by Nett's daughters Mabel (Bailey) Phelp and Blanche (Bailey) Peterie who obtained them in the 1950s. They were shared among various family members until about 1984, when Blanche's granddaughter Janet (Hoyt) Sperry brought them to her home in Montana and painstakingly retyped each and every one so they would be available to all of the family. Janet carefully scrutinizing the faded and small handwriting to make sure she was capturing every word correctly. In the end, the family donated the entire collection to the Kansas Historical Society n Topeka, accession number 2003-065.02. A complete set of copies of the retyped letters are in the Lincoln Library in Medicine Lodge, Kansas, and in the Minerd- Minard- Miner- Minor Archives.
In her retyping, Janet maintained the original misspellings and lack of punctuation. Minerd.com has added periods at the end of sentences for easier reading and understanding.
Minerd.com extends its deep gratitude to Janet and to her cousin, Judge Richard Raleigh, for their generosity in many ways. These letters -- and the story of the drama of hardscrabble life and death on the Kansas prairie of the 1880s -- are now available to the public at large to enjoy for the very first time, at no cost.
Janet was featured as our "Photo of the Month" in November 2011, standing beside the small house that once belonged to one of the primary letter-writers, her great-grandmother, Nettie (White) Bailey.
~ 1884 ~

June 2, 1884 - Helen to the Whites

Undated 1884 - Helen to the Whites

Undated 1884 - Nett to her nephew Roscoe Conkling "Ross" Clark

Aug. 3, 1884 - Helen to the Whites

Oct. 19, 1884 - Helen to the Whites

Late October 1884 - Helen to Nett

After October 1884 - Nett to Ross

~ 1885 ~

No month or day, 1885 - Helen to Nett

March 6, 1885 - Nett to Helen

May 17, 1885 - Helen to Nett

June 3, 1885 - Helen to Nett

Undated - Nett to Ross

~ 1886 ~

July 16, 1886 - Helen to Nett

~ 1887 ~

March 14, 1887 - Helen to Nett

~ 1888 ~

Jan. 19, 1888 - Nett to Helen

Late January 1888 - Nett to Helen

Jan. or Feb. 1888 - Nett to Helen

Feb. 14, 1888 - Nett to Helen

~ Undated Fragments ~

Undated - Helen to Nett

Undated - Helen to Nett

Undated - Nett to Helen

Undated - Nett to Helen

Undated - Nett to Helen

January [no year] - Nett to Helen
Copyright © 2012-2015 Mark A. Miner