Home

George Lawson Luckey
(1896-1975)

George Luckey
George Lawson Luckey was born on July 28, 1896 near Dawson, Fayette County, PA, the son of Joseph M. and Sarah Catherine (Minerd) Luckey. He was named in part for a favorite uncle, Lawson Minerd.
As a young man, he was of medium height and build, with blue eyes and light brown hair. When in June 1918 he was required to register for the military draft, during World War I, George was employed by the U.S. Post Office as a rural mail carrier.
George married Sarah "Sally" Tomblin (1905-1971), daughter of John and Bessie Tomblin Sr., in December 1922. He was age 26, and she 17, at the time. They were nine years apart in age.
They had one daughter, Janet Martin.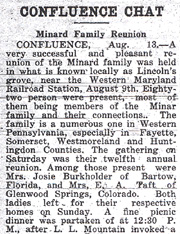 Meyersdale Republican, 1924
During the 1920s and early '30s, Andrew went with his parents and siblings to the annual Minerd-Miner Reunions held in Fayette and Somerset Counties. He and Sally are pictured in the 1920 group photograph, shown on this page. In August 1924, they attended the reunion in Confluence, Somerset County. The Meyersdale Republican, as the lead article in the "Turkeyfoot News" section of the newspaper, reported the following:
A very successful and pleasant reunion of the Minard family was held in what is known locally as Lincoln's grove, near the Western Maryland Railroad Station, August 9th. Eighty-two persons were present, most of them being members of the Minar [sic] family and their connections. The family is a numerous one in Western Pennsylvania, especially in Fayette, Somerset, Westmoreland and Huntingdon Counties. The gathering on Saturday was their twelfth annual reunion... hose present were Mrs. Ida Minard, W.S. Burzard and family, Mr. and Mrs. Aaron Rugg and Christine Rugg, Mill Run; Mr. and Mrs. Richard Gorsage, Charles Gorsage, Mr. and Mrs. Carl Gorsage, David Younkin and daughter, Mrs. F.P. Peck and son, Loren, Mr. and Mrs. A.W. Harbaugh and Mrs. Martha Gorsage, Rockwood; Mrs. Allen Overholt, Greensburg; Mrs. C.M. Hutton, Star Junction; Mrs. Hester Williams, Uniontown; Mrs. M.M. Collins, Morgantown, W.Va.; Mr. and Mrs. Harry Minard, Mrs. Rosetta Minard, Mrs. L.A. Hall, Markleton; J.R. Nottingham, Latrobe; Mr. and Mrs. F.G. Williams, Mount Union, Pa.; Mrs. E.A. Taft, Glenwood Springs, Col; Mrs. Josie Burkholder, Bartow, Fla.; Mr. and Mrs. George Lucky, Mr. and Mrs. J.A. Minard, Connellsville; Mrs. J.M. Lucky, Miss Martha Lucky, Miss Mary Lucky, Dawson; Victor Minard and Miss Evanel Minard, Scullton; Mrs. Minnie Hyatt and daughter, Gladys, Ohiopyle; L.C. Williams, Somerset; Mr. and Mrs. Fred Minard, Mrs. J.W. Burkholder, Mrs. Lloyd Hyatt and three children, Joseph Ream and family, Mrs. Bertha Conn, Adam Nicolson, L.L. Mountain, Mrs. Howard McClintock, Mrs. Mayme Harbaugh, Mrs. M.S. Tarney, Miss Bertha Conn, and David Cronin, Confluence.
George and Sally resided in the 1930s in the Ford Apartments in the Greenwood section of Connellsville, on South Eighth Street. In July 1936, the Connellsville Daily Courier reported that they had moved to Poplar Grove, Fayette County, where George had bought a house. He was an automobile mechanic in Poplar Grove in a "motor garage," according to the 1930 federal census enumeration.
The family received a scare in 1929, when Sally's brother John Tomblin Jr. narrowly escaped an explosion in the Kinloch Mine of the Valley Camp Coal Company in Parnassus, PA.
In April 1939, George, Sally and Janet attended an 81st birthday party for George's father in Dawson. The Daily Courier noted that George's father was "one of the oldest residents of Lower Tyrone township [and] well known throughout Fayette county...."
Later, they moved to Pleasant Gap near Bellefonte, Centre County, PA, and were members of the Bellefonte United Methodist Church.
1920 Minerd Reunion at Ohiopyle, PA. Below, attendees George (#5) and Sally (#1) with George's sisters Ruth (#2), Martha (#3) and Mary (#4). Click for enlargement.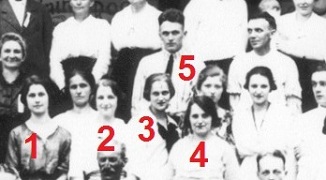 Sally passed away in Hollidaysburg Hospital at the age of 67 on Jan. 31, 1971.
George outlived her by four years. He died at the age of 79 at the Elks National Home in Bedford, VA. He was laid to rest in the Culpeper Cemetery in Virginia. In an obituary in his old hometown newspaper, the Connellsville Courier said he was survived by two grandchildren.
~ Daughter Janet (Luckey) Martin ~
Daughter Janet Luckey studied at California State Teachers College.
On Sept. 3, 1945, in Washington, DC, at the Mt. Vernon Place Methodist Church, Janet married Paul C. Martin ( ? - ? ). At the time of marriage, Janet was employed as a librarian with the Chinese Air Force, and Paul was a pilot with the Ninth U.S. Air Force.
They resided circa 1975 in Falls Church, Fairfax County, VA.
Copyright © 2012, 2018 Mark A. Miner