2003 Annual Review
A Report for Family and Friends

Two major awards, a record number of hits, extensive news coverage and significant new content propelled Minerd.com to new highs in 2003 as a voice of more national and cultural relevance. Thanks to cousins and friends, who generously made their own contributions, the site is a showcase of the lives of nearly 1,000 cousins, virtually all born before 1900, of the extended Minerd- Minard- Miner- Minor family.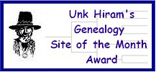 One of the year's awards
Throughout the year, Minerd.com worked to "link" the living generations of our clan dispersed around the world. The site helped visitors to understand the diverse lives of family past and present. As well, through an extensive collection of old photographs and postcards, readers can now visualize the past as never before, on a very personal scale.
Thank you to all who have found our site of interest. Without you, the site has no true meaning.
~ Website Statistics ~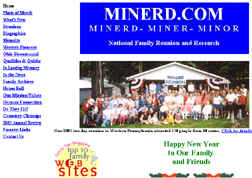 Homepage in January 2004
In 2003, Minerd.com continued to add substantial content, and set a number of important records demonstrating its growth and popularity. Since the time of our launch in May 2000, the site has attracted more than 280,000 visits. The statistics include:
Attracted 143,524 visits in 2003, an astounding increase of 70% from last year;

Averaged 11,960 monthly visits, up from 7,046 last year;

Set monthly visit records three times -- with a high of 13,475 in November;

Received our quarter-millionth visitor sometime on Oct. 22;

Established email contact with 68 "long-lost" cousins;

Fielded 122 inquiries from the public at large, averaging more than 10 per month;

Added 74 new biographies, for a total count of 954; and

Added about 500 new photographic images, now totaling 3,300.
~ Most Popular Features ~
Among the most popular features during the year were Biographies, Photo of the Month, Ohio Bicentennial and What's New. The most-read biographies were of Jacob Minerd Sr., John Minard Sr. and Rebecca (Minerd) Behme-Kearns.
~ New and Special Pages ~
1936 Harbaugh Reunion - numbered faces
A number of special pages were created or significantly expanded during the year. They include:

National award
~ National Recognition ~
In April, Family Tree Magazine named Minerd.com one of its "Top 10 Family Websites" in the nation, with the editors "scouring the web until our eyes ached and our mouse-clicking fingers cramped." Wrote editor Crystal Conde, "Today's Minerd-Miner-Minor kin will find an astonishing amount of their history here." In June, "Unk Hiram" (Bill Hocutt of Texas), a self-styled genealogy commentator and web-publisher, named Minerd.com as his "Site of the Month."

Tommy Custer
~ Custer Connection ~
Among others, our site tells the unsung story of Thomas C. Custer (seen here), nephew of General George Armstrong Custer. "Tommy" was born out of wedlock to cousin Rebecca Minerd and the General's younger brother, Capt. Thomas Ward Custer, a two-time Medal of Honor winner in the Civil War who also was killed at the Battle of the Little Big Horn. The Custer connection was featured on an Ohio lecture-tour at the 2003 Great Lakes Regional Conference of the Little Big Horn Associates. The tour was covered in the Toledo Blade, Bowling Green Sentinel, Perrysburg Messenger-Journal and the LBHA's own newsletter. We also published a small booklet as a tour handout.

Ohio Bicentennial
~ Focus on Ohio ~
Another major focus of our site has been on family branches in Ohio over the past 200 years, and our special "Ohio Bicentennial" page celebrates the Buckeye State's 200 birthday this year. The page recognizes 118 cousins from 31 counties who made their mark in the state -- from newspaper publishers, judges, physicians and business leaders to little known farmers, coal miners, church workers and Civil War soldiers.
Reflecting Minerd.com's popularity and visibility, the Ohio Bicentennial Commission granted permission for Minerd.com to display the prominent bicentennial logo on our site. As a measure of the site's relevance to genealogists, it was featured on the cover of the OGS Genealogy News magazine of the Ohio Genealogical Society.
~ Local and Regional News Media Coverage ~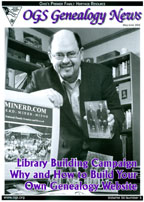 Cover of OGS Genealogy News
Minerd.com regularly makes news and is in the news. Our "Top 10" award was publicized throughout Western Pennsylvania -- the epicenter of our clan's founding and growth the past 200 years. Stories appeared in the Pittsburgh Post-Gazette, Pittsburgh Tribune-Review, Uniontown Herald-Standard, Connellsville Daily Courier and Somerset Daily American. Continuing a series begun in 2001, the "Focus" Magazine of the Tribune-Review published 10 postcards from our archives. Daily Courier columnist Donna Myers, focusing our our clan's long-term presence in Dunbar, PA, mentioned our site and family in a number of stories.
~ Promoting Our Reunion ~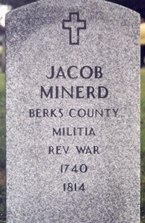 Jacob's new Rev War
grave marker
Our national reunion in July drew 130 people from 10 states. The theme honored the 90th anniversary of our clan's first reunion in Western Pennsylvania in 1913. We also dedicated a Revolutionary War grave marker for the "father of us all," Jacob Minerd Sr., at the Indian Creek Baptist Church Cemetery in Mill Run, Fayette County.
When Uniontown (PA) Mayor Sileo and City Council unanimously declared the July 13-14 reunion dates as "Jacob Minerd Weekend," the proclamation received coverage in the Uniontown, Connellsville and Somerset newspapers, and on local cable TV.
The effort demonstrated the influence our reunion and website have on attracting tourism to Western Pennsylvania. Two families from Indiana attended, the first of their immediate branch to return to the region since about 1817. In October, the Pittsburg Morning Sun in Kansas ran a feature about a local couple who had attended -- the first of their branch to "come back" in nearly 120 years.
~ Relevance Beyond Our Family ~
Minerd.com became more relevant beyond our family. For example, an elementary school teacher in Pennsylvania used the site for her social studies class studying immigration. A business in Ohio asked for a photo portrait of its late founder, who was one of our cousins. A genealogy society in Michigan has the site listed among its favorites. One cousin, discussing the website with her book club, commented that the site demonstrates how "the people we meet in life are not accidental -- that we are all connected somehow." We received inquiries from readers representing preservation groups, centennial celebration committees, church historians and historical societies. Scholars and journalists contacted us with questions about the Civil War, air crashes and other historical events.
~ Photo Showcase ~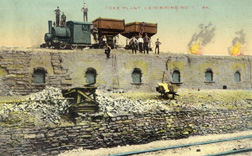 Coke ovens, Fayette County, PA
We added more than 500 rare photograph and postcard images to the site, including faces as well as cousins' communities and workplaces to show a broader context of their lives. At year-end, there were nearly 3,300 images on the site for all to enjoy. (Seen here is one example, showing a battery of coke ovens where at least one cousin worked in the 1890s.)
The best of the best images are used on our popular monthly page, "Photo of the Month." The site has helped cousins learn how to "train" their eye and begin recognizing otherwise unknown faces from the past. To those cousins who freely shared these treasured images from their own personal collections, or helped identify photo-subjects, we can only express our heartfelt gratitude.
~ Plans for 2004 ~
Our primary objective for the new year is to continue building Minerd.com into a site of meaning for greater numbers of distant cousins, near and far. Among our plans is to create a long-awaited "Wartime Letters" page. We also hope to build biographies for scores of newly discovered cousins of the 1800s and early 1900s, stemming from recent research in Ohio and West Virginia. We also have many more superb old photographs to share.
~ Thank You ~
To all our cousins and friends, thank you again for your ongoing interest and support.
Sincerely,
Mark A. Miner
Founder, Minerd.com and
President, Mark Miner Communications
January 2004