Home

2017 Annual Review
A Report for Family and Friends
Minerd.com's Numbers in 2017
831
New images added - down from 1,105 in 2016

17
Blog posts published - up from 12 in 2016

15,372
Total images on the site - up 5.7% from 2016

12
Photos of the month - 211 since inception

76
New bios added - up from 17 added in 2016

82
Recorded cousin deaths in 2017

1,686
Total bios on the site - up 76 from 2016

1,778
Recorded cousin deaths in 2000-2017
- up 249 during the year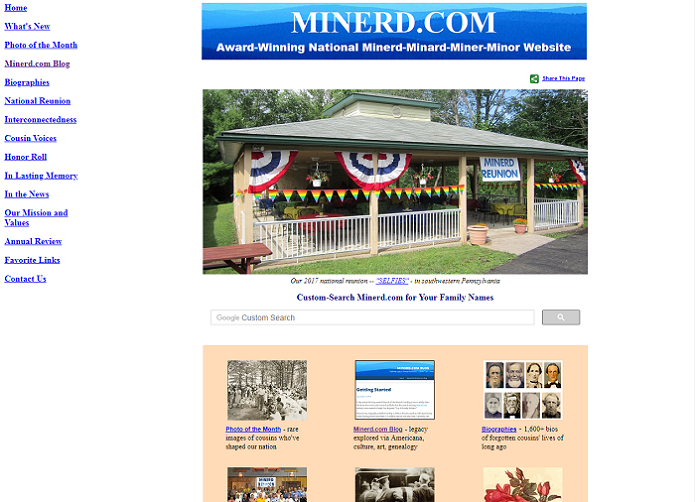 The Minerd.com homepage was re-designed to become more highly visual and social media friendly
Every week and sometimes nearly every day during the past year, I added new material or searched new nooks and crannies to bright to light new facts about lives of our family of the past. The research and publishing are at times exhausting, frustrating and labor-intensive, but also at times exhilarating, especially when cousins from throughout the nation write and say they've enjoyed the experience of surfing the site.
The spigot of inbound story and image content for Minerd.com remains turned on, full force, even after nearly 18 years of active publishing. There are just too many stories and rare images distributed in households all across the country for this website ever to be complete.
Minerd.com's content is written for two different audiences. One is the readers and inquirers of today. The other has not yet been born, but may crave to know something about their ancient people 100 and 200 years from now. Afflicted with the "tyranny of the urgent," a focus on the here and now and immediate gratification, Americans do not think in these terms. Minerd.com and its archives will continue to produce content and preserve materials to keep old, forgotten lives alive in some flickering way far, far into the future.
~ "Selfies" -- Facebook Live National Reunion ~

June 2017
- We made our own sort of history with a first-ever Facebook Live broadcast and celebration of "selfies" at our
national Minerd-Minard-Miner-Minor Reunion
. The gathering drew 51 guests from nine states, 16 Pennsylvania communities and the furthest traveled from Texas. The festivities included a Friday evening dinner, the Saturday picnic and evening dinner, and Sunday morning tour of family historic sites and attending church together.
Click on the images to view two of the six Facebook Live clips we broadcast. Left: interviews with Cynthia (Minerd) Moringiello and hubby Dan of the family of Dr. Roy Sheppard Minerd -- Right: interviews with Judy (Snyder) Campbell of the family of Mary Belle (Minerd) Riley -- and Dorothy (Bender) Krieg and son Robert of the family of Jasper "Jap" Knight.
~ Tours of the Original Minerd Farm on the
Border of Fayette/Somerset County, Pennsylvania ~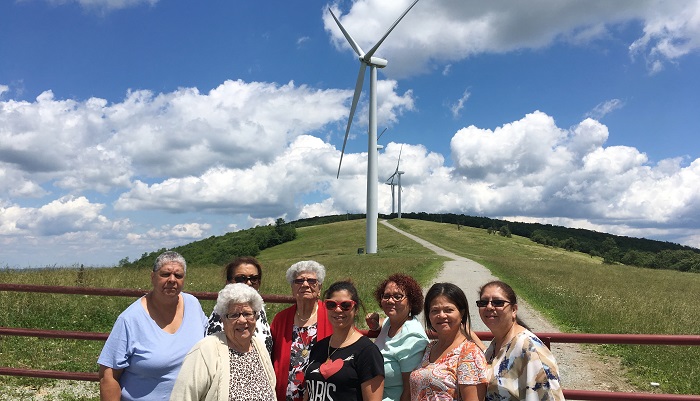 July 2017 - One of three tours which I led last year so that cousins from out of state could

visit the original Jacob and Maria (Nein) Minerd Sr. farm on the mountaintop border of Fayette (left) and Somerset Counties, Pennsylvania, dating to 1791.
~ Civil War Soldier Research at the National Archives ~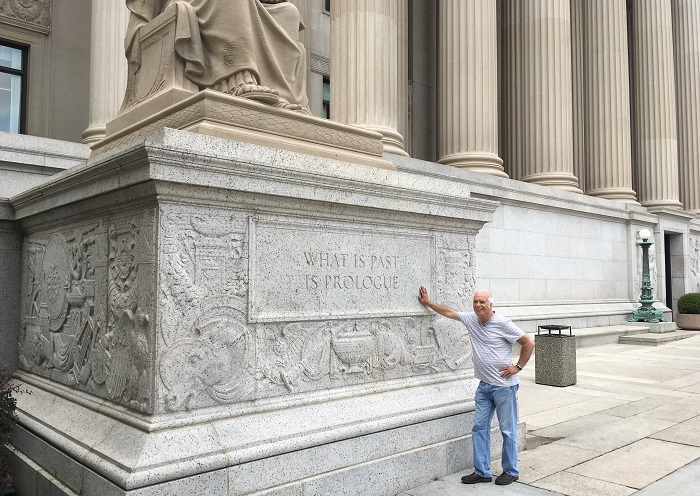 July 2017 – Cousin Eugene Podraza and I researched 18 Civil War soldier pension records at the National Archives in Washington, DC, with a focus on soldiers of the Minerd, Gaumer and Younkin families. It was the 22nd annual research trip we have taken together, starting with initial travel to Perry County, Ohio in 1990.
~ Telling Civil War Soldier Stories in Somerset County, Pennsylvania ~
May 2017 - At the invitation of the Sons of Union Veterans of the Civil War, Mt. Union Church Camp #502 in Somerset County, PA, I was a guest speaker at a memorial program held at the historic 1775 Jersey Baptist Church in Ursina, PA, presenting the stories of Civil War veterans buried in the church's ancient cemetery. View a video clip>>>. The backstory is that the SUV and Auxiliary had the unique opportunity to acquire and rescue the old GAR records before they were sold into oblivion on eBay. The records date from 1883 to 1921. Cousin Barbara Bowers, of the family of Bertha (Ream) Conn, generously donated a box of the soldiers' original applications to the GAR. The books were repaired and digitized. This tremendous community initiative was organized by Robert Wrigley and cousin Linda Marker of the family of Frederick J. Younkin. Listen to my series of Minerd.com Podcasts -- the first features veterans Jerome B. Jennings, Jacob J. Rush and LeRoy Forquer -- the second is about Harrison K. Younkin, John Enos and Marcellus Andrews -- and the third focuses on Foster Younkin, Balaam Younkin and Charles Rose.
While in Somerset County, I took an extra day to conduct extensive research in the county courthouse which led to the discovery of a major nagging puzzle piece -- the long-unknown first name of Catherine (Minerd) Ream, one of the daughters of southwestern Pennsylvania pioneers Jacob and Maria (Nein) Ream. The trail of the Reams led to even more findings over coming months, and some of the highlights may be seen in the Minerd.com photos of the month for August, September, October and November.
~ Connecting the Dots with the Younkin Cousins ~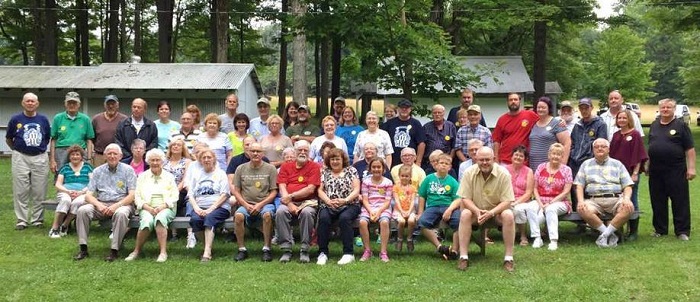 July 2017 - The three-day Junghen-Younkin Reunion in Somerset County gave me an opportunity to accomplish a number of research objectives. On Friday, I photographed hundreds of graves in nine cemeteries in Somerset and Fayette Counties, PA, including Chalk Hill Lutheran, Mt. Washington Presbyterian, Addison Cemetery, Johnson Chapel, Confluence Baptist, Crossroads/Hogback, Maple Summit, Imel and Steyer. Then on Saturday, I spoke at the reunion about "Women of the Windows" – cousins whose names adorn memorial windows in local churches. On Sunday, I photographed some of these windows at Confluence Baptist Church and at Johnson Chapel. See further below, and check out the Younkin Reunion page on Facebook.
~ Stained Glass Memorial Window Photography ~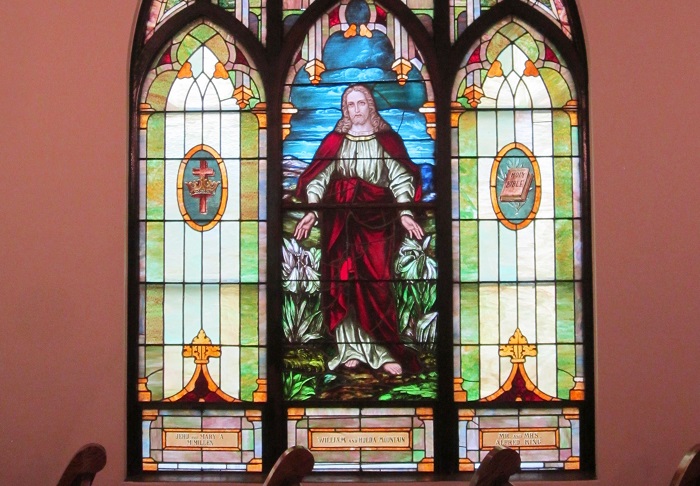 July 2017 - On a Sunday morning, in and near Confluence, Somerset County, PA, I was honored to be allowed to photograph a number of stained glass windows memorializing long-dead cousins. Among them (above) was a window for Jehu and Mary Ann (Ream) McMillan at the Confluence Baptist Church, and (below) a window for Ziba and Annabelle (Flanigan) Burnworth at Johnson Chapel.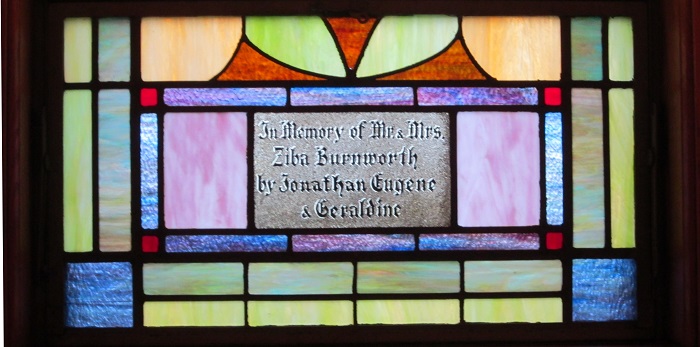 ~ Discovering Cousins' Roles in Founding the Disciples and
Church of God Movements in Southwestern Pennsylvania ~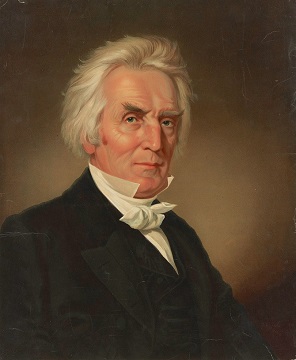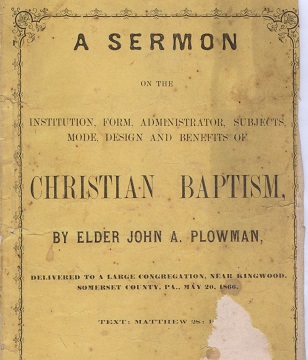 An opportunity to add rare copies of Tale of a Pioneer Church by Peter Vogel (1887) and A Sermon on the Institution, Form, Administrator, Subjects, Mode, Design, and Benefits of Christian Baptism by Elder John A. Plowman (1866) to the Minerd.com Archives provided deep insights into our cousins' roles in founding the Disciples of Christ and Church of God movements in southwestern Pennsylvania. Seen here, Rev. Alexander Campbell, the Disciples founder nationally, had significant interactions with a host of Minerd, Harbaugh and Younkin cousins. More>>>. Plowman's Sermon opened a window into the planting of the Old Bethel Church of God near Kingwood, PA, with the discovery of an 1866 revival held on an old Minerd farm and other family connections with national founders Rev. John Winebrenner and Rev. John Hickernell. More>>>
~ Assisting a Community's Bicentennial Celebration Storytelling ~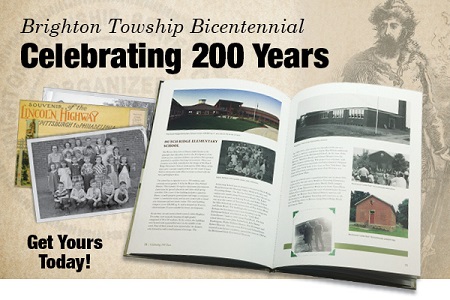 Yearlong 2017 - As the Minerd.com Archives image library grows, it's become more of a resource for the community at large. In 2016-2017, courtesy of our archives, a number of images were published on the popular "Bicentennial Look Back" Facebook series of Brighton Township, Beaver, PA, and several were included in the commemorative hardcopy book, Brighton Township • Celebrating 200 Years. More>>>
Below: a photograph of the 1920 Minerd Reunion, obtained from our archive, today is on display in the glass-walled Visitors Center at Ohiopyle State Park in Fayette County, PA, overlooking the rushing whitewater of the Youghiogheny River.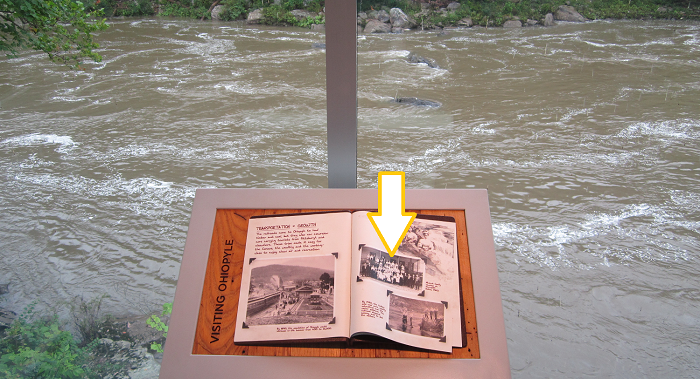 ~ New & Expanded Features and Bios ~
Biographies, feature stories and analysis of our family's contributions to Americana are the heart and soul of Minerd.com. Here's a list of some of the highlights from 2017.
Features

Hinerman Families of Greene County, PA & Marshall County, WV

Honor Roll: 49 Military Casualties

Honor Roll: 47 Accidental Work Deaths in the Manufacturing, Mining and Metals Industries

Death on the Rails: 40 Railroad and Streetcar Accident Victims

The Mucho-Married Mayle/Male and Minard/Miner Families of the Chestnut Ridge Community of West Virginia and Eastern Ohio

Braddock's Grave and Fort Necessity: Preserving Historic French & Indian War Landmarks in Southwestern Pennsylvania

Select Biographies

Dr. Jonas and Martha (Pringey) Younkin of Somerset, PA & Iowa City, IA

Jacob and Elizabeth (Sturtz) Comp of Wellersburg, PA

J. Frederick and Sarah (Younkin) Kreger of Kingwood, PA

Levi and Catherine (Younkin) Christner of Normalville & Pennsville, PA

George Walter and Anna Belle (Miner) McCormick of Connellsville, PA

Leonard and Maria "Catherine" (Younkin) May of Bedford County, PA

Jonathan and Ella (Younkin) Hauger of Rockwood, PA

George E. and Missouri (Younkin) Wingerd of Rockwood, PA

Henry S. and Barbara Jean (Younkin) Swarner of Milford, KS & Rockwood, PA

Frederick J. and Delilah (Faidley) Younkin of Kingwood, PA

John Harrison and Eliza Jane (Coble) Youngkin of Williamson County, IL

Valentine and Hester "Esther" (Gaumer) Shirer Jr. of Adamsville, OH

John and Rebecca (Gaumer) Wymer of Adamsville, OH

Solomon and Elizabeth (Troutman) Sturtz of Greene, IA

Michael and Mary Anne (Ream) Weyand Sr. of Somerset, PA

John Wiley and Mary Olive (Sprowls) Birch of Washington, PA

George W. and Nancy Elizabeth (Birch) Mattax of Washington, PA

Johann "Richard" and Mary Ann Gaumer of Somerset County, PA

Johann "Henry" and Margaret Gaumer of Somerset County, PA

Charles Gaumer and wives of Somerset County, PA

Abraham "Abram" and Mary Ann "Polly" (Haupt) Younkin of Somerset County, PA

Franklin and Mary (Minerd) Grim of Martelle, IA

Biographies (cont.)

Benjamin and Mary Rebecca (Day) Owen of Washington County, PA

Joseph and Elizabeth (Rowan) Hall of Maple Summit, PA

William and Louisa Ann (Ream) Wilkins of Fort Hill, PA

Otho and Marietta (Smith) Reams of Brookfield, MO

Levi and Hila (King) Ream of Ursina, PA & Osceola, IA

James A. and Eleanor (Colburn) Ream of Osceola, IA

Jesse B. and Julia Ann (Ream) Nicklow of Fayette County, PA

Henry T. Ream and wives of Omadi, NE

Jehu and Mary Ann (Ream) McMillan of Listonville, PA

Lydia Ann Ream of Ursina, PA

George T. and Catherine (Ream) Woods of Dakota City, NE

John Ream II of Ursina, PA

William and Rosanna (Ream) McMillan of Atlantic, IA

John and Catharine (Minerd) Ream of Ursina, PA

Silas and Zobeida (Ream) Younkin of Wakefield, KS & Confluence, PA

Thomas and Barbara (Haines) Ream Sr. of Draketown, PA

Samuel W. and Mary (Rheims) Ream of Ursina, PA

John "Adam" and Maria "Catherine" (Gaumer) Sturtz of Somerset County, PA

Benjamin "Franklin" and Nellie (Thurston) Haney of Bridgeport, PA

Frank Miner and wives of Mill Run, PA

David and Lydia (Gaumer) Shirer of Flora, IN

Valentine and Catherine (Gaumer) Shirer Jr., of Adamsville, OH

William and Sarah (Swigert) Gaumer of Flora, IN

Daniel and Amelia (Wiscaver) Gaumer Jr. of Vinland, KS

Lebanon and Nancy (Reynolds) Gaumer of Plainfield, OH
Among the plans for 2018 are a return visit to present at the annual Junghen-Younkin Reunion in July, and a few days of research in the National Archives in Washington, DC to examine and copy the Civil War records of 14 newly discovered soldiers of the Minerd, Younkin and Owen clans. The soldiers' names include:
~ Photo of the Month Recap ~
| | | | |
| --- | --- | --- | --- |
| | | | |
| January | February | March | April |
| | | | |
| | | | |
| May | June | July | August |
| | | | |
| | | | |
| September | October | November | December |

Minerd.com founder
Mark Miner
~ Once Again, a Heart-felt Thank You! ~
As Minerd.com is now in its 18th year, it's exciting that this work never ends. The site continues to be fascinating, surprising, exasperating, eye-opening and never ever dull. New material continues to be shared by long-lost cousins near and farm.
If you wish to contact me, I'd love to hear from you. My response may well be slow, as I'm juggling three part-time jobs -- with my own firms Mark Miner Communications LLC and Minerd.com Publishing LLC and as director of corporate communications for Larson Design Group, a nationally emerging architecture, engineering and survey firm with 10 offices in four states. So please be patient.
Thank you again to everyone who has contributed your special part from your own family's trove of family treasures. This site is for you, and would not be possible without you.
Sincerely,
Mark A. Miner
Founder, Minerd.com
March 17, 2018