At year-end, the award-winning site had garnered 268,308 visits during the year, or 22,359 per month on average. This represents an increase of 6.9 percent over the previous year and 24.7 percent since 2008. Total visits since the site's launch on May 7, 2000 stood at 2,751,034.
During the all time high year in 2007, Minerd.com logged an extraordinary 298,678 visits, followed by precipitous drops during the recession years of 2008 and 2009, when many Americans shut off their computers to focus on more important activity. Since 2009, however, annual visit statistics have been growing again at a steady pace.
In terms of new genealogy content, 42 new biographies were added to the site, bringing the grand total of bios to 1,532.
To provide all-new and important visual impact accompanying the voluminous body of web texts, 948 new images were obtained and uploaded as illustrations, in comparison with an almost identical number of 944 in 2013 and 844 in 2012. Minerd.com's grand total archive of rare, historic images at year-end stood at an astounding 12,492.
In 2014, the top 10 most popular pages on Minerd.com were the following, in order: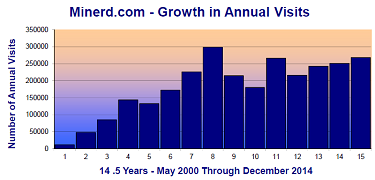 After a big dip during the great recession of 2008-2009, the number of annual visits to Minerd.com has been back on the upswing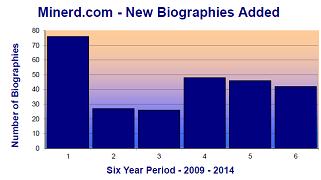 The number of new bios added annually continues to be steady though decreasing slightly over the past few years
~ In Lasting Memory ~
The incessant march of time continues to take a huge toll on our extended family of thousands of cousins. Sadly, in the years that have elapsed since July 1, 2000, when we started counting with precision, an alarming number of Minerd- Minard- Miner- Minor cousins and spouses has passed away. We extend our deepest sympathy to their loved ones.
During the 2014 year, Minerd.com logged 77 known deaths of cousins and their spouses, and 135 additional deaths from the 2000-2013 time period as new discoveries were made.
Over Minerd.com's counting period, starting July 1, 2000, the grand known count is a staggering 1,295 deaths. The data suggest that we lose a cousin every 3.83 days, a faster rate than last year's estimate of one every 4.18 days. The more that our extended cousins come forward with their own information, and as additional research is done, the rate of death in comparison to the overall population of cousins will become even more rapid.
~ New & Expanded Features ~
~ Photo of the Month Recap ~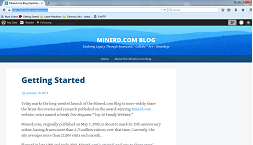 Inaugural post of the Minerd.com Blog
~
New Blog Helps Promote Minerd.com to the Public ~
Promoting Minerd.com to the public helps draw more interested eyeballs to the site and keep it relevant in today's technology-saturated, short-attention-span society. Such exposure helps draw long-lost cousins we might never connect with otherwise. To do this, we rely on news media coverage, a regular email newsletter featuring the photo of the month – posts on my Facebook page and an all-new "Minerd.com Blog" hosted by WordPress.
The blog was launched on Jan. 19, 2015 with the stated goal of "Exploring Legacy Through Americana – Culture – Art – Genealogy." The blog, a key element of the 15th anniversary celebration, contains essays I've written connecting current events and historical research discoveries to the fascinating stories of the extended family past and present. Be sure to visit the blog and become a fan.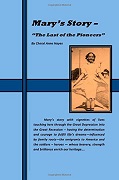 Cheryl Hayes' book
August 2014 - Four Meinert-Minerd offspring were named in the introduction to the book Mary's Story - The Last of the Pioneers - by Cheryl Anne Hayes (CreateSpace Independent Publishing Platform, Aug. 29, 2014). In the introduction, the author writes: "This is the story of a life of adventure and determination during difficult times from the Great Depression into the Great Recession. Vignettes of lives surrounding Mary's give an introspective view of lifestyles and culture during the 1950s while Mary raised her family in the suburbs of one of the world's largest cities --Names were not heard in the news of the day -- but in many instances, should have been. You will be challenged to explore your own family roots -- and perhaps find that your ancestors helped found a new nation and came from a long line of kings. Perhaps you will feel differently about your own family or you may find something worth more than inherited fortune!"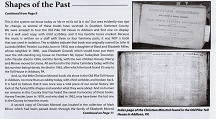 Laurel Messenger newsletter
August 2014 - A rare paper artifact from the Minerd.com Archives -- an original Christian Minstrel hymnbook featuring the patented seven-shape note system of the mid-19th century -- was mentioned in the Laurel Messenger newsletter of the Historical and Genealogical Society of Somerset County. The article, entitled "Shapes of the Past: The History of Shape Note Singing in Southern Somerset County, PA," was authored by Linda Marker and Duane Howard in the August 2014 edition. The story recounts that the shape note hymnals were "a vital piece of our social history" and that in some instances, "young people would often come six or eight miles to attend a singing."
July 26, 2014 - At the annual Junghen-Younkin Reunion, held in Somerset County, PA, I helped lead a tour of the historic Frederick G. Younkin farm cemetery near the village of Kingwood. I also spoke at the group's afternoon meeting about the substantial new Younkin content written and published on Minerd.com in the past year based on the sweeping research of the late Donna (Younkin) Logan and others. As well, I was coerced into serving as auctioneer during the annual auction for the third straight year, which raises several hundred dollars for the student scholarship.

Speaking at the Younkin Reunion cemetery tour, Kingwood, PA, in July
May 21, 2014 - The Beaver County (PA) Genealogy and History Center invited me to speak at the historic Beaver Station of the Beaver Area Heritage Foundation, featuring highlights from my book, Well At This Time: The Civil War Diaries of Ephraim Miner.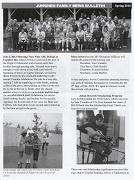 Junghen News Bulletin
Spring 2014 - Two Minerd.com biographies -- featuring the late Susanna (Younkin) Schrock of Kingwood, PA and the late Jacob H. "Devil Jake" Younkin of Connellsville, PA, both of the 19th century -- were reproduced in the Junghen Family News Bulletin, edited by Linda Marker and produced in connection with the Junghen-Younkin clan's annual reunion. Click to learn more about the extensive intermingled "Kissin' Cousin Marriages" connections between the Minerd- Minard- Miner- Miner and Junghen- Younkin- Younken- Youngkin families of southwestern Pennsylvania.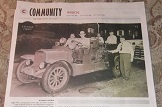 "Vintage Views" photo
April 28, 2014 - Spanning the entire width of a newspaper page, the Beaver County (PA) Times reprints Minerd.com's "Photo of the Month" for April 2014 showing Odger Miner and fellow firefighters with the Hopewell Volunteer Fire Department in their old Brockway truck, preparing for a community parade in or near Aliquippa, PA. The historic image is the second Minerd.com Archives photo in recent months to be published in the Times' occasional "Vintage Views" feature, which seeks to "document the evolution of our area's diverse culture -- from fashion, architecture, agriculture, industry, education and recreation."
March 19, 2014 - At a meeting of the Civil War Round Table of Western Pennsylvania, I spoke about my book, Well At This Time: The Civil War Diaries of Ephraim Miner. (I belonged to this group in the 1990s.) In a review, the CWRT's Stray Shots newsletter said that the "talk followed an interesting format, that of an unfolding genealogical detective story. Slowly [the author] was able to piece together the scattered record of Ephraim Miner's life."
~ Incessant Laser Focus on Research ~
To keep a 15-year-old website vibrant and fresh, new content needs to be added to it constantly. This is done with a laser focus on research to help flesh out obscure facts of forgotten lives and events, obscured by the hazy mists of the past.
In 2014, two research trips each were made to two fabulous repositories of historical material -- West Virginia University's West Virginia & Regional History Center in Morgantown, WV and to the Cornerstone Genealogical Society in Waynesburg, PA to mine their extensive microfilm holdings of newspapers for obituaries and other articles.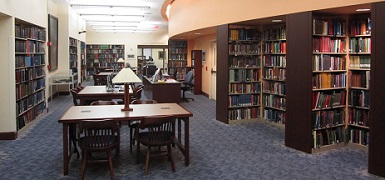 West Virginia & Regional History Center, Morgantown, WV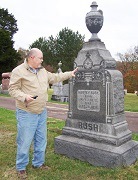 Yours' truly at the grave of
a railroad accident victim
As well, I visited many southwestern Pennsylvania cemeteries to photograph aging grave markers and capture their inscriptions, some of them heavily weathered and barely legible today. These included cemeteries in Claysville, Prosperity, West Alexander and Wind Ridge in Washington County, PA; Crossroads (Hogback), Jersey Church, Kingwood (Odd Fellows), Messiah Evangelical Lutheran (New Centerville), Ursina, Wesley Chapel and Younkin (Paddytown) in Somerset County, PA; Cove Run, Fairview (Percy), Hopwood, Indian Creek Baptist (Mill Run) and Van Sickle (Farmington) in Fayette County.
Online, these research sites have been invaluable: Ancestry.com, FamilySearch.org, FindAGrave.com, Google News, Google Books, GenealogyBank.com and ChroniclingAmerica.loc.gov.
~ Gratitude to All Who Have Shared ~
Minerd.com expresses its appreciation to cousin Linda Marker for continuing to host the Younkin Reunion Pennsylvania page on Facebook, where much of the new Younkin material on Minerd.com is vetted with others for accuracy and completeness.
I'm also are grateful to cousin Irita (Goins) Canady, who migrated encyclopedic library of images from the "Male, Mayle, Mayhle Family Suite" on MyFamily.com to a similar format on Spokt, and who graciously has allowed its vast archive of images to be used here as appropriate. Thanks also are extended to the numerous sponsors of Find-A-Grave pages who also gave their consent for photographic images to be republished on this site, and who are acknowledged by name on the pages where the images are used.
Day's Inn, Donegal, PA, our new reunion home
~ Plans for the 2015 National Family Reunion ~
Over the weekend of June 26-27, 2015, the Minerd-Minard-Miner-Minor family will gather again for its traditional every-other-year national reunion.
Both the Friday evening meet-and-greet and Saturday morning/afternoon picnic will be held on the grounds of a new location for us, the Day's Inn Hotel in Donegal, PA, near the Donegal Exit of the Pennsylvania Turnpike.
Sadly, we were forced to move the reunion site in the wake of the May 11, 2014 fire that destroyed our usual meeting place, the Indian Creek Valley Community Center. Fire officials called it a total loss. The community center had been our home for five reunions in 2006, 2007, 2009, 2011 and 2013. See the news as reported in the Connellsville Daily Courier.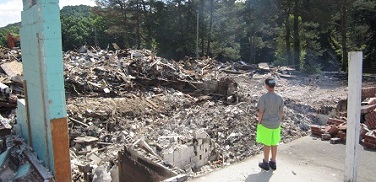 Ruins of our former reunion home in Indian Creek, PA

Frank Ferling Gary
~ February: Frank Ferling Gary Month on Minerd.com ~
Looking ahead, I am pleased to announce that once again, thanks to his loving daughter and family, the late Frank Ferling Gary (1918-2004) will be memorialized in February, the month of his birth, and Minerd.com will be dedicated to his memory. Frank was the son of Jacob and Minnie (Miner) Gary of Somerset County, PA, and I had the privilege of meeting this gracious gentleman at several Gary reunions in the 1990s in Rockwood, PA. Rest well, gentle soul.

Mark A. Miner
~ A Heart-felt Thank You! ~
As Minerd.com reaches its 15th anniversary on May 7, 2015, it's exciting that this work never ends. The site is changed almost every every week and that it continues to be fascinating, surprising, eye-opening and never ever dull.
Thank you again to everyone who has contributed your special part from your own family's trove of family treasures. This site is for you, and would not be possible without you.
Sincerely,
Mark A. Miner
Founder, Minerd.com
February 1, 2015